The First Garboard Plank
The first plank is on! It has been the most difficult part of the build so far. I've gone through 4 planks to get it right. For my fellow LJers who may be wondering, I've put in a few hours here and there, but I've taken quite a bit of time away from the project since the holidays. I'm exciting to be focused again.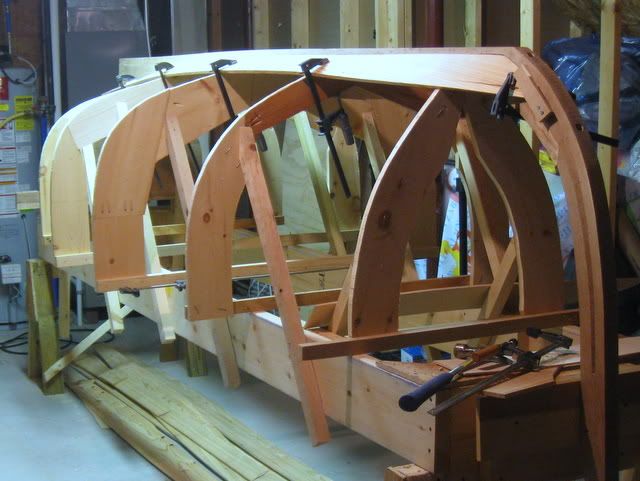 The challenge with this is getting the plank flush and tight into the rabbit along the keel. It's a tough plank because it bends almost 80 degrees to fit into the stem in the front and has to be steam bent. I cracked 2 of them and the others weren't right. To get it right, I first made a 1/8" template plank (so that it would bend easily without steaming it), so that I could trace the template onto real plank stock.
Once secured in place, I scribed the template plank using a washer and a pencil.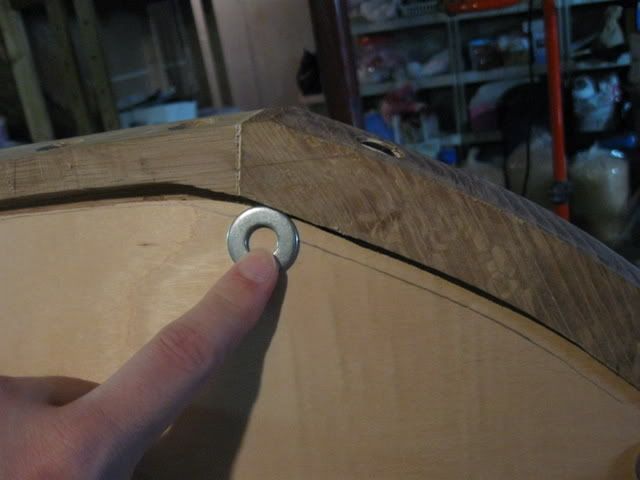 To make the template, I used a technique called spiling which uses a compass to transfer the basic shape of the keel rabbit to the template. I then got a better fit by scribing the template against the rabbit. Normally, you wouldn't need to bother with templates and scribing. Long story short, my keel is not entirely a fair curve (where it meets the skeg). Fair curves are required for good spiling results. However, the TOP of the first plank IS a fair curve, so I should be able to build the remaining planks by spiling only (no templates). I'll document spiling in my next blog.
The template was then used to trace the plank shape onto 3/8" planking stock which was cut out on the bandsaw. Then, gains were then cut into the ends of the plank. I used a Stanley #90 rabbet plane and a straight edge. The gains allow the planks to overlap and fit into each other at the ends so that they have a flush appearance at each end.
The plank has to "cool" overnight to keep it's form. Next, I'll screw the plank down and do the plank on the other side. From there, I have 6 more planks to go!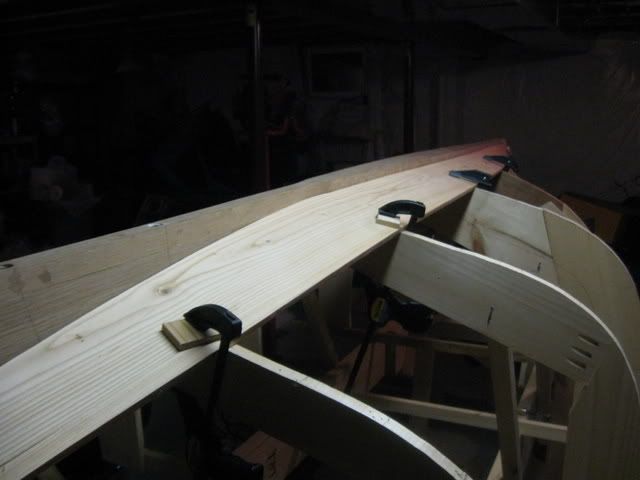 Materials List:
None for this step!
Project Materials Summary:
Plans and Book: $60
Lofting Supplies: $47.88
Mold Supplies: $36
Strongback Lumber: $33
Transom Materials: $22
Stem and Knee: $47
Keelson, Keel, Skeg and Sternpost: $97
Silicon Bronze Hardware: $225
Larch Planking and Copper Rivets: $325
- Total Project Expenses so far: $892.88
Labor Hours Summary:
05/29/09 – 06/08/09: Lofting – 12 Hours
06/14/09 – 06/20/09: Building Molds: 5 Hours
06/25/09 – 06/27/09: Building Strongback: 7.5 Hours
06/30/09 – 07/13/09: Building Transom: 6 Hours
07/14/09 – 07/20/09: Stem Lofting Detail: 3 Hours
07/22/09 – 07/29/09: Stem and Knee Cutout: 4 Hours
07/30/09 – 08/16/09: Keel, Keelson, Skeg and Sternpost: 21 Hours
08/16/09 – 09/05/09: Attaching Transom: 3 Hours
09/28/09 – 09/29/09: Cutting Stem and Keel Rabbet, 9 Hours
09/30/09 – 10/04/09: Stem to Keel and Lining Off, 4 Hours
11/14/09 – 11/15/09: Lining Off, 6 Hours
11/16/09 – 02/04/10: Garboard Plank, 20 hours
- Total Project Labor Hours so far: 100.5 Hours
- Time since starting project: 251 days (8 months, 6 days)
-- Matt - Syracuse, NY
---