Just a few more steps left before I can start putting the planking on the sides.
Cutting in the Rabbet Between Stem and Keel
The next crucial step is cutting in the rabbet between the Stem and Keel. This was done entirely by hand with a few sharp chisels. I used a small piece of wood (3"x1"x3/8") as a template, representing the plank, to ensure a smooth transition as I cut away the rabbet. Here is the before picture:
And the after picture. This was done on both sides of course. Took about 3 hours.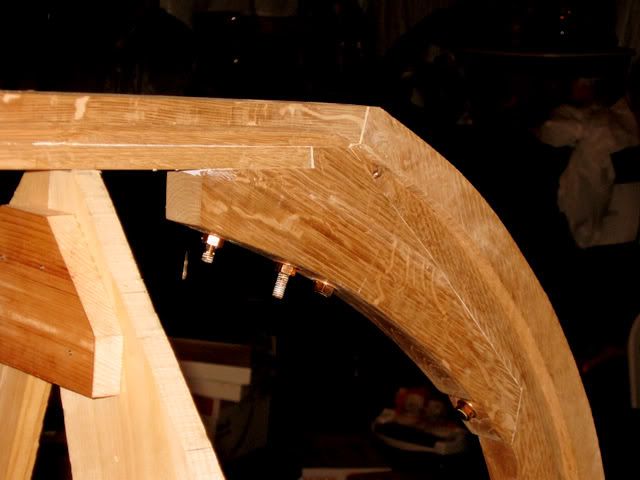 Lining Off
According to Walter Simmons, the architect of Sunshine (the model I'm building), Lining off is the "process with which you project the final plank layout onto the hull". This needs to be done to determine the shapes for the planks, which are actually quite curvy. However, if I do it right, the planks will have an effect that they look straight on the hull.
Of course, you only have to line off one half of the hull. The other half is exactly the same, just flipped, so your measurements are the same on each side.
The first step for me was to measure the length of each station from keel to sheer (bottom to top) and divide by the number of planks I'll be putting on (seven). I then marked off the location for each plank edge for each station.
Once this is done, the next step is to run a batten along these marks to make sure the curve is fair. It's more important that the curves are fair, rather than the planks being of equal width at each station.
To do the lining off, Mr. Simmons recommends a single batten method, in which you determine the position and curve of each plank as you go along, for each plank. Another method is to line off all of your planks at once using battens for each plank. I decided to try lining off all planks at once so that I could get a better feeling for how the planking would look. Of course, I can still use the single batten method later on.
And here is the final result with all battens. I still have to make some adjustments at the stem.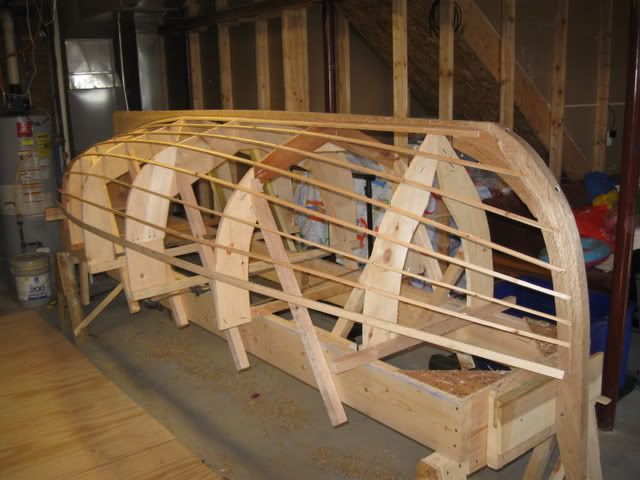 And that's it for now! Next step will be spiling and getting out the planks!
Materials List:
None for this step!
Project Materials Summary:
Plans and Book: $60
Lofting Supplies: $47.88
Mold Supplies: $36
Strongback Lumber: $33
Transom Materials: $22
Stem and Knee: $47
Keelson, Keel, Skeg and Sternpost: $97
Silicon Bronze Hardware: $225
Larch Planking and Copper Rivets: $325
- Total Project Expenses so far: $892.88
Labor Hours Summary:
5/29/09 – 6/8/09: Lofting – 12 Hours
6/14/09 – 6/20/09: Building Molds: 5 Hours
6/25/09 – 6/27/09: Building Strongback: 7.5 Hours
6/30/09 – 7/13/09: Building Transom: 6 Hours
7/14/09 – 7/20/09: Stem Lofting Detail: 3 Hours
7/22/09 – 7/29/09: Stem and Knee Cutout: 4 Hours
7/30/09 – 8/16/09: Keel, Keelson, Skeg and Sternpost: 21 Hours
8/16/09 – 9/5/09: Attaching Transom: 3 Hours
9/28/09 – 9/29/09: Cutting Stem and Keel Rabbet, 9 Hours
9/30/09 – 10/4/09: Stem to Keel and Lining Off, 4 Hours
- Total Project Labor Hours so far: 74.5 Hours
- Time since starting project: 142 days (4 months 19 days)
-- Matt - Syracuse, NY
---