It's been a busy month for other things, but I've made some good progress on the boat. I've also managed to find some great planking lumber, with a great story behind it, which I'll write about a bit below.
But first, update on the transom which now completes the stern.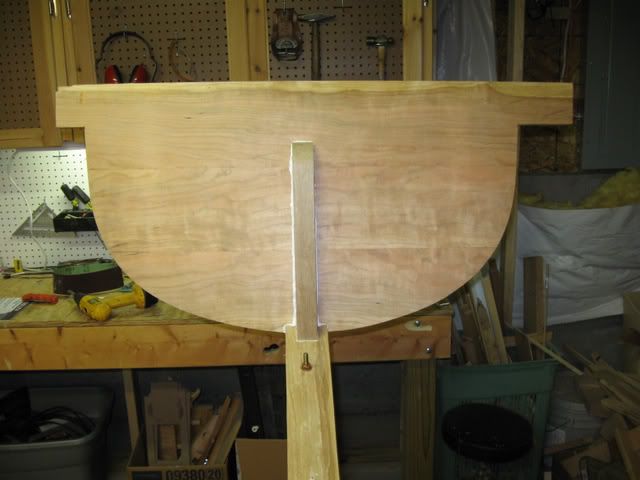 The transom is attached to sternpost with 5 countersunk #10 bronze screws which are covered with matching cherry plugs. Later on, I'll epoxy in and cut the plugs off flush.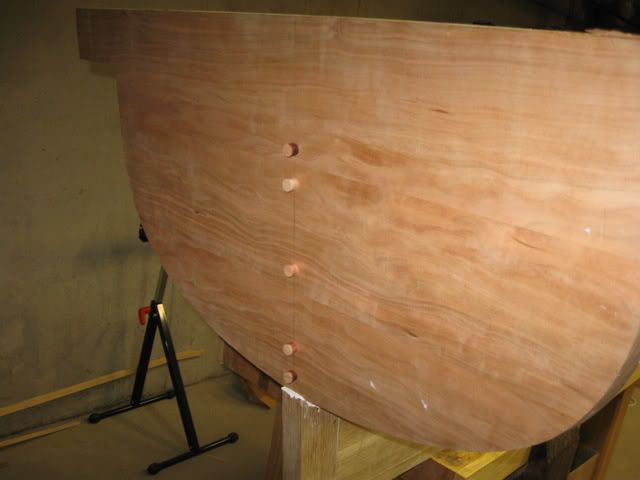 And a shot of the whole keel and transom assembly.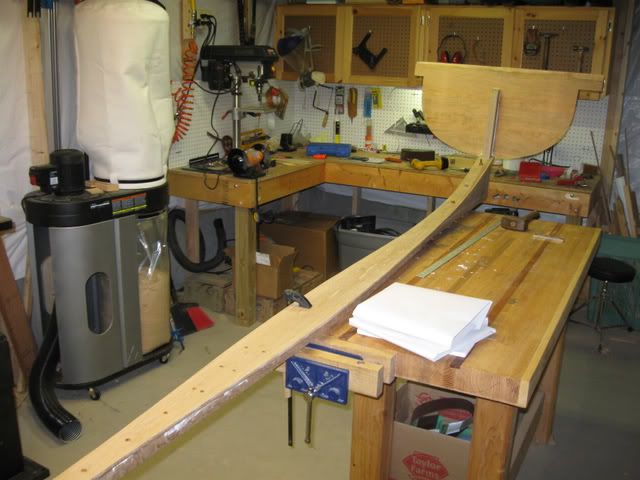 Planking Lumber
I've spent a lot of time researching planking lumber since I started this project. I've considered everything from Western Red, Atlantic and Northern Cedars, Cypress, Spanish Cedar and Larch. Teak and Mahogony.. far too costly. None of these species, except for Larch and Cypress maybe, grows anywhere near Central New York.
I was mostly settled on Western Red Cedar, as I can obtain it locally, until I came across an ad on craigslist listing "Larch Lumber for Sale". It turned out that the seller was an older gentleman who had bought the larch about 3-4 years ago. He had been planning to build a large boat with it for many years, since around 1950 or so as I recall. My father and I drove down to meet him, and sure enough, he had about 300bf of air dried 10"x16' larch perfectly stacked and stickered. He said he bought it from an Amish sawyer in southern New York, which would almost certainly make it Tamarack or American Larch. Larch is a conifer, almost like something between a cedar and pine and has a tough and waterproof quality to it. I've read you can build an a boat entirely from Larch including the keel, ribs, masts and planking.
We spent the entire morning with him and his wife, who are the friendliest and most interesting folks you could meet. He showed us his woodworking and stained glass shops and we talked about several of his projects including some canoes he had built. He showed us the plans to the boat that he recently decided he couldn't build. I'm sure it was hard for him to part with his planking and his project, but we talked about how we were both glad to see it going into a boat project.
We ended up driving back with about twice the amount of lumber I need for this project. Here's a shot of some of the boards I'll be using for planking.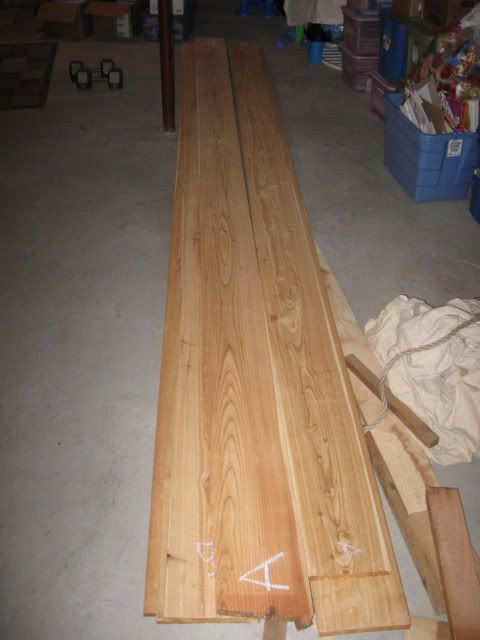 Copper Rivets
After finding my planking, I needed to settle on how to fasten them together and to the ribs. There are at least a few ways to do it including clenching, riveting and glue I suppose. I finally decided on rivets using copper nails and roves and bought them from Faering Design. They specifically sell fasteners and tools for boat builders. I also bought the Rove Set tool and Bucking Hammer from them so that I have the right tools for the job. I'll probably show more details on riveting in a future entry here.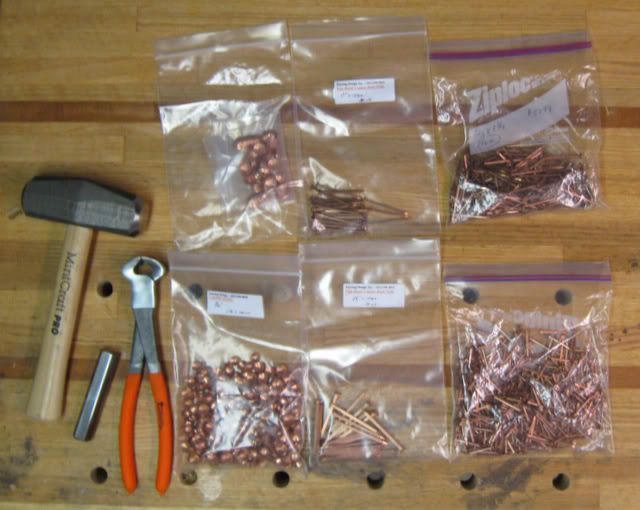 Materials List:
Larch Planking, Found through Craigslist, $150 (I figured half my cost here, since I'm only using some of it)
Copper Rivets and Roves, Faering Design, $175
Project Materials Summary:
Plans and Book: $60
Lofting Supplies: $47.88
Mold Supplies: $36
Strongback Lumber: $33
Transom Materials: $22
Stem and Knee: $47
Keelson, Keel, Skeg and Sternpost: $97
Silicon Bronze Hardware: $225
Larch Planking and Copper Rivets: $325
- Total Project Expenses so far: $892.88
Labor Hours Summary:
5/29/09 – 6/8/09: Lofting – 12 Hours
6/14/09 – 6/20/09: Building Molds: 5 Hours
6/25/09 – 6/27/09: Building Strongback: 7.5 Hours
6/30/09 – 7/13/09: Building Transom: 6 Hours
7/14/09 – 7/20/09: Stem Lofting Detail: 3 Hours
7/22/09 – 7/29/09: Stem and Knee Cutout: 4 Hours
7/30/09 – 8/16/09: Keel, Keelson, Skeg and Sternpost: 21 Hours
8/16/09 – 9/5/09: Attaching Transom: 3 Hours
- Total Project Labor Hours so far: 61.5 Hours
- Time since starting project: 122 days (3 months 30 days)
-- Matt - Syracuse, NY
---