Greetings.. Things are moving along well with the boat construction.
This part in the series is cutting out the stem and knee parts which form the front "backbone" of the boat. To do this, I created templates from 1/8" birch plywood and used those as patterns to cut the actual parts from 2" thick white oak.
To get the shape of the templates, I used the same picking up method as I used when getting the shapes from the drawing to the actual molds in part 2. This involves placing nails (which have had half the heads ground off so they lay flat), on the lofting:
Next, I carefully layed a sheet of plywood over the nails and hammered it down so that the nails stuck into the plywood at the same positions as they were on the lofting. The board is flipped over. Crude yet effective.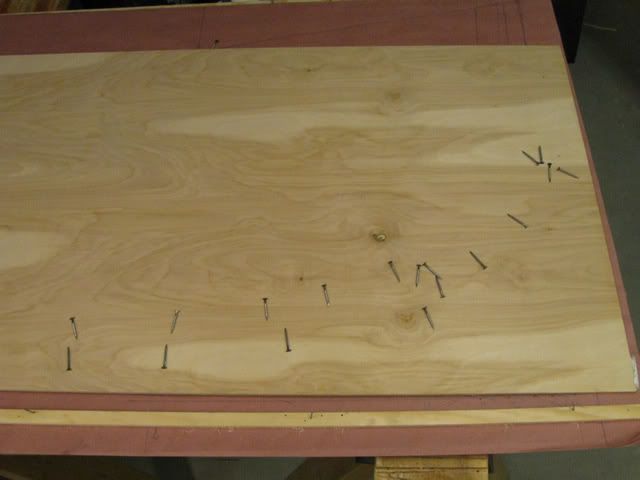 Next step is to connect the marks left by the nails using battens to get the curves and straight edges where appropriate.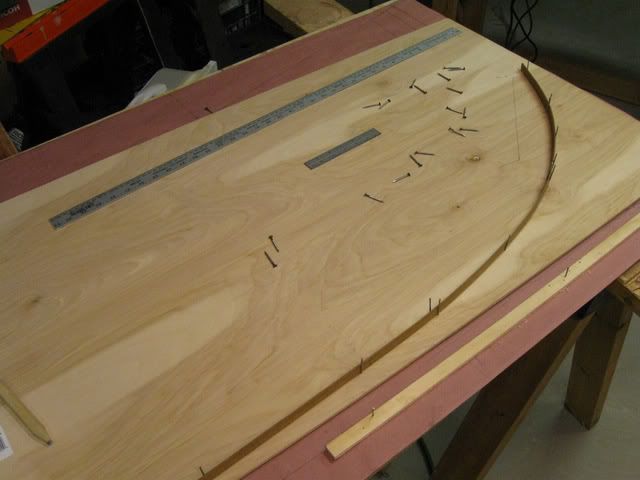 After the lines are drawn, the templates are cut out on the bandsaw and the edges are trimmed to fit exactly on the lofting.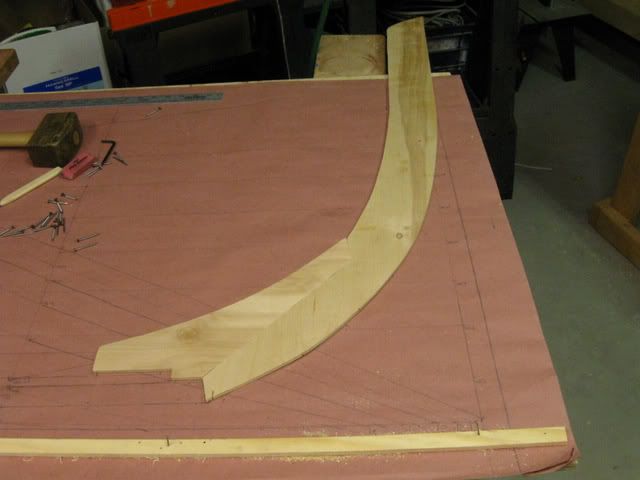 Now the templates are positioned and traced onto white oak. Just barely fit! Phew!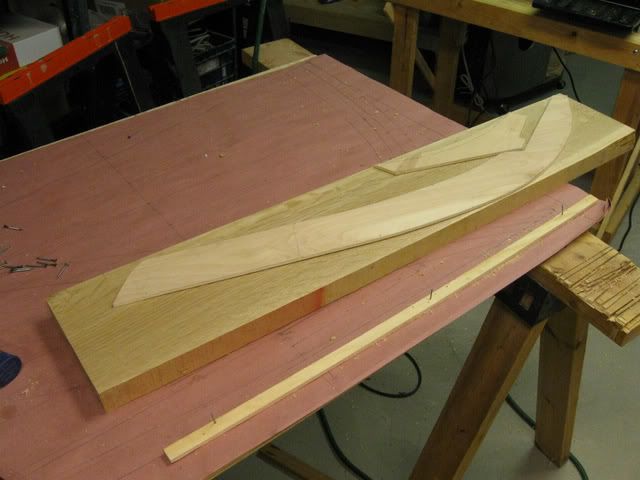 The final stem and knee pieces were cut on the bandsaw. Sections were planed down to 1.5". All edges were smoothed with a spokeshave and card scraper to fit the lofting. The top of the stem is left long intentionally to attach it to the strongback. Later, this will be cut to size after planking.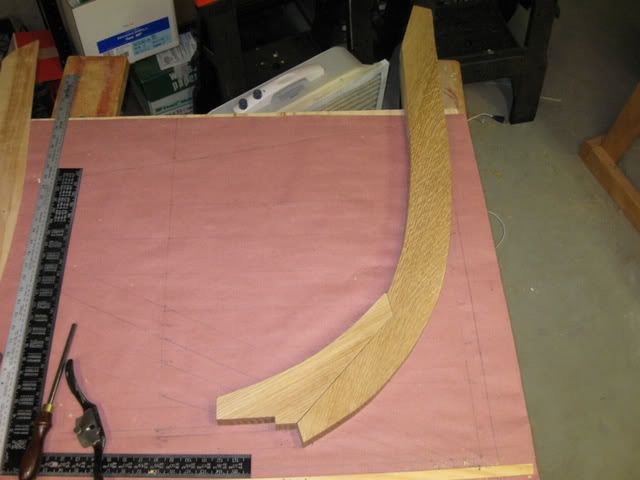 Lessons Learned
I probably should have set up to cut out the keel and keelson before starting on the stem, but no harm done. I'm just going to wait until the keel and keelson are on the molds before cutting out the rabbet in the stem which I had initially planned to do for my next step. I want to be able to do some actual test fitting as I cut out the rabbet and can't do that yet! Also, halfway through planing the 2" oak down to 1.5", I realized that I should have resawn it and at least have saved a 3/8" piece of oak. It's all sawdust from the planer now. Ah well.
Next Step
Cutting out the keel and keelson.
Materials List:
Project Materials Summary:
Plans and Book: $60
Lofting Supplies: $47.88
Mold Supplies: $36
Strongback Lumber: $33
Transom Materials: $22
Stem and Knee: $47
- Total Project Expenses so far: $245.88
Labor Hours Summary:
5/29/09 – 6/8/09: Lofting – 12 Hours
6/14/09 – 6/20/09: Building Molds: 5 Hours
6/25/09 – 6/27/09: Building Strongback: 7.5 Hours
6/30/09 – 7/13/09: Building Transom: 6 Hours
7/14/09 – 7/20/09: Stem Lofting Detail: 3 Hours
7/22/09 – 7/29/09: Stem and Knee Cutout: 4 Hours
- Total Project Labor Hours so far: 37.5 Hours
- Time since starting project: 63 days (2 months 2 days)
-- Matt - Syracuse, NY
---