Completed the transom today. The transom is the back section of the boat where I'll mount the 250hp Mercury outboard. (Just kidding).
Transom is 1" thick black cherry. I choose cherry because I like it and I have a lot of it from a tree I milled a few years ago.
Here is the glue up with epoxy. Joints are splined with pine. Straightfoward so far.
This next part gave me a headache for awhile. The edge around the transom is a compound beveled edge and the entire transom itself will also be tilted at about 12 degrees. The angle of the edge gradually changes depending on how the planking will meet the transom at any point. At first, this seemed like a very difficult problem until I realized (after checking several books) that it's just a matter of lofting an "inboard" and "outboard" profile view representing the face on the inside and the outside of the boat respectively. I then used the same methods as lofting the mold stations to transfer the profile view to the half-breadth and body plan views. Once I did this, the measurements were easy to tick off from the lofting directly to the cherry blank. To do this, I drew a grid on the blank that lines up with the grid on the lofting. I transfered the measurements onto the blank grid and then used a batten to bend around the points to draw a fair curve. One trick I picked up in the book "Building Sunshine" is to draw both profiles on the same side of the blank (see photo below). This is faster and helps to ensure that everything is lined up. You should be able to just make out the lines in the photo below. I then cut the outside profile line at 90 degrees on the bandsaw.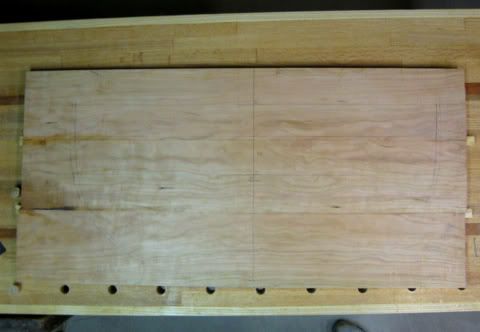 After the transom is rough cut out, I used spokeshave and plane to clean up the edge. I then used a jigsaw to roughly cut the angle around the inboard line, just to remove most of the wood. I then used the spokeshave and plane again to smooth out the bevel down to the lines. The edge on this thing is really cool. Nice smooth curve.
Rest of it is pretty easy. Card scaper cleanup and finish. Threw some water on it to check out the figure in the grain.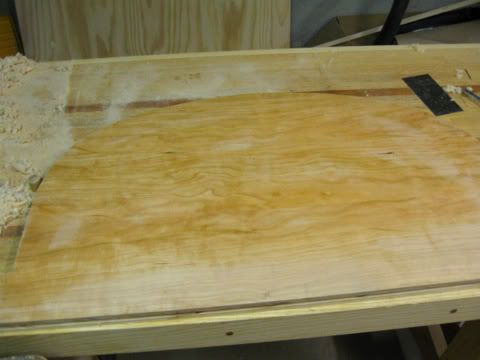 Last step was to mount it on the strong back at the appropriate angle. Transom is ready!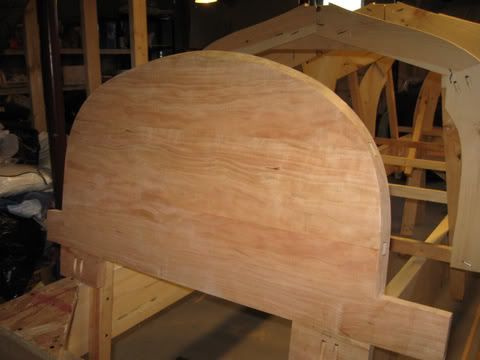 Next Step
Next step will be the other end of the boat… the white oak stem and knee. Per DaveR's request, I'll detail the process as much as I can. I've been looking forward to this part.
Transom Materials List:
G/Flex Marine Epoxy: $22, Local Marine Supply
(3) 1×6x36 Cherry: $0, Milled from inventory on hand ($45 approx value)
(2) 3/4" x 36"x 3/8" pine splines: $0, Misc scrap
Project Materials Summary:
Plans and Book: $60
Lofting Supplies: $47.88
Mold Supplies: $36
Strongback Lumber: $33
Transom Materials: $22
- Total Project Expenses so far: $198.88
Labor Hours Summary:
5/29/09 – 6/8/09: Lofting – 12 Hours
6/14/09 – 6/20/09: Building Molds: 5 Hours
6/25/09 – 6/27/09: Building Strongback: 7.5 Hours
6/30/09 – 7/13/09: Building Transom: 6 Hours
- Total Project Labor Hours so far: 30.5 Hours
-- Matt - Syracuse, NY
---