As a fairly new member, joining about 12 months ago, I have only posted some of the pictures below at the "My Shop" area. After years of lurking at LumberJocks, and drooling over other guys shops, I decided to upload my shop build out. With little to no experience at blogging what a better place to start…right?!?
So beer with me (The past 12 months of building has definitely increased my consumption)
I am almost complete with the first phase of the build, and finally have some time to sit down and put together a series of posts on it. Hopefully in another 6 months I will update My Workshop page with the semi finished product, because really, what shop is ever 100%?
At least that is my story…
This is going to be an overly long and word-y post and I tend to ramble, so be warned
PART 1


The first thing people want to know is "How much does it cost to build a shop?" Unfortunately this is a loaded question and about on par with asking: "How much does a car cost?" well, Cadillac CTS or Ford Fiesta, New or Used, 1994 or 2016, what options…
Out of the gate, I started with a building shell and a slab already in place. That saved in the neighborhood of $25,000 from starting completely from scratch, in a green field.
12-ish months and around $4,800, I am getting close to finishing the first phase of my project. I installed my first piece of trim Labor Day Weekend 2016, just to say I have started installing trim. In reality I bet it will be another few months before I am ready for my final inspections, but there should be few additional costs. I think I have everything I need to finish this phase.
The First Phase for me is getting the interior finished and power installed. I figure this as the bare minimum to plug in a piece of equipment to start building bird houses and custom cat scratching posts. Other steps/project for the future will be: Dust Collection, dog house for a compressor, loft build-out, exterior upgrades, a fancy sliding door for the loft, Hand sink and urinal, casework, and who knows what else. As long as it is done in the next 20 years and ready for my retirement, it will all work out.


Overview
Existing 30×30 Wood Pole Building with Metal insulated metal siding and metal insulated roof.
13' eve height, 18' peak 4:12 pitch roof
Concrete slab (4"-6" thick)
12' x 12' sliding barn door – (that opens partway on a good day)
7' x 9' car door – (that is waiting to fall and kill me)
3-0×7-0 door
8' x 30' loft space – ceiling is 7'-2" so a little short
No Power (discovered after the sale)
No Plumbing (discovered after the sale)
No HVAC
At the start of the project I budgeted around $4,000 for the project; $250 for permits, $1500 for the interior framing and finishes, $750 for electrical (not including a new dedicated service), and $1500 for gas. After jumping in to it I got a bit distracted (read that as bored) and started on side projects that were not part of my original budget/plan. The Gas line came in cheaper, but the electrical service was more, all in all, about on par with what I had set aside, plus I have some improvements/upgrades that I could not have anticipated when I started.
The bulk of materials and equipment were bought from a combination of Craigslist, eBay, old stock and reclaimed cedar fencing, and far, far too many equipment/material auctions (that I have become addicted to over the last year.) I figure I am saving around 50% going this route, things are not new, and so far I have gotten lucky and have picked up some great deals. The only pieces that are 100% from the big box stores are electrical wire, boxes, receptacles, and 8 LED can lights.


Cost to date
$1300 – electrical 200A service – half of this cost was to install a new transformer on the electrical pole. The existing transformer was at max load, but was not schedule to be replaced by the power company for quite a few years. I paid for the labor and the power company paid for the transformer. IIRC the permitting and connection to my house for a new service was $600.
$400 – framing and plywood sheathing
. (20) sheets plywood – most used/damaged in some way
. (110) 2×4 studs (24" o.c.)
. (3) sheet MDF 4×8 x 1/2"
$420 – Insulation – around 950 sq ft of new R-19 insulation. One wall already had decent insulation on it that I reused
$400 – Cedar. Since I was matching a lot of material I already had (5/4×6 and 1"x8") the infill pieces were expensive
$300 – Electrical connection from meter terminating on the panel (I paid someone to make the connection just because I didn't want to fight the 4-0 wire.
$700 – Electrical (includes all T-5 and LED fixtures, floor box, and receptacles)
$750 – Equipment rental – Trencher, Concrete sawcutter, 60 lb jack hammer, mini excavator
$50 – sand
$175 – concrete (only 1/3 finished with slab)
$250 – small tools/consumables – blades, grinding wheels, specific tools for UG gas work, etc.

In the beginning, there was an empty Shop
In June of 2015 I moved into place that has a dedicated detached shop space. And immediately posted photos under the My Shop page here, with starts in my eyes for what it could be…
Truly the only reason I bought this house was that it had a 30×30 detached Shop/Garage. It is actually 30-40 miles outside of the sphere where I want to live, but where I want to live, with a lot large enough for a shop, would probably be in the $500k-600k range, way out reach for my "lifestyle".
I was at a point in my woodworking life that I needed space, and wanted to start buying bigger pieces of equipment, and luckily found a piece of property that had the start of what I wanted. I am on a 1/3 of an acre within the city.
I walked into the shop with a flashlight and saw that there were fluorescent lights hung (old T-12 but what the heck), a switch on the wall, a few receptacles here and there, and a ¾ bathroom with a toilet, sink stubouts, and a shower. So PERFECT, Right! (How wrong that turned out to be) The building is a wood pole building with insulated metal exterior panels and roof. Not much in the way of insulation, but a little, and a very convenient place to start.
The bag of concrete next to where the old sink was, should have been a warning sign…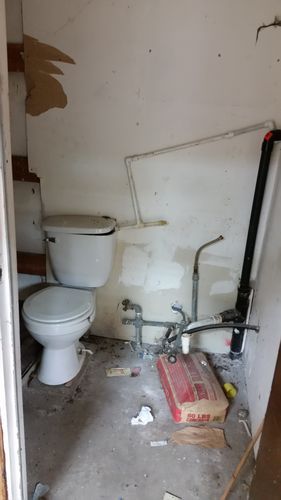 One other point that swayed me in buying this place was that I thought I was getting the ability to have 3 phase power. I saw that the power pole in the front yard had an extra pot on it, so I researched with the electrical company before I bought the house and, yes, in fact there was 3 phase power available. I got a quote of around $1500 to get a 3 phase service drop. Better and better.



My dreams of 3 phase power died after I moved in and start getting serious about permitting the new electrical service. I got a quote of $15,000-$18,000 to run the UG line to the shop (±200 feet from the pole to the shop) and it would be running right where I wanted to put my gas line. This was something I would never think of doing myself so I scrapped that plan. So much for the "great" deal I got on a 3 phase Powermatic Model 60 ($225 at an auction). Oh well, that is what digital converters are made for I guess.


When I originally walked through the house, the power and water were turned off. I didn't know at the time I purchased it that the power and water to the shop had been severed and capped somewhere in the back yard. Unfortunately, the house was a flipper, so the interim owners apparently cut all the power, water, and sewer lines to the shop in an effort to get the building department to overlook inspecting it on more than a cursory level. Months of digging up the backyard later, I found where the water was shut off, buried 2' down, and think I found an old direct bury conductor from the house cut off in the middle of the back yard for power. The sewer line was plugged, but I was able to get it flowing with a little effort.


Luckily (?) my job in the real world is a Project Manager for a Design-Build commercial General Contractor, so I am able to draw up my own plans and have done enough design work for permitting commercial projects, that I don't need to hire anyone to draw things up. I only need to hire out structural pieces that need an official stamp and calculations. I did all of my own electrical and mechanical calcs for the permits.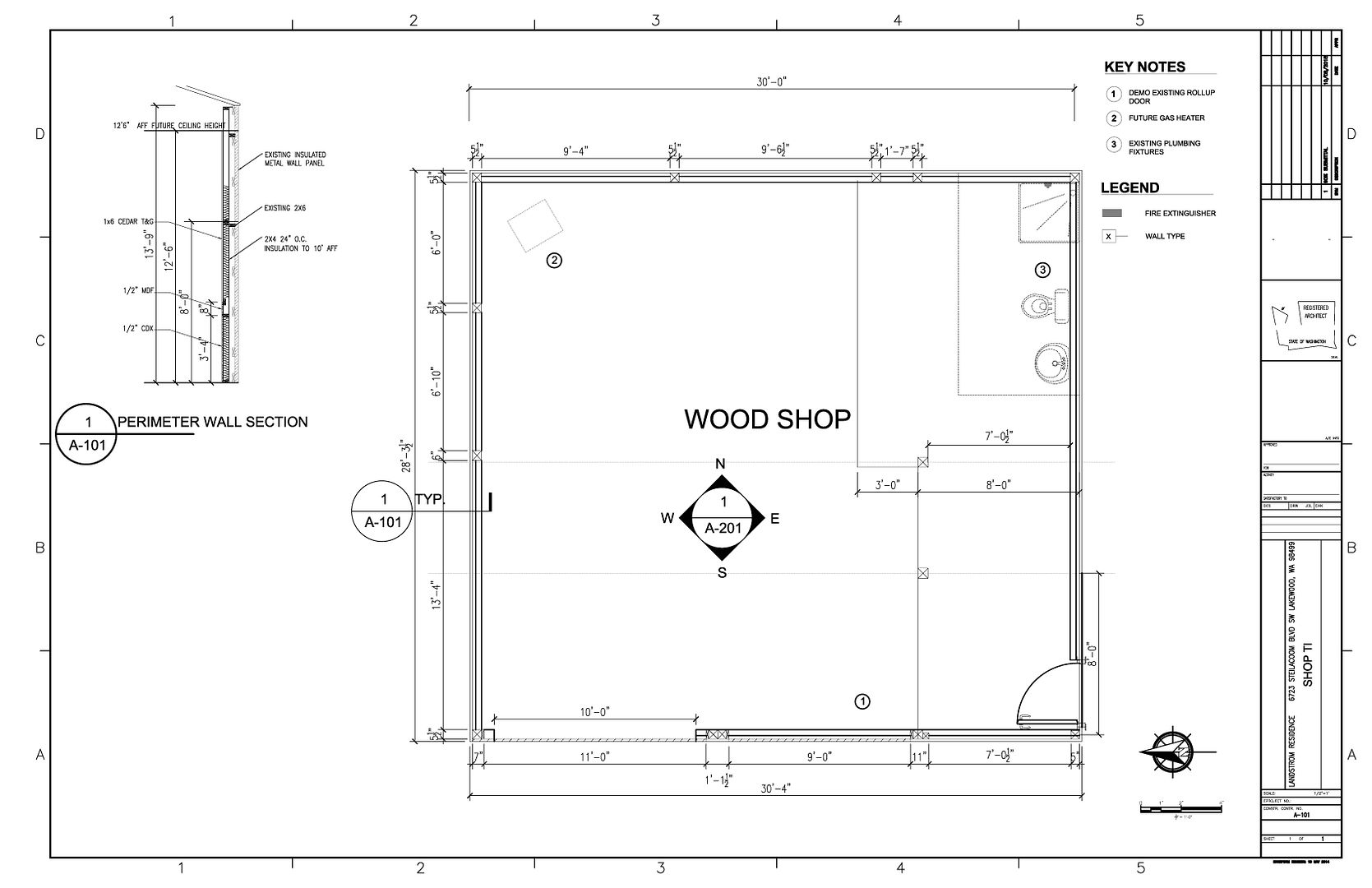 I first installed a bunch of T-5 highbay lights I picked up at an auction. I ran these to a plug and for the first 2 months, while I was waiting for permanent power, I had a 100' extension cord going to my garage.


This was by far the most dangerous thing I did during this job, and it was because I was not thinking it all through, as most mistakes happen.


(9) T-5 lights that have (4) lamps per fixture adds up to 234 watts per fixture, so that is 2106 watts total, which in turn equals almost 18 amps. And I put this on a standard 12 gauge 100' long extension cord…not smart. Needledd to say, the cord got a little warm.
I paid $10 apiece for the lights at an auction. They are a (4) bulb T-5's in all aluminum weatherproof housing with occupancy sensors installed. I actually used a photometric program to calculate the maximum foot candles of light the best height for these fixtures and ended up hanging them at 11' AFF.
My light meter reads right around 500-550 foot candles at 36". So probably a bit overboard.


The lamps thatcame with the lights are 6500k as well so it is disturbingly white-bright sometimes. It does encourage wearing tinted safety glasses though.


I purchased (4) LED strip lights for the area underneath of the loft space. These are great lights and there are a number of posts on the forum of guys using them, since they are only $40-$50 each depending on where you buy them.


Since I only have 7'-2" of space below the loft area, after hanging the $40 lights on their 4" cables, I decided I wanted more headroom. I decided to install recessed can lights in the finished product.


Then a month ago the City where I live, ran a special rebate with the local box store and I picked up 6" LED can lights with trim for at $4.99 each, so I bought these new and new cans for the loft area. The more expensive strip lights are moved to my garage. I did not include this cost ($200) since these are not part of the shop now.


The plan is to fur out the interior walls to flush them with the 6"x 6" posts around the perimeter and get a "smooth" interior wall surface. Since these are not structural I got away with 24" o.c. framing for 3 walls and 16" o.c. under the loft area. Using 2×4's flush with the face of the 6×6 posts allowed me to install R-19 insulation (typically for 2×6 walls)


There were countless rings, inserts, and anchors set into the slab, along with 4" dia holes/sleeves, that needed to be removed and filled. My best guess is that the previous owners ran an auto body shop out of here and used these for a frame straightening system. There was a 2 post lift installed at one point as well. I recognized the blot pattern that was cut off.


These all got cut off and the concrete chipped down so I could patch the floor. Someday I would like to put epoxy down and have a smooth floor, but that is out of the budget for now.


There was a 5'x8' area framed in with the Toilet, Shower, and sink area, but after finding out the lines were disconnected somewhere I ripped this all out. I will try and figure something out later for water and sanitary needs. Again if I can get water and sewer hooked up it would be great not only for not going into the house, but for resale or renting purposes.
I am also torn, that it would be great to have a toilet in the shop, but the amount of space that it will take up with screen walls for pricavy and just being sanitary well, I didn't want to give that up. this is also where I want to put my stairs up into the loft storage area as well.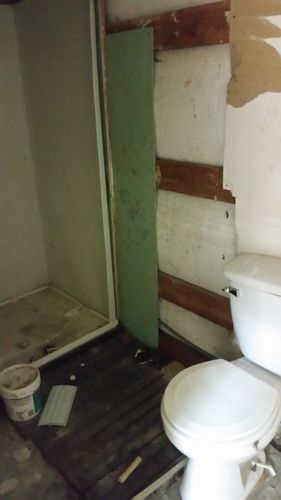 The last part of Demo was removing the "rollup" garage door. The springs were not done correctly nd you had to put a 2×6 under the door to hold it open.



I called (2) residential door contractors to give me a price to fix the door so it would be correctly installed and roll straight up. Both said to scrap the door and buy a new one, as the parts and pieces to correctly retrofit a normal horizontal garage door to a vertical lift door would be more than just buying a new door. So of course they would sell me a new door and install it…for $2,000.
Well thank you no. I really don't need the added door since I m not operating an auto repair shop. I demoed it out and framed in the opening.


My biggest problem in the 6 months has been trying to find matching metal siding panels without ordering custom panels for a 9' x 7' opening. Every metal building is different depending on what manufacturer you buy from. Each one has their own deal on the style of panels they use to keep costs down. My shop was built in 89 (rom my research at the City Permit counter.) It uses a modified 12" ribbed panel. So of course the box stores around me along with most Craigslist adds for metal panels are a 9" rib, which will not work well and will create a water leak issue if not done right. As result I have had Building wrap on the outside of this opening for a while. I am sure the neighbors love it…


That wraps up the demo and start of my shop build. It is a pretty long post to not get any payoff of a finished shop so here are a couple photos of the first pieces of trim, final stain colors, and the LED Can lights in under the Loft.



Thanks for reading
-- Jeff ~ Tacoma Wa.
---