This will be a brief blog post—mostly pictures, but I wanted to show some progress against a few of the saws that I recently acquired. I tried to raise the bar with photography, so here goes.
One of the Disstons before:
and
And now, after a little elbow grease, I've gotten it this far. Still not finished—that handle needs some 'color' :-)
And secondly, the 'Warranted Superior' backsaw I picked up at the Re-Store.
Before: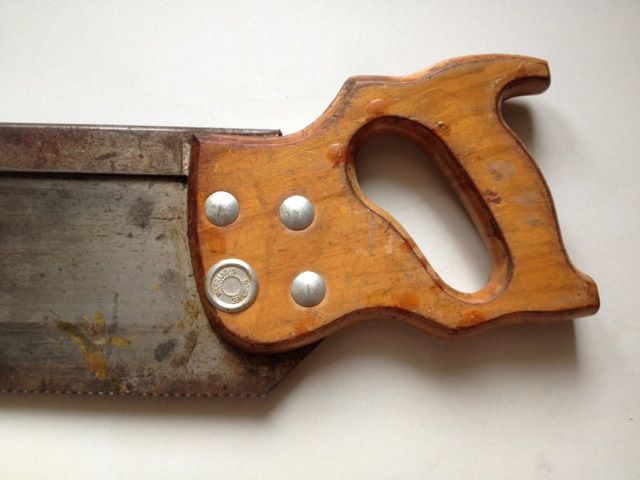 As of this blog post (again, that handle needs finishing):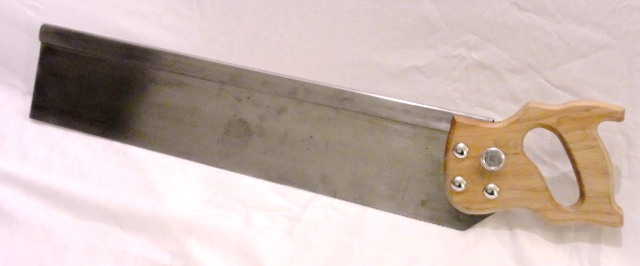 Both of those had some learning curves to them. I tried a power sander (random orbital, 120-220 grit)—and decided I definitely prefer the long strokes, by hand, along the blade. Yep, it takes longer, and you burn more calories doing it—but I definitely prefer the finished look.
Lessons learned:
- Power sander can speed things up… but you might wish you'd taken the time and done it by hand.
- Blue Magic metal polish is amazing—certainly seems to do the trick on all of the hardware I've applied it to.
- A little water/windex on the wet-dry sandpaper does a lot to keep it from loading up – spritz some on the surface (metal) you're working on as you go.
- Cabinet scrapers can make quick work of an old, cracked, lacquered surface, and bring out the wood again!
- Restoring old hand tools is fun, … and addicting! (get a firm grip on your wallet…)
- Scotch-brite can "cover a multitude of sins" if you've used a power-sander on your saw plate – still not as good as having done the whole thing by hand—but far better than just leaving those robotic scratches in place.
- Patience cannot be over emphasized—to give a facelift to a 90-year-old anything, is going to take some time if you want your name associated with the results!
-- "In my walks, every man I meet is my superior in some way, and in that I learn from him." ― Ralph Waldo Emerson
---