This bookcase was designed to camouflage ductwork and to replace a portion of the book storage from a 10' x 6' shelving unit that we removed to remodel our dining room.
The next three pictures show the ductwork and the steps from paneling to painted drywall. The horizontal ducts were covered in oak with rails and stiles cut to enclose lighting panels to match the kitchen woodwork and lighting (not shown, around the corner to the left).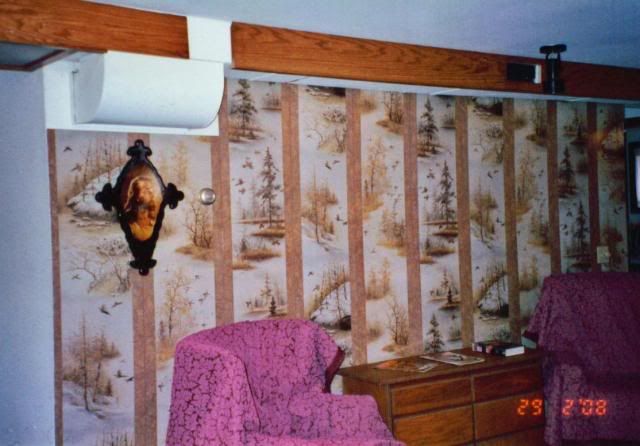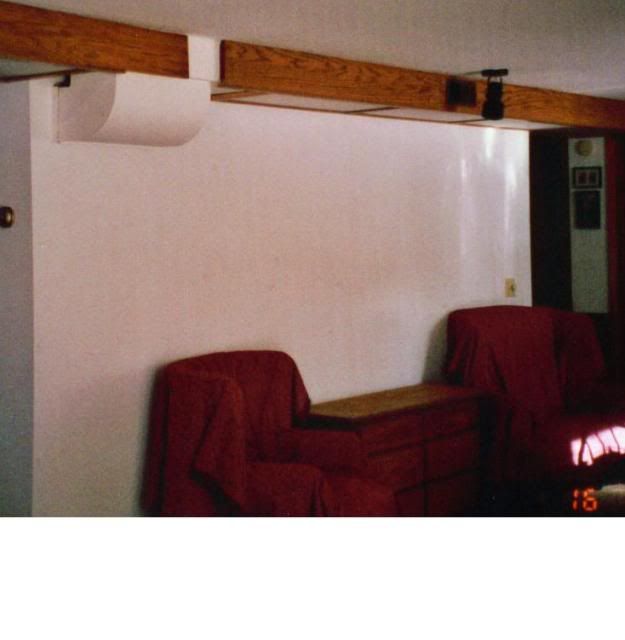 Next I began working on the crown to enclose the furnace air return. Because I didn't wish to attempt using my husband's spray rig for finishing the crown and I doubted that I could successfully finish it with the onlay glued in place, I decided to trace the onlay onto parchment covered with masking tape, cut it out, then peel and stick the masking tape to the oak crown.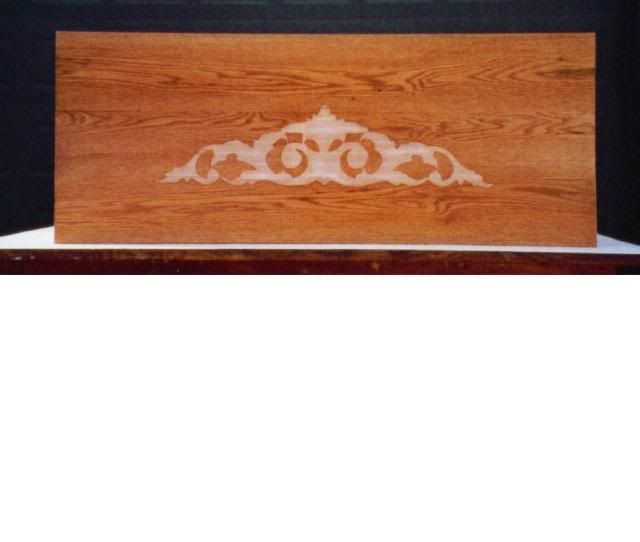 After staining and varnishing the crown and onlay, I removed the tape, then glued and clamped the onlay in place, using boards cushioned with packaging wrap to keep from damaging the onlay. (I drilled a tiny little hole in an inconspicuous place on each end and pinned the onlay in place, leaving the pins proud so I could pull them out when the glue dried.)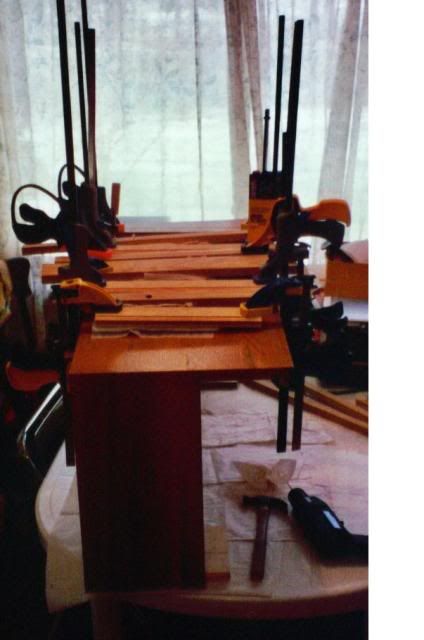 The onlay was slightly warped so I was concerned about getting it to lie flat.
I added a 3¼" standard stock crown molding to finish it off at the ceiling.
I have no idea what kind of wood the onlay is, but it was within my budget so if anyone asks why I didn't use oak, I can just say that I was going for contrast!
Next I built the carcass with raised panels on each side. I attached the front to the sides using splined miters. The face frame was assembled using pocket-hole screws. (I didn't remember to take photos at this step.)
[All this uploading takes forever with dial-up, but I'll try to continue this blog in the near future.]
-- Voltaire: "Those Who Can Make You Believe Absurdities, Can Make You Commit Atrocities" There are 112 genders (not including male and female) https://dudeasks.com/how-many-genders-are-there-in-2021/
---