Sorry, it's not as bad as the title sounds.
I got bit…..buy the plane buying bug. LOML wanted to run to the flea market to pick up some new flea's. Just kidding, she wanted to pick up a new tree to plant in the hole in the back yard from the one that I planted last year that the dogs dug up sooooo many times that they killed.
Well we looked and wanted to walk around an talk about what we saw. So as we were walking and talking, I spied a table with 2 planes on it. OLD WOODEN BODIED PLANES. 1 was a what looked like a jointer plane and not sure what the other was, it had an narrow body with the iron cut and sitting at an angle. Looked like a shoulder plane. The guy wanted 28 for the jointer and 12 for the "shoulder" plane. I stood there and thought about it, touched them, and tried to love them. The magic just wasn't there. They had been abused and were REALLY worn. Both were wood bodied and the wood was checked, split, and cracked. He asked me what I would give for them and I told him that I would walk and think about it, and we walked away.
Well, as we wandered further into the flea market, I was thinking. HMMMMM…..how much to offer?, do I want to put THAT much work into them? and on and on.
Well, as we walked, we came across an old man sitting in a booth, with some new POC (piece of crap) tools and some older tools. I spied a plane. I walked over and picked it up. Hmmmm, was that a spark/tingle I just felt run thru my arm? The only markings on it are "Made in America". It looks like my bigger Groz or a Stanley. It is really worn, rusty, and the blade it BENT TO CRAP! And to top it off, the blade/chip breaker were put on backwards and now I can't get it apart, wiggles, but won't come apart. It is marked $8, the old man ask me what I will give him for it. I said $5, and he held up his hand. I tried not to get my wallet out to fast. I handed over my 5 bucks and he said that he wanted to get what he had in it. He also said that he worked on cleaning it up for 2 hours. I bit my tounge as I walked away, wanting to say "you shouldn't have wasted your time".
Here are some pics…....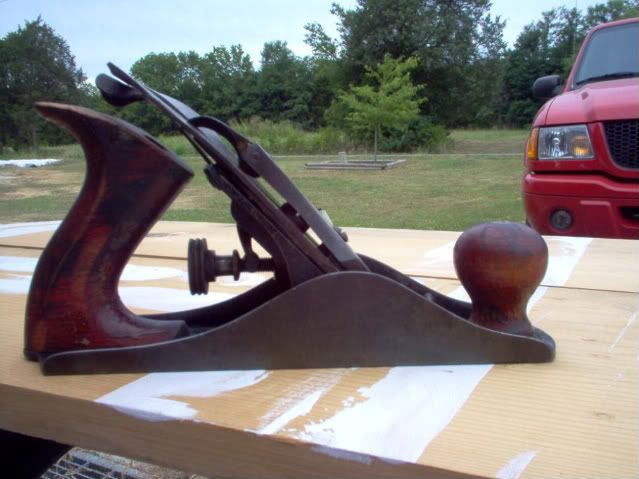 -- Adrian ..... The 11th Commandment...."Thou Shalt Not Buy A Wobble Dado"
---