A few weeks ago Michael Mode did a demo for some members of the Front Range Woodturners here in Denver. His demo was good enough that I thought I might be able to do that and I gave it a try. It was a 5 layer bowl out of some mystery wood and it turned out OK. I thought it was a bit rough and that I depended entirely too much on my 60 and 80 grit turning tools to finish it off.
So I thought I'd try a second one. This one is out of a nice piece of walnut. I got it all glued up and put a glue block on the bottom. One of the issues with the first one was trying to do the inside after reversing it. I talked with one of the members over on WoodBarter that imparted some of his wisdom and the glue block was one of the results:
I don't know exactly why, but I had several issues getting this one centered. I tried various methods and it just wasn't coming together. After posting over at WoodBarter again I got a suggestion that worked pretty good. I cut a disk that fit the inside of the bowl (including the angle) that seemed to help a lot.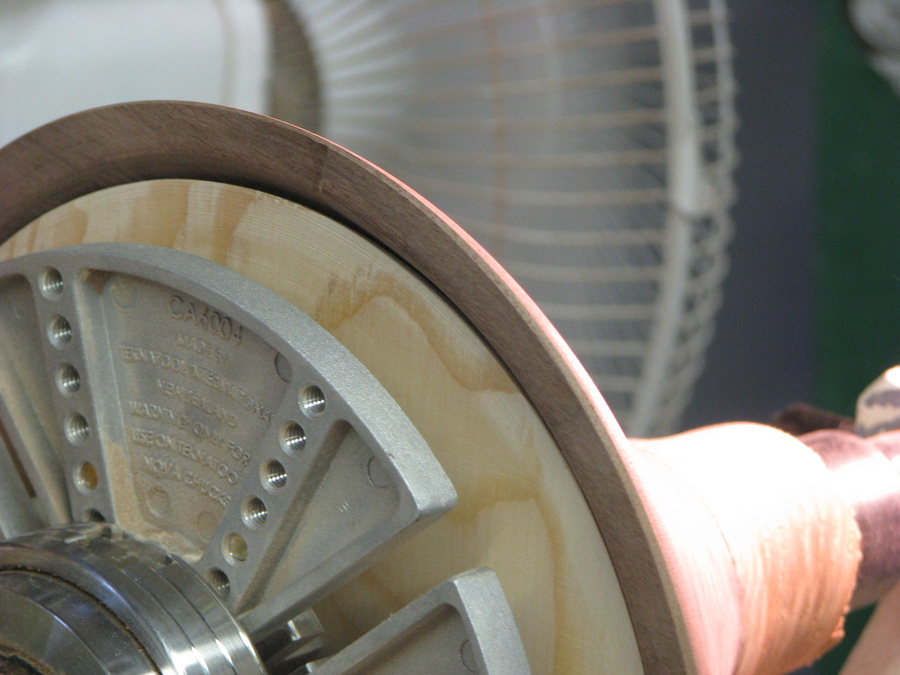 And here's where it is now – the outside contoured and the first rough sanding done:
My daughter is coming over tonight so I doubt much will get done on this today, but I plan on having it completed over the weekend and I'll add to this blog as I complete the project.
-- Experience is a hard teacher because she gives the test first, the lesson afterward. But properly learned, the lesson forever changes the person.
---