My oldest son recently asked if I'd build him a solid body electric guitar…. my 2nd guitar project. We agreed on a unique slightly goth shape, green curly maple front, and a black back made from ash. A purchased unfinished Les Paul style neck is on order, which will likely be painted black. The head stock will be shaped to compliment the body…maybe some color compliments too. It'll be trimmed with gold and black hardware. The pickups will be a GFS Fatbody single neck, Wilkinson single mid, and a double humbucker from an OLP John Petrucci Signature guitar. We're still deciding on a wiring scheme, but it'll likely be a simple 5-way switch, tone, and volume pots.
So far I've traced out a template shape that I'd acually build for him (first few way more radical), cut the front and back blanks from the template, and have shaped the front using a combination of router bits and hand chisels. Lots of sanding too! I've also cut a chamber for the electronics in the back, and have fashioned a cover. The back will likely be painted black, but since the first step in popping the grain on the maple was to stain it black, I stained the back at the same time…no harm done, and if the paint ever chips, it'll reveal black stained ash. The next step was to sand off the black stain, leaving just the darkened grain on the maple. Kelly green was then added to stain the front. I was ready to give the Transtint dyes from Woodcraft a shot, but rather than make the 28 mile round trip and spend $18 per 2 oz bottle, I decided to experiment with the RIT fabric dyes from local stores…$3 each, and so far the results have been really good.
The template: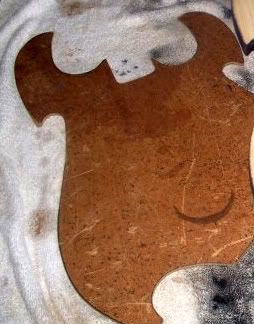 The roughed out body routed using a pattern bit on the template: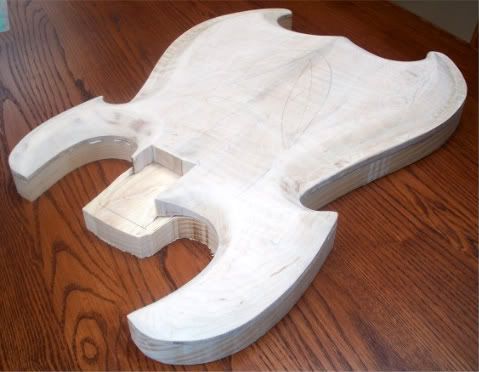 The front side of the back piece with the chamber for switches hogged out: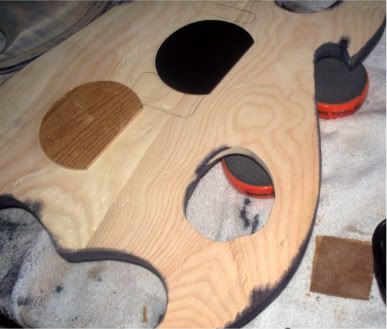 The back stained black, with chamber cover (back will get black lacquer):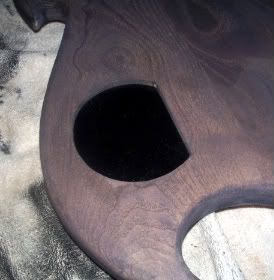 The maple front after receiving black stain, then sanded: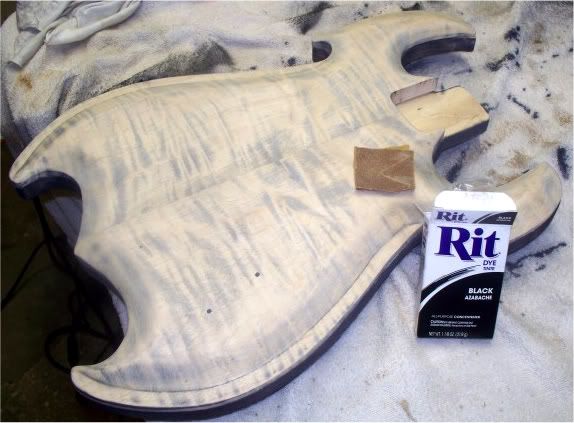 The maple front stained green: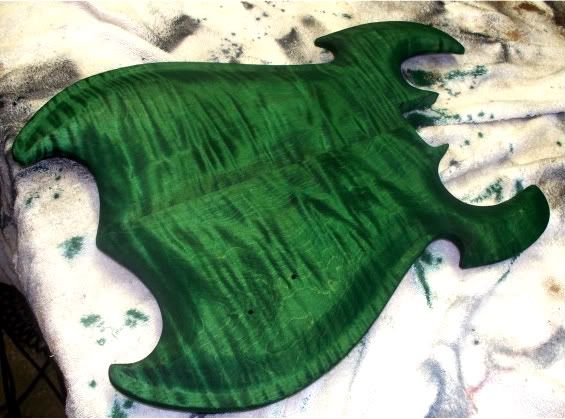 More to come!
-- Happiness is like wetting your pants...everyone can see it, but only you can feel the warmth....
---