It's been a full 9-1/2 years since I posted about this guitar that I built for my oldest son. Back then he was just starting to play and didn't know many of the nuances between a good guitar and a bad one, and since I still don't play, I never did know the difference. Over the years as he got better, he was playing that guitar less and less, and actually bought a Strat a couple of years ago. During a frank discussion he shared with me that he really loved that I built the guitar, but that it just didn't really play all that well, and he wasn't sure how to make it better. He was actually considering taking to a shop and spending some coin to have some upgrades done to it. He still may do that, but in the past decade since this guitar was made the info available on the internet has expanded exponentially…..so I started reading and tinkering, and making some tweaks.
- Step one was to fix the neck by doing a truss rod adjustment. This is among the most important adjustments, and if it's not right, everything else suffers. That allowed me to remove any shims that were really just bandaids for other issues.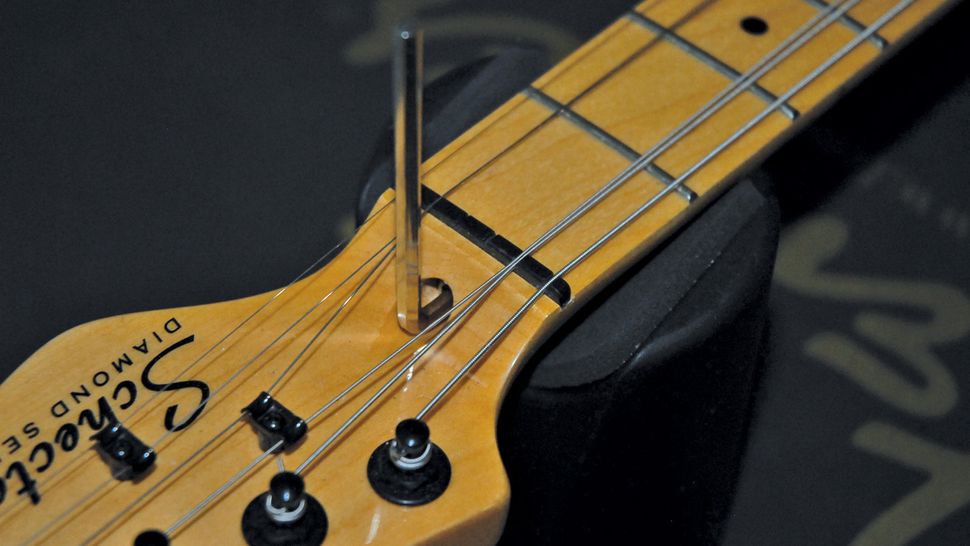 -Step two was to level the frets, then round them with a special fret file….a basic cheap luthiers kit provided the necessary tools for this… a 4 sided gizmo to check for high frets, and a file for contouring them after you level them. This step helps prevent fret buzz and dead fret spots that kill tone and sustain. This is also a good time to clean and oil the fret board.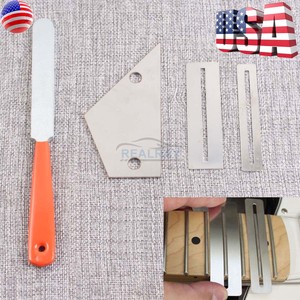 - Next task was to lower the string action by adjusting the slots on the nut. I actually ended up replacing the nut with a new one made out of bone. This also required some specialty tools to do right. I bought a set of nut files for < $10 that holds several sizes of files. They work, but take a very long time to actually cut any depth in the bone nut. I ended taking my rotary tool and serrating the edge of several blades from my feeler gauges to give me the various widths I needed…this worked great for the rough cut, then I rounded the bottom with the key ring nut files I bought.

- Finally, it was time to adjust the height of the saddles and adjust the intonation by moving the saddles forward or back….a cheap chromatic tuner was another key tool to have a available. My son had one, but they're < $5 for basic tuners that actually work pretty well. New strings and correcting the string trees finished off the tweaks that help it stay in tune, sound right, and play well.

It actually took me a couple of weeks, but once we realized the guitar had the potential to be pretty playable without major changes (like a new neck), we decided the spend some money on upgrades like new tuning pegs. He opted for some used Sperzels for < $50 (his money), then I invested in a new humbucker bridge pickup from Thompson Guitar & Thrift. Wow, what a great $25 investment that was for the tone and sound of the guitar. I also split the humbucker using a push-pull volume knobe so he can switch between the double humbucker or just a single coil from the same pickup. Pretty cool IMO.
Overall, he's psyched, and so am I. The guitar always looked good and sounded fine to me, but hopefully now it'll really be something he enjoys playing, and can be happy to use for years. He's going to take this guitar to band practice and hopes to actually play out with it in a few weeks. The small cash outlay for the tools was really money well spent. Since I have them, I also tweaked every other guitar I could find in the house. I don't read, and don't do puzzles or card games much, so this was just the ticket to entertain myself through the long winters here in Rochester.
He's still an intermediate level player, but here's a quick vid showing the sounds of the various pickups clean and dirty. He's using a 5 watt tube amp through a vintage 12" speaker, with no pedals or effects. The audio quality is pretty poor from the phone, but you'll get some idea of the tonal differences between the pickups.
https://youtu.be/_if9y6oFvWk
-- Happiness is like wetting your pants...everyone can see it, but only you can feel the warmth....
---