So with the basic bench built it,s time to increase its ability to do some serious work. Without a vise other ways have to be found to hold stock and as Adam Cerubini pointed out it,s the ability to securely hold stock that makes hand tool work easier,safer and all the more enjoyable and it frees you up to concentrate on holding the tool with a more effective grip which in turn makes your work more accurate. All these jigs have been written about and described in books and magazines going back centuries so they aren,t any clever invention on my part, in fact the clamping device for doing dovetails was described in Popular woodworking last month. All the others I got from Bernard E jones which I reveiwed on this site last week.These were all made from 1/2 inch ply which is ok for the moment but they will be replaced as they wear out by hardwood versions in the future. There,s less than $10 US of material in these jigs so they seriously give you bang for your buck.
The first jig is to hold boards on edge for planning. The square block has a wedge shaped cut out and when any forward pressure is put on the stock it naturally tightens up into the jig. If you have dog holes you can mount it to your bench that way rather than use clamps.


The shooting board is for ensureing you shoot a square edge. Simply built from two perfectly flat boards with the bottom one wider than the top to create a ledge for a plane to ride on with a square stop at one end. It can also be used to shoot endgrain square on drawer box parts for example. Make sure your plane body is also square otherwise you shoot out of whack edges.


These bench hooks are for securing long stock for trimming.


While this bench hook is for trimming shorter pieces. These jigs can be made any size to suit your stock and are great things to use with a tenon saw or small plane.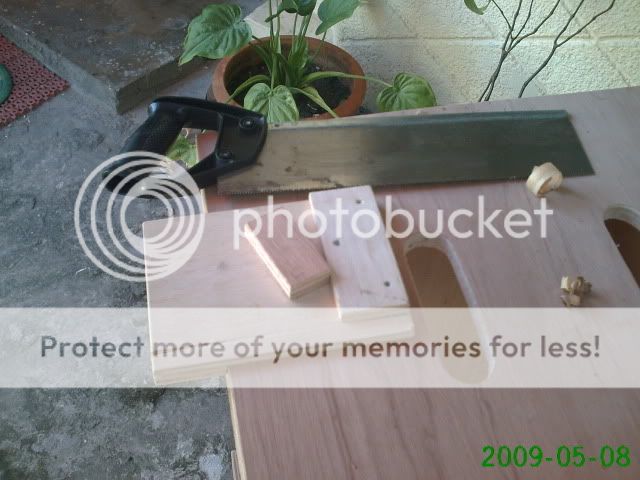 This shooting board is for shooting mitres. I goofed a bit on this one as I have both sides at 45 degrees, when it would have been good to have one side set at 22.5. It,s made to work the same way as the straight shooting board.


The last two pictures are of a simple jig for secureing stock when cutting dovetails and I imagine you could also do some tenon cutting on these as well. It,s a simple jig to make being almost entirely from scrap and can be adjusted to any size that takes you,re fancy. The settup is self expainatory by looking at the photos.


So there you are, now I have no excuses for not making sawdust and at least I now know that any sawdust I make will be straight and square. These took no time to make and cost next to nothing and can be done cheap or fancy depending on your taste. If you haven,t tried any of these already then I can recomend giving them a go. They certainly surprised me.
-- if the hand is not working it is not a pure hand
---