A bit of progress on lining off the planking to post. This went easier than I was expecting, once I read up on how it's done. Basically the sheer line (top edge of the boat hull, bottom edge here) is fixed and you want plank lines that are mostly parallel but a bit wider near the middle than in the ends. Other than that the top planks are similar in width and get wider toward the bottom of the boat and I knew that this boat is planked with 7 planks. From there its just trial and error until it looks right.
With the lining off battens super glued on the forms you can finally see the shape of the boat. Here is a top view.
This was the first attempt, not too bad but the third from the keel is a bit off and was later fixed. The plank near the sheer has extra width to account for trim that will visually make it narrower when complete.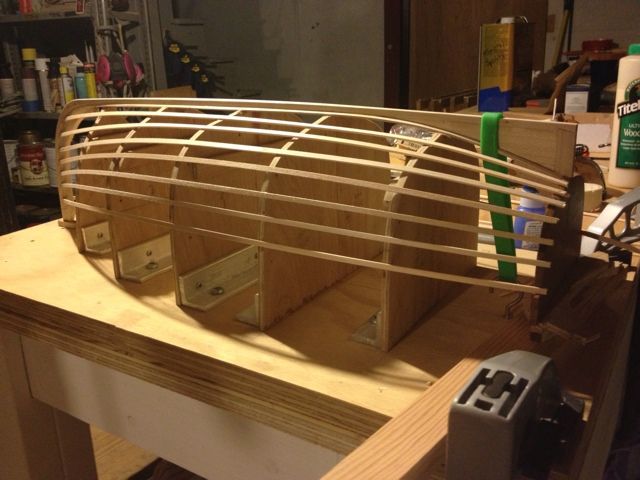 Now I need to mark that spacing on to the other side and start making the planks.
Build Costs:
Plans – $45.00
Lofting Supplies – $6.50
Lining-off Balsa Strips – $6.0
Strongback and Molds – $18.50
Soft Maple, Jatoba and Alder – $94.50
Total Cost = $170.50
Build Hours:
Lofting – 16 hours
Molds – 12 hours
Materials Research – 4 hours
Backbone – 8 hours
Stem Rabbet – 3 hours
Lining Off – 2 hours
Total Build Hours = 45 hours
Next Steps
---