After receiving some very awesome feedback from a few people on this site I've gone forward with the project by screwing a 3/4" piece of ply to the stop and then putting a 1/8" piece of hardboard on top of that. I then went ahead and routed slots for the t-track which will hold the fence I'm working on. I've got a cutout for my router (not attached yet) and then I continued the 5/8" miter slots that are on my Craftsman TS. I also raised the saw blade through the hardboard and am using that as my zero clearance insert. I countersunk screws into the hardboard to attach it to the plywood so that if and when they get banged up I can just switch them out with new pieces. I also cut two large holes into the piece holding the tablesaw so that the sawdust collectl into the box below it which I can then simply vacuum out.
So here are the latest pictures. One question I do have is if I should apply a coat of poly or something to the top of the hardboard to make it a little tougher and more resistant to scratching and such.
Here is the front view

This is the view from the right side. you can see where the router will go.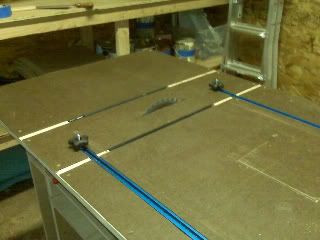 This is a view from the left side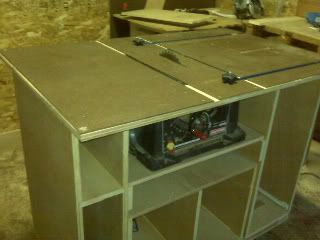 And then finally here are the holes I put into the stand that will allow the sawdust to collect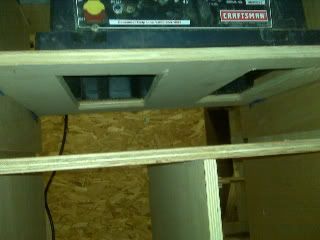 -- Josh, South Jordan Utah
---