Slowly but surely I'm making progress on this workstation. Most of the workstations I've seen on here are broken into three cabinets. A left, a center (which is usally just a stand for a table saw) and then a right cabinet. I like the design of these workstations a lot because they give you that extra support on the left and ride side of the saw but one of the things that I don't like about my little table saw is that it doesn't provide me with very much room before or after the blade. So what I did was essentially build the same carcass as most everyone else on this site but I've taken a piece of plywood that is 36" X 48" and I'm using that as my table top (I cut out the middle so that my little table saw has a place to poke through).
I…think….I like my design for the reason I mention above but now I'm a little unsure how to process. I obviously have some touching up to do (sanding and whatever else) but my big question is how should I attach that top piece of plywood to the carcass? I assume I'll nee more than just glue.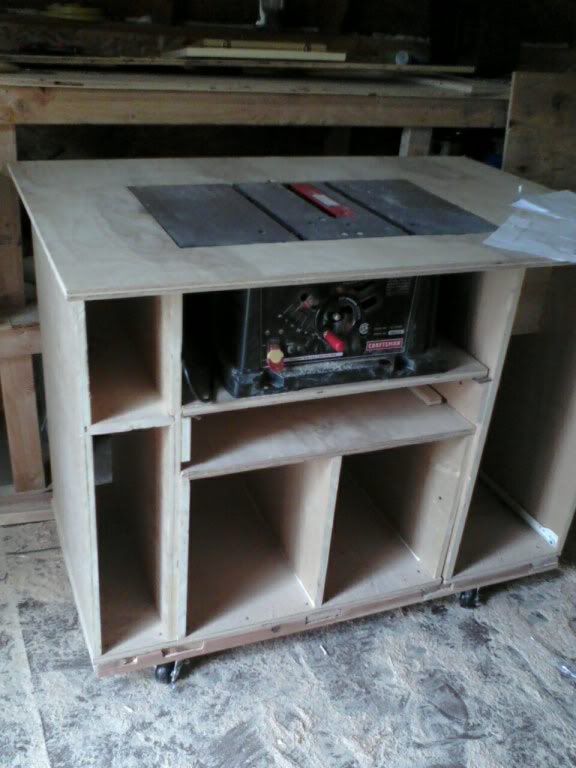 Just in case you're wondering, the box holding the table saw is attached with bolts so that if I ever need to get the saw out to use somewhere else I can remove the legs and drop the box and pull the saw out. I hope I don't need to do that often (or ever). Also, I plan to dado a couple slots in the box holding the tablesaw and add some additional removable support.
-- Josh, South Jordan Utah
---