The reason I originally found this site was because I wanted to make my tablesaw more 'usable'. I have a small craftsman beginner type table saw and I wanted to add a wing or something to give me more support for cutting so I looked around for plans and found a ton of awesome work stations on this site. I guess the design comes from Norm Abram (sp?).
Anyway, I decided to finally get going on this so I took the things I liked from all of your projects and tried to use them in my design. I'm not sketchup pro so my design is on paper but basically I am creating the base out of 2X4's which I joined using half laps.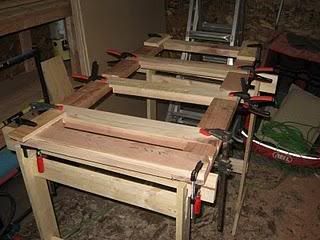 Then the carcass is put together (3/4 birch ply) via butt joints with dowels as reinforcement.

Then I used screws to mount the carcass onto the frame and to connect each specific cabinet to the adjoining cabinet.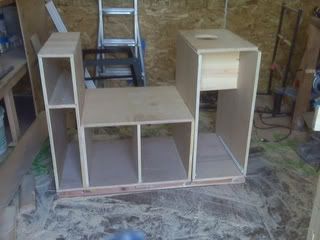 In the right cabinet, I cut a hole in the top where I will mount my router and then another in the outerside when I plan to put a door that I'll use to access the router.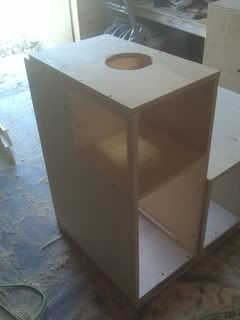 I originally wanted to make a router lift (saw one on here somehwere that a dude in Canada designed) but my router handles don't detach like his so it would have been a rather big undertaking) I have a 48X24 piece of Birch ply that will be used as the top, I plan to rout about 1/4 of an inch into the bottom of the top and use that spot to mount my router.
I wanted to rout dados for some drawers and such before I assembled it all but I'm not sure how I want to divide up each cabinet for drawers and I have a self imposed deadline of the end of Feb for this project so I figured I'll just have to work on cabinet doors and drawers in the futures (I also figure that will give me an opportuinity to try out new techniques like dovetails for the drawers and other cabinet type stuff—remember I'm brand new to woodworking).
Anyway, I'll be very pleased if mine turns out to be at least half as good as the ones I've seen on this site.
As soon as I figure out how to post pics, I'll add them in.
-- Josh, South Jordan Utah
---