The latest snow storm fast approached and sadly it was a hellish mix of heavy wet snow just perfect for falling many limbs and trees that had been loosened up by hurricane sandy. As I posted my Kuksa blog I was warmed and inspired by all of my LJ friends but soon enough the sounds of various cracking branches giving forth from the weight of the wet snow was an alarming sound throughout my yard.
One after another as the evening moved on. I tried to ignore such sounds but there was no way my instant recognition was not to give a small cringe every time another collapsed to the ground from crack to utter thud.
The lights dimmed and toyed with our fears throughout the evening and ultimately just as I decided to hit the sack…just before midnight…booooom….no more power….lol.
I got my flash light and preceded to turn on our police scanner and sure enough there was an entire barrage of calls from all over of live electric wires on cars, trees in roads, and power outages were a regular prescription for the midnight to early morning hours. This was just plain old not fun anymore friends seeing such destruction only a mere week after such tragedy. This snow storm was really becoming a hard pill to swallow but mother nature cares little about that and has her ways so I suppose it's best to let her vent it all out and bring us some sunny days…lol.
I finally retreated to bed before one in the morning with power out and the silence interrupted by transformers buzzing throughout the neighborhood and more branches tumbling home to the ground.
I was expecting a visit from Rod Serling because this truly was becoming the twilight zone.
Just mere weeks ago I went from going for morning walks at my local beach to seeing the boardwalk float away or wash up on peoples front lawns. I had some friends without power since the day after sandy right up until today. Weather sure decided on dealing us some harsh realities here in NJ.
Well there is always a morning after…in any good drama anyway so out of my bed I was to witness the damage. A lot of decent sized limbs thrashed all over, still no power. Finally after an hour….hope was here and the power had come back! Lots of cleanup to do but at least we could get warm inside now when the job was done…lol.
Looking around the yard of limbs and snowdrifts there was one real sad tale to this composition. My Mother and Father more than 25 years ago planted a plum tree and she took some pretty bad abuse. The weighted snow made for a few good limbs to break away like taking a enjoyable masterpiece and watching it get tossed to the ground. Mother nature most of the times I love ya….but sometimes you are a wicked bitch with your displays of power.
Planting this plum tree was my Mom's project some 25 years ago as she loved to plant and garden. My Mom has been passed away February of 2000 and it blows my mind to even think how much time has slipped on.
Me and my Father recalled after her passing how incredibly this tree grew.
There may be a few dozen trees you pass by in familiar places on a daily basis but I think it's amazing how you have a chosen cherished few that may impact sweet memories like holding wonderful moments in your heart. Just as the limbs that may fall away life is truly a tender vessel. I would say that peaks and valleys make for a difficult balance that no mere mortal may ever propose to master in the riddle that is life while striving to live it worthy of your best efforts.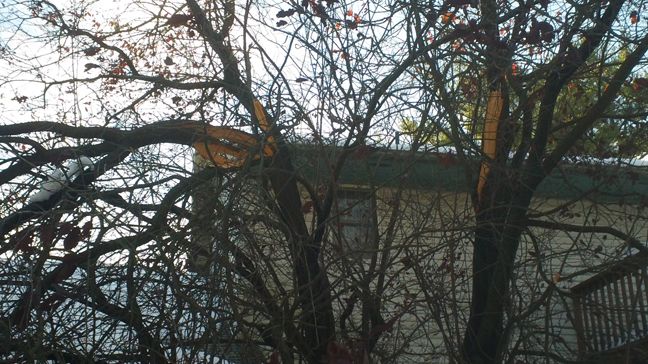 That plum tree was named after me…and my mom planted it there with my dad. Now I had to prune the broken limbs away from the wreckage. All of a sudden there I was out in the cold early evening sawing away, seeing the pretty violet leaves scatter across the white snow and this huge lump was sticking in my throat. It was almost like cutting something more spiritual than casual timber, it was family, so disregarding it was no easy accomplishment.

With my heart heavy filled with many memories of my mom I knew with the larger diameter pieces I would make some spoons although they would be sacred keepsakes for me to share with friends like you.
The spoon may very well have been one of the first instruments our mothers introduced us too as infants. Now from a child to a grown man I feel so lucky to create something from the tree that my mother left me.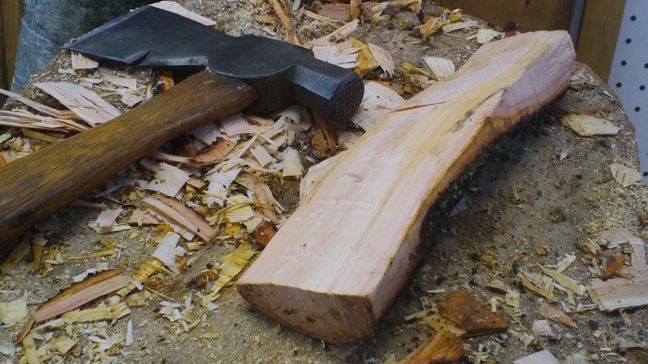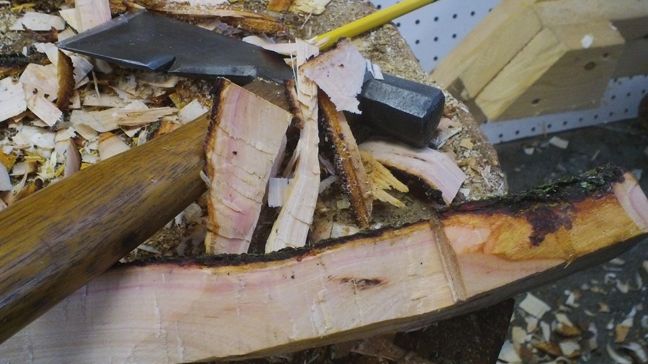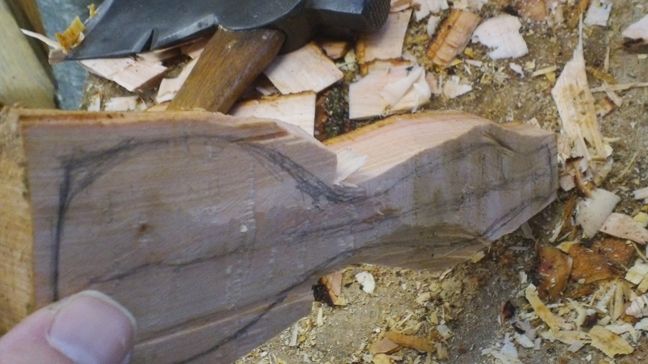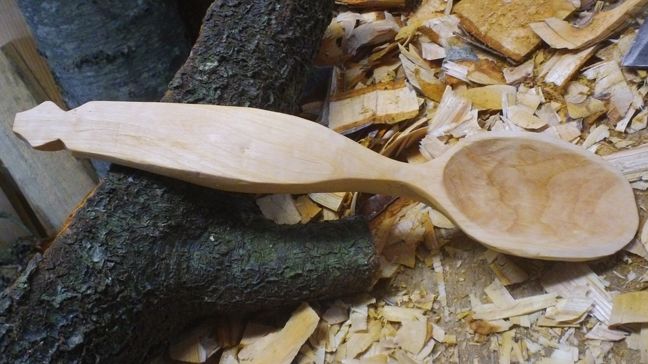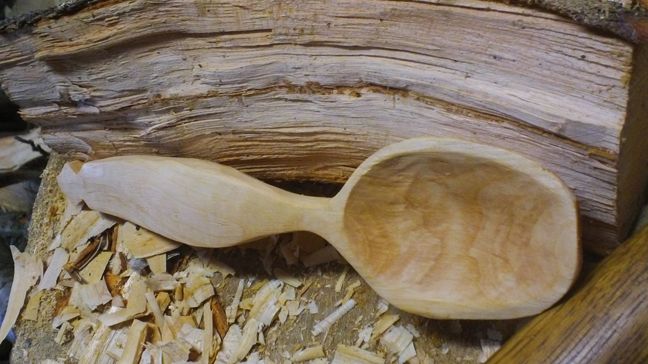 Thanks mom I guess you are in the wind smiling and nourishing me with more spoons.
The carving for me was humble and in some special way I love it for being just that. This spoon is just taking something sad and making it beautiful and alive again, a sort of positive metamorphosis of some broken branches.
No matter your craft if your sweat does not smell of the love you have for it
you need not bother further maintenance of it's challenges.
The soul is the ship that guides the broken spirit,
and up from ashes your strength can revive your ridden worries to refreshed opportunity.
Never let the lingering questions of depressed ideas smuggle away your lost desires,
Move yourself forward into new found glory and raise your hammers to make the wooden wonders.
Care for one another, take solace in every thunder, run yourself tired with extreme excitement
as a student that loves every lesson and cannot wait for further instruction.

Take care friends and thanks for reading,
Joe
-- "Always continue to learn, laugh and share!" JJW
---