I have entered an important stage creating these smaller more swedish styled spoons. That stage is simply practice and seeing if I can produce a sufficient rhythmic pattern by exercising more than one roughed result. It's best to let a green wood piece dry for anywhere up to a few days to 2 weeks before doing any serious finishing work so I thought this to be a good time to keep the ideas flowing and hone on beginners skills.
It's surely an exercise of challenge and chance when axing down to the spoon handle lines using your developing style of eagle eye vision, respect for the blade and growing confidence to sculpt what can soon become a useful kitchen utensil. I see a much broader spectrum of woodwork when moving through these practice spots and it is a wonderful bonus to encounter the textures and aroma of green wood fresh for new design.
We went for a short hike on this labor day and me and my Dad discovered we do in fact have a pretty nice
selection of Hickory! Not a huge tree by any means about 20-25 ft high 5-6 inch diameter at the bottom and we fell it away for some nice handles and parts to be created at some later learning experience. Not my first choice for carving and I figured the toughness of this stuff might make for some decent blisters…but I got to work and had a go at hewing and carving this chunk of Hickory into a new rough to make a trio of spoonage adding the previous 2 made of Cherry.
First time working with Hickory and it's resiliency is amazing! On this particular session it was very apparent that the moves are becoming much easier, my plan more organized with less unnecessary wood removal.
Cutting out hand drawn patterns makes for easy carving sessions far more pleasing than taxing your tools and hands on sizes that will only prove insufficient in it's final output. With that said I can still see that my own unique shapes and ideas still need a little less thickness in some areas. This will only improve with additional work but I am greatly satisfied thus far with the progress I have made.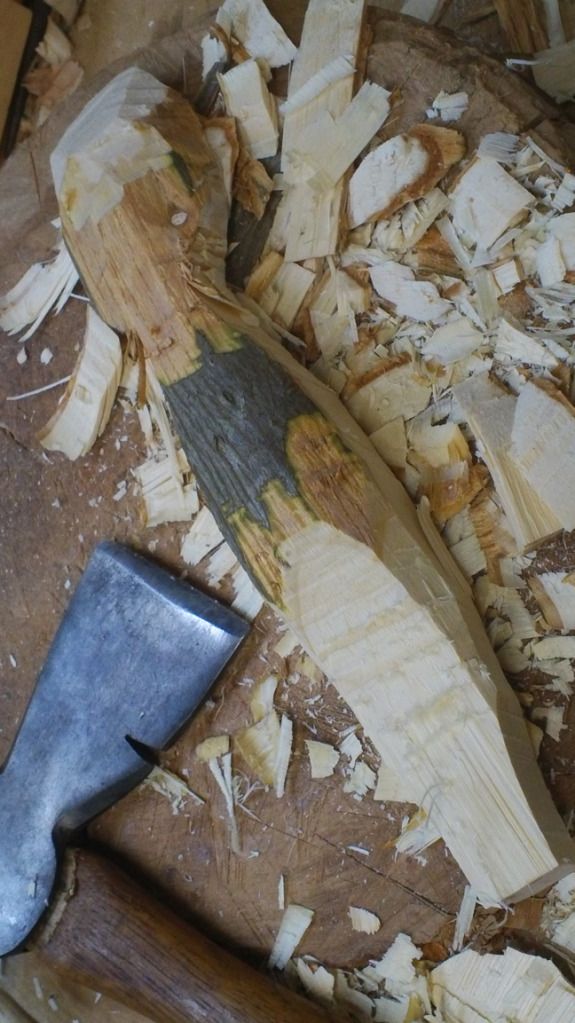 The basic elementary set up is now sound knowledge for me to always keep as the correct formula for running a smooth spoon making operation.
My current list of things to remember:
Sharp tools and keep them that way!
Green wood especially fruit/food woods (Cherry, Apple, Pear, Maple, Walnut, Hickory…etc.)
Avoid knots as much as possible
Remove the branches pith to help avoid cracking
Put your fresh cut work overnight in a tightly sealed plastic trash bag to also avoid splitting depending on your climate.
Respect the tools especially any hatchet work
Positive safe hand grips when carving
Rest your hands/body every 25-45 mins.
Continue to observe your work as you remove wood.
Never work angry or upset.
Only use handtools….lmao….just kidding!
I hope some of you out there that have not gotten a chance to try some of this wonderful handwork have the
opportunity to do so soon. This makes for a terrific set of moves and gained knowledge of using knives or hatchets as well.
More to come as soon as I have a little more dryer work to make some final touchups with!
Thanks for looking in and have fun!
Joe
-- "Always continue to learn, laugh and share!" JJW
---