Sometimes it's true that less weight on a woodcraft project makes for more learning in our execution of total composition. I always try to experiment with various ideas, styles, and media wether it is seeking inspiration from an old pine tree or taking some good advice from a favorite musician. I suppose the next useful bit of food for thought is right on schedule since it involves the late great Duane Allman of the Allman Brothers Band who's philosophy was that the attributes of great playing was to remember the notes that you don't play are just as important as the ones that we do. A possible way to sum the theme here may be to say…embrace the empty spaces of our creations.
I have continued on my quest to learn more about this business of handcrafting wooden spoons. My initial steps were simply taking my own creativity, shaking things up and let the shavings fall as they may to see what I might come up with.
For the last month that was a pleasing release of inner creative ideas, setting aside planned work, and having a go for the unexpected with little more than some hatchets and knives. But the more my path opened before me I began to realize that there is far more work, exercise, study, and knowledge to be considered than what my current status of spoon making entails to this date. I have become so enthralled with the skill work of centuries of past artisans, seeing their furniture and cabinet joinery, country work, finishing, and overall handcrafted experience. So it was only destiny that I would want to seek more wisdom on the talents and styles of spoon making.
It's reasonable to think that to the amateur eye at first glance seeing a wooden spoon…one might say it's just stick with a bowl on the end. No fancy dovetails, no wonderful molding work, no fancy Chippendale carvings.
It's look is a rather plain and simple affair, or is it? Well after purchasing Carving Swedish Woodenware: with Jögge Sundqvist on DVD I would never think of spoon or bowl making as anything less than a fantastic skilled craft. Jögge shares his tips and techniques as he makes a bowl and spoon in the swedish carving style.
Peter Follansbee has studied with Jögge and that combination is just too much talent to not get totally excited for learning more about this swedish art form. So the DVD player was fired up and on the journey I went. If you are new to making spoons or bowls I highly recommend this DVD. The film itself is shot in 1990 but I assure you that the knowledge and artisanship is four stars.
My greatest problem was that I had become so out of the box with ideas in making spoons that I needed to get back to some form of a sized plan. I laughed as I looked at my previous spoon works and although I love them all it was apparent…wow….I am making some Andre the Giant sized spoons….lmao!!!! Ok….the spoon sizes are not that bad…but I could not resist how funny that reads after typing it. I surely hope someone spits their drink out reading that…lol.
Giving myself a break though without sounding so self critical I would totally say that it was not at all in my mind to attempt any certain style of spoon making in the beginning. So once I started seeing more dimensions and having more study time I began trying this process. It is so funny how chunky and thick my previous attempts were…..I had a hard time getting more petite lines. This is when my connection was made on just how very challenging it is to set all of this up, carve it out and keep a styled grace to its delicate features. Also choosing the correct tree layouts so I am able to get the proper
curvature to meet the best mechanics for someone using it. Then if that's not enough learning not to take too much away as the wood thins because I need to keep it's strength as it gets used.
So here is a small visual journey of learning to do more with less!
Pic 1: A nice piece of Cherry, some knots are there….but we have to work with them and hopefully not too many problems ahead for the voyage of spoons ahoy…....hopefully…lol.

Pic 2-3: Camp hatchet and old stanley makes for a quick split and if we are lucky we can get two spoons for the price of a few careful hammer hits.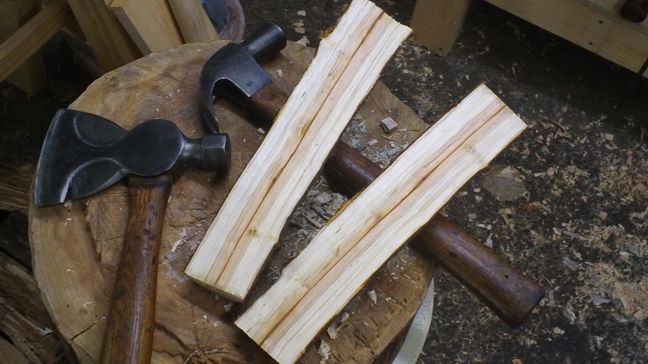 Pic 4-5: Ok enough with the punk rock woodworking….we have to get a little more refined and return to some layout instruments…lol.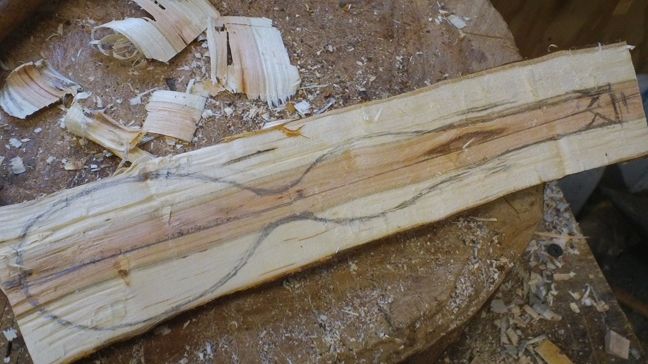 Pic 6-7: You may at this point carry on by either sawing your design or hewing it with your hatchet. I love to get the hewing practice in so I move ahead with some of that and do the tighter curves alla copeing saw! Helpful hint for the saw work especially in this green wet wood…..use mutton tallow on your blades! The stuff makes a speed demon out of your handsaw work.

Pic 8: I like to use my camp hatchet like an adze at this point of the job. I slowly scoop a concavity to the top of the stem into the bowl to try and substitute the overall pieces lack of curvature. In spoon work the more curve you can find (crook of a tree) the better, but this piece is pretty conservative so I try and implement a a little adze style hew work to create more of a curved flow into the bowl. Try not to get too frustrated with nature and work with what you can find. Remember every spoon that you work at is adding skill and knowledge for your next session!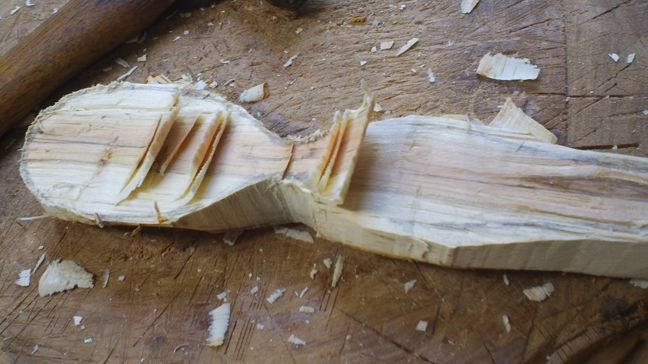 Pic 9: See….we are all finished…..done! Yeah right…..lmao.

Pic 10-13: A spoon timeline for me. You can see the stages in these 3 roughs in the past weeks and how I simply needed to get some layout and embrace the empty spaces! The top two are old spoon roughs and the bottom one is the current carving with less chunked thicked lines. Now we are getting a delicate flow beginning to happen! It takes time and practice and so much more to learn and grow into.

So as always, more to do!!!! I now have a roughed carving of where I want to take this spoon. At least the style is more refined like a swedish spoon which is what this particular set of exercises will eventually educate my hand work into more naturally.
Next time I will get some more finishing stages in and hopefully have some more ideas to share along with all of my friends out there in LJ'S land!
Thanks for looking in and I hope you may enjoy this miniseries of spoon work.
Take care, have fun and keep making sawdust!
Joe
-- "Always continue to learn, laugh and share!" JJW
---