Hello everyone, an extremely humid day today with around 82% humidity and 95 the high temp, but somehow the spirit of an evening of creating was to be had….lol. My shop has little more than a fan or heater….so this was going to get warm…lol
This is a project that I have been wanting to do for a while now. I have always enjoyed the extreme creativity of the Rennaissance period and I thought it would be a real challenge and adventure to have a go at my version of a trestle table while still keeping it rustic.
My visions are not so much of the very heavily carved and gaudier craft pieces we many times see from different times of that period, my ideas are a less is more approach all the while still keeping a nice flow to the overall piece.
I took time to work up some sketch ideas and after some reviewing I found one that I wanted to try.
So in the true spirit of the Rennaissance I let the pencil guide my ideas and went forth on the expedition of sawdust and shavings….let us begin this series!
Pic: 1: The mighty Stanley tape measure, my grandfathers actually…we start here with our pine plank to start the measures and soon follow the sawing!

Pic 2: To my sawbench to take the pieces down to proper size and then I plan to try my new jack plane to work out the cupped areas.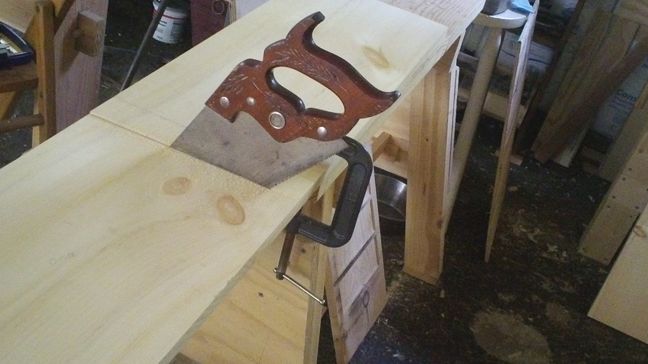 Pic 3: I was in no way going to be satisfied with 3/4 thick pieces for my trestle table legs…..I want this to be a solid piece so I made 2 pairs of boards for lamination to make our table a sturdy affair.

Pic 4-5: A little planeing alla Joseph Moxon (across, diagonal, then with the grain) and this took a nice amount of the cupping down so my lamination will be as best as it can be…even with all this humidity….lol
I was more than surprised and pleased realizing my study and time playing with these darn planes was rewarding me as this #5 soared like silk…..I never wanted stop as the pine abided with ease and the scent of sapp filled the air more with each shaving.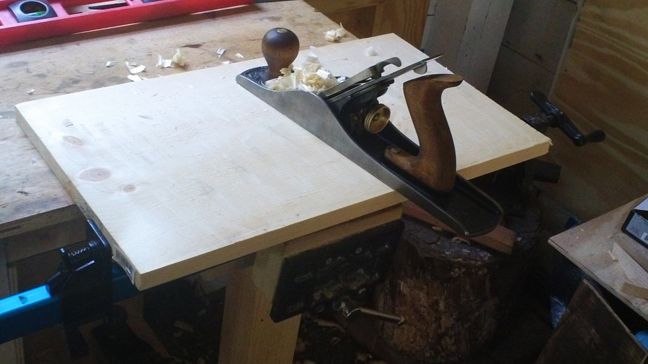 Pic 6: Ahhhhhh…....now this is Rennaissance…..lol

Pic 7-8: Fixed some tracing paper togther and simply looked down at my small sketch and passed on the idea to my southpaw mit and drew the lines. I had a few alterations and then was ready to flip the tracing and make it appear on the other side.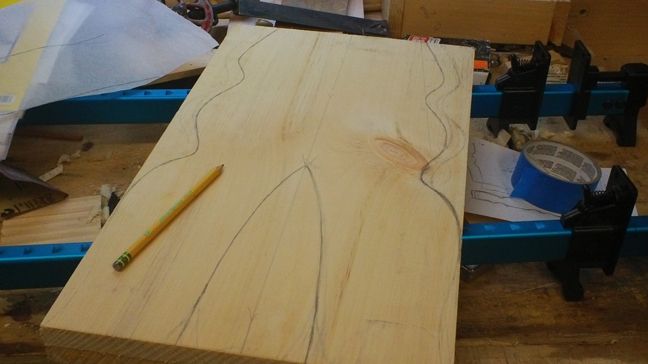 Pic 9-10: Now for the hard work….I brought out a fine weapon for the chore….my PINE BEAST! http://lumberjocks.com/projects/54541
I am so glad that I made these handles for a great grip while conducting this very physical exercise. If you go to a gym you can toss your membership away friends performing work like this….haaaa I got my arms burning away with plenty of work cutting this up.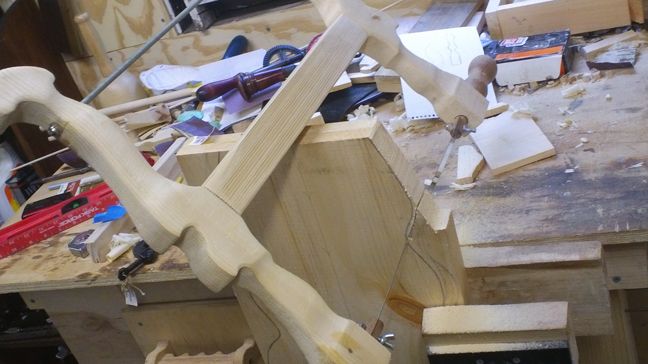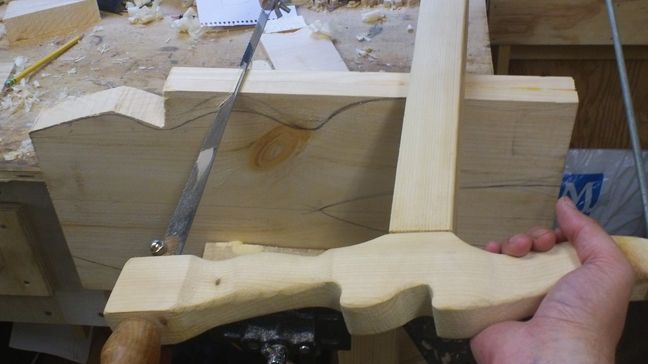 Pic 11: I did not want my Disston to feel left out and I cut out the arch in angled sections.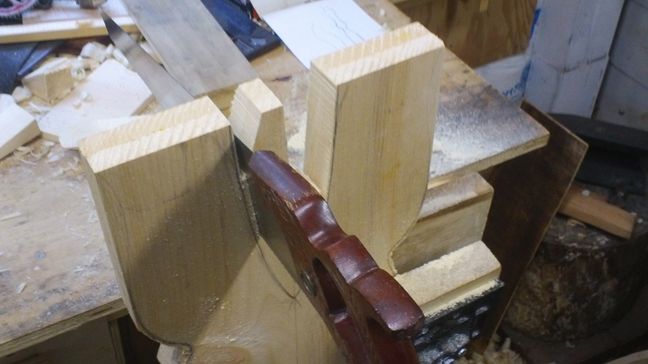 Pic 12: Finally the rough piece gives us rewards for some serious sweaty work….lol
Well that's one piece down…old school rough work for the moment. We will spokeshave this and give it some filing and care….then prep into a template using it for the second leg.
I have noticed that sometimes myself and others can get very self absorbed with obsessing over blade sharpness, joinery fit, sawing, etc. I find when I get too upset or negative at a task I do…I just remember Peter Follansbee saying…"ahhhh I just eyeball it!"….....lmao. Peter teaches a great lesson….just to get on with things sometimes…stop the obsessing and get your spirit moving and you can find your way.
I hope all of your tasks are had with a lot of great sprit and fun…..I thank you for sharing them and inspiring me!
More next time, cheers!
Joe
-- "Always continue to learn, laugh and share!" JJW
---