Well I guess through learning and creating, sawing and shaving there were a few more hours to conjure
up some additional ideas with my chisel box. Ahhh yes…a lid for the top perhaps??.....this would be a total ad lib affair with little more than just letting the inner kid out to explore and experiment.
Every now and then that is such a vital important exercise to have in our woodwork…..be free of worries…the crayons going out of the lines are no artistic sin, only stressful angst that has no need for salvage and self criticism. Every out of line experience is the opportunity to improve our skill and appreciate our normalcy. I think in trying to live by the fore mentioned words we will work more towards a quest of being better artisans and thoughtful people.
So I began to just try things….improv a little here and cross my fingers there….lol.
Here are some of the pics to see how I flipped my lid….lmao.
Pic 1-3: Once I had my chisel box together I really thought a lid would look slick on this. I began by ripping some more stock for the lid. Then I layed out the hinges on the box and lid followed by some relief areas with my chisel.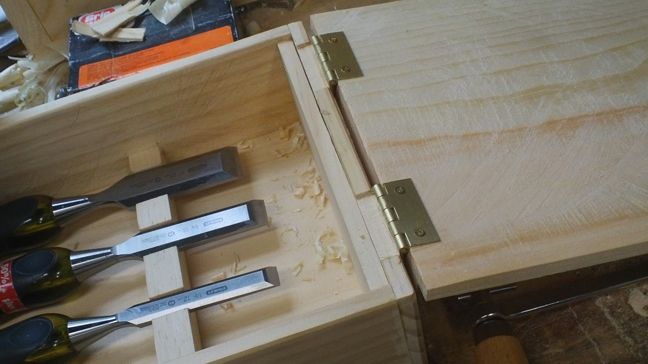 Pic 4: I added some pieces to help along my screw depth when I was ready to put this lid together….I like this box….it's simple, but for me less is more in this design and it was refreshing to not go as curvy as my usual ideas go. What can I say, this woodworker likes his curves!....lol
Pic 5-6: Well the lid was a little cupped…so instead of fighting it's want to flex upward and not totally close flush….I worked the problem and thought a wood latch could be something fun and play off of the tool totes saw latch! I started out with a small sawn piece and added some cuts to it….oh oh…..there I go….....haaaa see….had to have some curves again…lol
Pic 7-10: With a brace to drill out the hooked catch I followed up with a rats tail and finished with some whittleing. It's of such great advantage to know your way around a pocket knife when making things…sometimes it can be as simple as breaking out a few minutes of widdleing to make something so small conture to what you want your specific output to be. Plus I just love to whittle and carve…so I was not at all upset about taking 15 minutes to do so, especially on pine!..lol.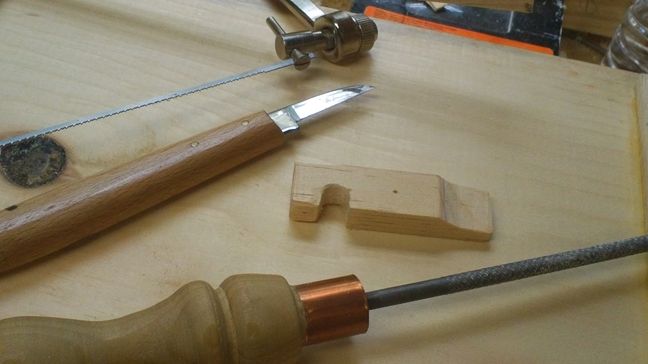 Pic 11: Took one of my pfiel chisels to round over the edges a bit.
Pic 12: A wonderful gift from a past birthday a set of 7 chisels with my initials…a fine gift from my gorgeous Jenn…..speaking of wonderful curves…..lol
Pic 13: Fixed a poplar dowel with a small bored hole and glue to hopefully get it all to match and latch.

Pic 14-15: We have got a latch and a catch! This was fun to make…seems to be pretty durable as well.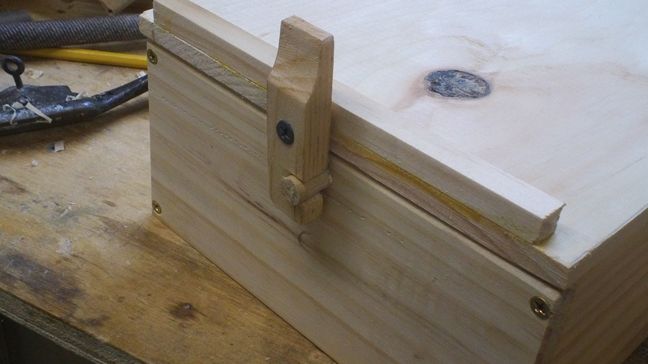 So a box and a lid was made for use and now onto the final stages of sanding, glueing, fasteners and staining to finish the job.
Hey gang, follow me over to the projects section and lets take a look at the finished project made of wood….lol
-- "Always continue to learn, laugh and share!" JJW
---