Hey friends, back from some sawdust and shavings with an updated installment of the tool tote build. Hope all is well out there in LJ's land….it's been a wild week from the get go over here on the farm for sure…..but had some time and pics from recent and last week as well to make an updated blog of the tote progress.
I wanted to have a cool, unique and yet old school piece on this tote that had to follow the simple and humble parameters of…...duribilty, functionality, and fun to use. I think this added piece that piggy backs on the tote is more than I thought it would be and it's a blast for showing off the handtools. Let's take a look and see what this piggy back piece is as well as others….....
Pic 1-2: From the previous blog I hand ripped some pine stock to smaller widths….and from that I made a simple box. This would be no frills in design…and I wanted that vision for a more metal/screws kind of look versus a more fancy dovetail apporach this time. This project's theme was to let the simplicity shine and yet have some tricks to balance out the elementary construction. I added a country like themed handle area…had some fun just creating and improvising to get the look to meet the mood of the piece. There will be a little more cleanup and perhaps a tad more design on this basic form later.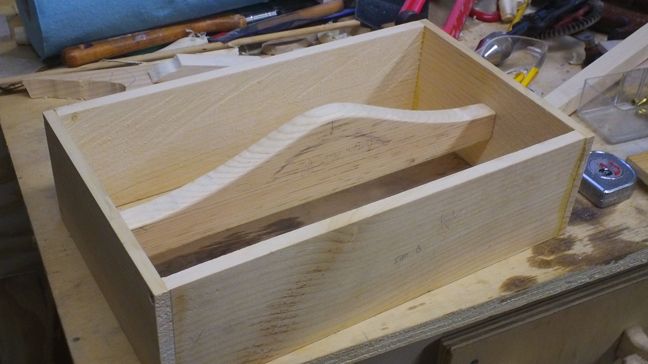 Pic 3-4: I then ripped some more wider pine for a drop-in bottom, then made my lines for fitting. I made two small 1/4 inch strips that glued to the insides to stop the drop-in top and held well for weight.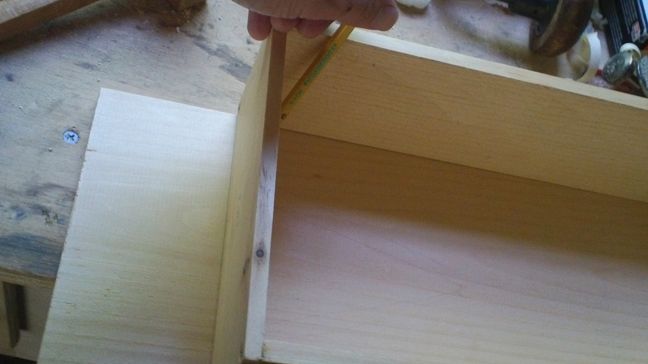 Pic 5-8: A few weeks back in our neighborhood some scraps of wood and furniture lay outside an old home my father remembers going into as a child some 60 years ago…they had some old pine 2×3s, some dowels and larger boards. Here is the golden old 2×3 pine stock I thought would be fun to finally put to use to make runners for my sliding piggy back tool box. I thought this was a neat nod to the past…by actually putting some elements on here from wood that sure looked to be a long ways back in time most likely sitting in a basement of that house. Well…..it ripped just fine and was a cool addition.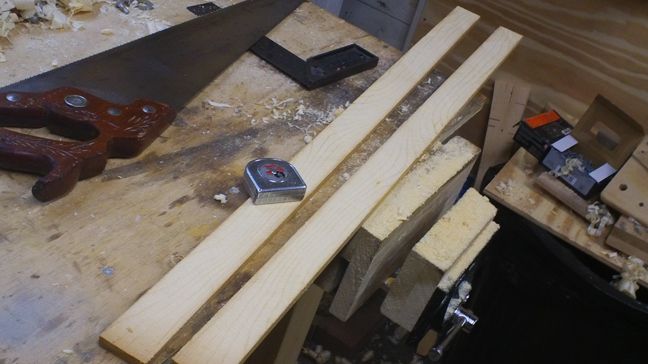 Pics 9-12: So everything was moving right along….until…...(que the record scratch….lol). I realized the spade bit I had at 1 1/8 was never going to work without breaking out the other side of the board…....oh ohhh..lol. Luckily in a pinch I took to my knife, scored the lines and worked my Pfiel chisels into the rounded mortice to 1/4 depth. This was a lifesaver and actually far more enjoyable to carve this way. The process was far longer…10-15 mins each side, but it was worth it since I did not have a larger bit…and hey I love using these chisels…lol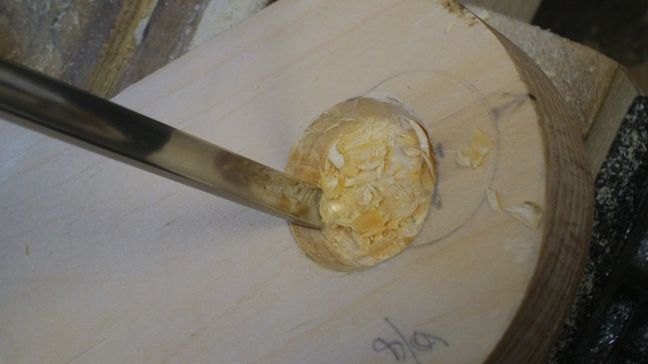 Pics 13-15: With the puzzle taking a few minutes to mock up again…..I was very happy with the progress. The poplar dowel handle fits well into the carved mortices, the sliding piggy back tool tray glides with ease and holds solid…..and more tools than I even planed on….lol. I have more ideas to add here and there…and then of course a ton of sanding, cleanup….etc.
I hope this was interesting for someone to look at. This project has had me try new things, learn to get myself out of some jams that I got myself into..lol, and grow with added enthusiaum of the tools I have been getting here and there to put into this tote. I have been keeping in mind…..weight…..lol. I wanted this to be usable and not like an iron suitecase. The piece will not be a long hauler by foot though….lol. something you can take in the truck if you needed to…..but will most likely be a fun conversation shop piece when enjoying old handtools.
Thanks for looking in and keep on enjoying your work!
All the best,
Joe
-- "Always continue to learn, laugh and share!" JJW
---