I hope this particular blog may reach a beginning woodworker no matter what age…..we can always learn something more as we go through life. I really find that to spread the word and share some of the found history of handtools and their various crafts they help perform is a truly worthwhile campaign.
I also am thrilled to see many machine woodworkers becoming more interested in the artform of handwork, it's wonderful to share each skill electric and unplugged and learn from one another. This process of sharing ideas with various handtools and machines is what I think that woodworking really should be all about, no right or wrong way…just the particular tools that work for you and make sense for your style of building.
As long as we are continusly sharing, exploring and getting new people invloved in woodcraft especially the young generation we help to preserve a time of crafstmenship long past…..with skills that are truely timeless yet indeed needed for new generations to be challenged by and educated with.
Every time I walk into a big box store I am sadly reminded of the little to actually no value that these stores handtools have….plastic handles and a rather sad 2 year lifetime at best workability…..sort of a fastfood section for the do it yourselfer that grunts at the thought of encountering the task of hand work at all…..and so our fast paced lifestyle marketeers attempt to tame our addiction for instant gratification by presenting us with cheap junk which only supports a new woodworkers total distaste for ever having to work by hand and instinct at all…lol
Yes cheap tools have a way of doing that…lol
It's vital for our younger and new woodworkers to be encouraged with the wonderment, the pride and history of what these various tools are capable of. I am totally a beginner in my own right, I have never had an apprenticeship, teaching…..hell, I never took woodshop….lol. For me….and I speak from a hobbiest position only I like many were lucky to see the woodrights shop, see things on youtube and the internet.
My fear is that will we at some point get so far teched out and press button happy that we turn our backs on the masters of the past and their tools and tales of how they made it all? I really hope we do not, it is so important to honor these people and not lose sight of just how far we have come but sometimes I am not so convinced we have really gained much??.....lol
So with all that said…or written…lol, I was at an auction this morning….funny so many of my blogs start this way as I am sure many of you have caught on….lol
Me and my Dad were looking for some rusty handtool gold and after a run through the aisles he kept on saying…."you should go back and look at that saw box"...lol. So we did….we went back, I took a brief look at what I could see in it…..the saws looked pretty well used but not in the worst of shape….a brace, a nice many bits…20 dollars and everything in it goes….SOLD....LOL
So lets have some fun and take a look at what's in the box!
Old this piece was indeed, dovetailed joinery with hinges and some cracked wood on the back thats in desparate need of repair. But the big kid in me felt like I had a pack of baseball cards just waiting to see what I would pull out of all this historical carpentry…..20 dollars was worth the price of admission…and much more as you will see!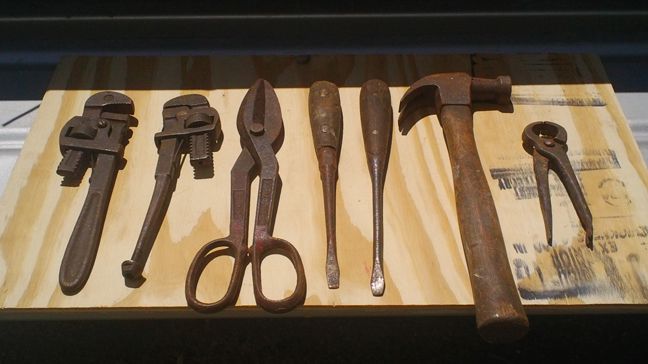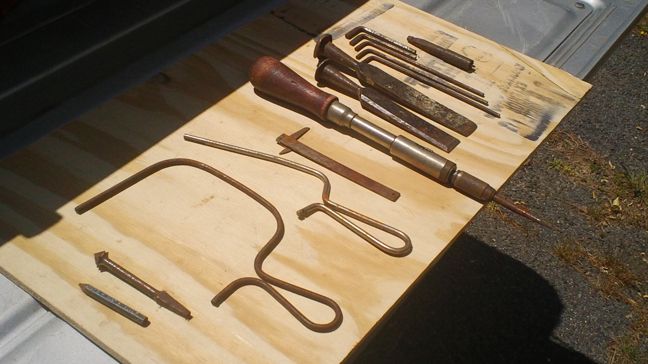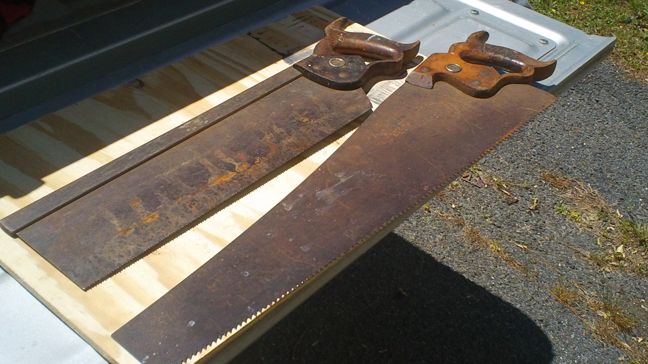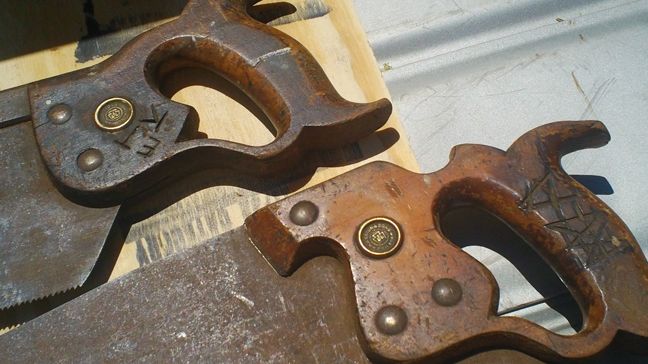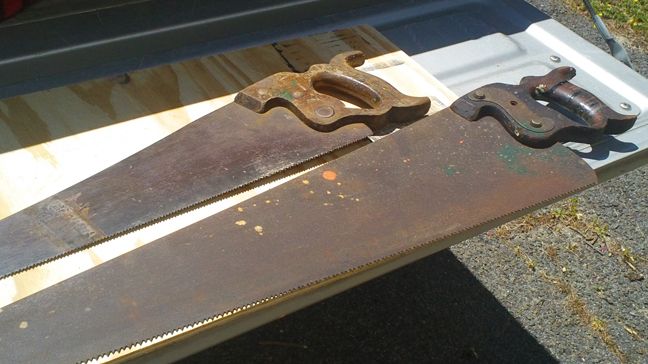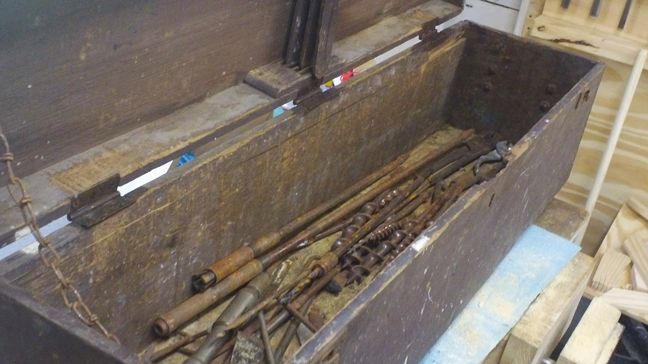 Nothing beats finding old carpenters tools…..these saws are a mix of early Phillis and Superiors although worn and very used are dam sharp and ready to task right now…..amazing.
The brace works fine and the yankee screwdriver and the bits are in great shape as well.
For the 20 dollars this is a very reasonable tool kit with some TLC and cleaning a very nice fixture for my oldschool shop.
This is from a time past, but if you allow yourself the thoughts and questions of… who, what and where…...it's really amazing.
So all this handtool stuff…great, ya know whats better? I found this with my Dad and he was more of a kid than I am in his excitement to know…..what's in this box?...lol
As displayed there are some good many cleanups to do with these tools…..I know he will enjoy doing them with me. You cannot get that in a store or win it on ebay, how great these old tools are providing me and my father a chance to spend a sunday morning having a great ole time just learning from the past….while so much enjoying the present. That by far….is something to really treasure!
Have fun friends, don't rush too much, and remember to laugh more.
Be well!
Joe
-- "Always continue to learn, laugh and share!" JJW
---