Hey gang hope this week is treating you well so far,,,hey you usually know by Wednesday….lol
Finally got some more time out in the shop to learn more ins and outs of this handle build.
As I finished this piece up I was happy that I went my own path….that I used a road less traveled in the design and approach to this project. Wether it is enjoyed by some or maybe even upsetting to some traditionalists or collectors….I think it's great to stretch out the wings of possibility and try something new.
What I did not want to do is make the traditional templated and expected handle, I figured this experimental process would allow me room to improvise and even put myself in a few painted corners…lol…..and of course at times…..it was close to just that..lol!
I learned a lot more about chisels….holding them and performing very tight and tedious moves.
Most of all which is so important in any craft, be that a hobby or professional is that I learned more about myself. The challenges in each exercise if they provide that kind of enlightment…..what a wonderful double shot of good things…..a woodwork finished project…..and some self understanding.
Heres some of the pics!!..................
Pic 1: Got down to the work of developing a new chip carving pattern and having a go at that.
Pic 2: Used a shoulder plane to angle my chamfers down old school style….to give the look and feel of some classical apporach to my different design work.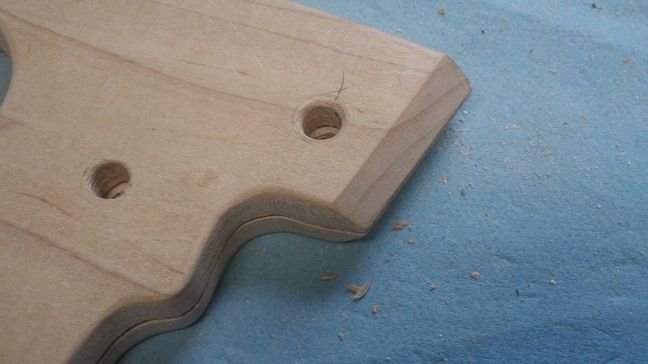 Pic 3: Was proud of the ripping of this kerf…and the results were better than my last saw handle blade fit.

Pic 4-5: This time used a lighter Danish oil finish..some Watco Medium walnut.

Really very pleased with the pair of homemade and handmades.
SEE THE MAIN PROJECT LINK HERE FOR THE FINISHED PHOTOSHOOT….LOL

http://lumberjocks.com/projects/64796
In closing, this portion of the Exercises in Artisanship was eye opening and enjoyable, challenging and engaging.
I am thankful for anyone who has enjoyed these past sessions. I am also greatful to the spirited comments, advice and inspiration of all of you out there in LJ'S LAND!.....LOL
Enjoy every shaving!
All the best,
Joe
-- "Always continue to learn, laugh and share!" JJW
---