Well folks a little more progress slowly coming into form on the maple handle design.
Once more continuing to go about my shop efforts in a relaxed yet challenging pace. Shorter creative bursts giving forth an hour here or even a half hour there. I seem to leave the shop more satisfied knowing a more quality effort is being put into it all. The learning is actually becoming more than the old 3 hours straight and making various things with a mind almost in total fast forward mode with tools and shavings flying about…and a few more saltier words uttered than should be…...lol. Ok you got me….saltier words….YELLED...lol
I have found myself become more open to the various views shared on the site. This is a passionate hobby and readiing more forms, blogs etc. I may say that I understand more sides of the complaints certain LJ ers make that feel upset with misplaced projects, requirements not being met for actual projects, etc.
It is getting almost comical to place a project up on the site, something that so many take a great amount of time on….and …...wait about 2 hours and the same project is about a page or 2 burried already….lmao.
I guess it is geting crowded everywhere these days….lol!
The good side of this is..many people are enjoying the hobby…and that is great.
Something even more great is this old cool brace…out of an old farmers barn!
This old dog still can bore some holes, not as steady anymore but for me..the looks…..ahhh wonderful!
It's these old tools…of the various trades that so many have forgotten. I at 40 years of age look at these glorious time pieces…I can never help but think ….What happened?......lmao
Got chatting with a nice older gentleman at his auction table this weekend…..had these and about 4 more sitting collapsed almost in a shameful heap…....he exclaimed "My father was a carpenter, these were all his" he seemed rather uninterested in making that statement with pride more than in his own expression and tone hinting to me….that he was not very close with his father. He asked if I was interested….I love the smaller saws….and…some of these…looked not so 1953-55…....lol. He wanted 15 bucks for the whole deal…....I said…well…..I like these two….they were straight blades….for the their time…sharp with full teeth…..8 bucks? "Ok" he said. "Would you do all of them for 10?" he asked. JOE SAID…......HELLLLL YEAH!.......LMAO
7 saws…..10 bucks for a $1.43 per saw….I WAS LOVVVVIN THAT!

Cut to the action…got the badges cleaned up a bit…I was like….oh boy!

From what I could find…..I beleive these 2 of the bunch date 1896-1917? Andy?? (Brit) .....paging Andy saw doctor collector extrodinare!...lol. For any unaware….Brit is the sawman! check his great work out and you will get some wonderful education on these kind of things! You can find his works/blogs etc. here: http://lumberjocks.com/Brit

So a very nice find indeed….to boot these cut pretty well with a lot of TLC yet to be conducted. The blades are not too out of line and for the mere steal….they are just cool to have hanging in my shop.
I see these great lines…the craftsmenship….the detail It makes me work harder, to want to earn the curves of my design….to tame the maple and meet its challenges, the grain, the tear outs, the feeling of making something with your hands. Whenever I get an old handtool….I must try to use it….it is my own way of re-introducing it back to what it was originally created to do in the first place.
We must make use of our machines without a doubt, in the real world…. time is money,.....but to achieve the art and build the skills by hand…..it is something that truley strips you of any help or outside advantage other than the very instincts and craft that lives within ones mind and body.
Here are some updates of the handle work.
These awesome pfiel chisels…..these are great tools to learn with.


Gradually the shapes are getting there….I want things to begin to flow more as I continue on.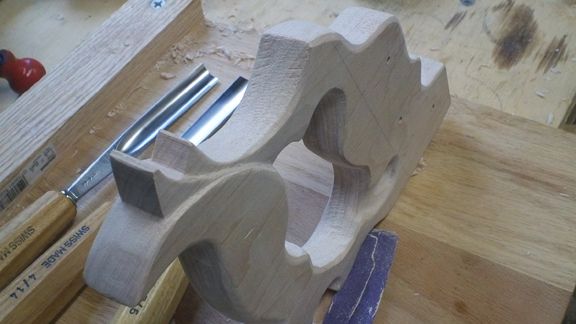 As always more work to be done, more learning to take place as well.
I hope all of your work is going well friends, I really enjoy hearing from those certain LJers that really enjoy these kind of blogs. I thank you for sharing your enthusiasum and knowledge!
Take care and be well!
Joe
-- "Always continue to learn, laugh and share!" JJW
---