Hey friends, hope all is well. Thought I would post the latest shop endeavour….making a new handle design with this maple stock!
Not sure if everyone caught the final to the last handle project so here is the link for that: http://lumberjocks.com/projects/64100
My objective for the first project was to stay conservative while still taking some chances. As I finished the project I was very happy with the outcome and still honest with myself about what I can improve on in the future.
Overall I figure that to go and copy a Disston pattern or another classic handle template takes extreme ability and I hold high regard for that…..but in the end…..those companies did that already….and very well indeed….lol. So taking lessons from my guitar teaching past experiences, I would often stress to my students….learn from the greats….but at some point you must find your own style! So that was and is my thinking as getting to the sketch pad and finding my own way!
The session really got started off in a jazz like fashion….just letting the lines and ideas flow. As I went on I began seeing it piece together, instincts along with carefully executed risks and rewards.
Let the pictures…begin!....lol
A view on the path to my shop…wonderful. For me I have to see, breath and be in touch with nature and I am very thankful for it.

The new design…..I wanted something different!!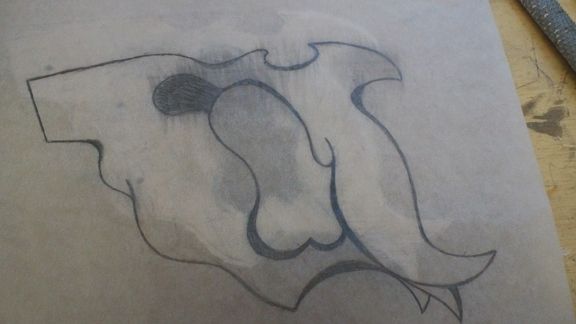 I got away from old habits of nursing my files for chamfering angles on the outside and inside edges…...and finally put new skills to work by firing up my chisels! Once I got in the groove it was a very enjoyable experience.


A recessed area for my southpaw pointer…..why not!.....lol


More dimensions for this build….I wanted to blend carving, shaping and layers….I learn as I go!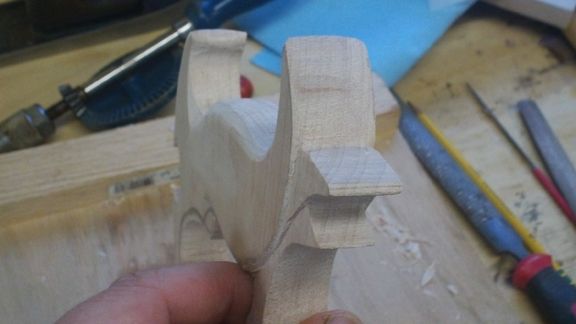 So far a lot of learning….and a lot left to do!
I have now reached a 2 year anniversary of doing woodwork…......it has really been amazing. Before that at 38 years of age if you told me I would be able to nail two boards together correctly…I would have said…....nah….lol…..that's not my thing. here I am at 41…well…..a month away yet…lol…...and have discovered all of this!
I was just someone who always loved the woods…and loved to see everyone else making things with wood.
One night about….2 years ago…lol I saw this show…...something that was a complete blast from the past….I said….haaaaaaa oh man..I remember this guy although had no interest and never really watched the program…..it was the Woodright Shop. I tell ya….I saw this with new eyes….and people….the woodwork bug was full on!.....lol
From going to nothing at all…..to being floored, honored and humbled by that very great teacher once replying to me…....
"Your work is really fine. All your work is really creative yet seems to tap into classic, whimsical visual rhythms."
Roy Underhill
The more I do the more I entirely respect those great craftspeople that handcrafted these handles, totes…etc. Just amazing skill and talent.
The best way to sum it all up….take a little from all the artisans, machinests, people you admire…..even outside of woodworking…then add a touch of what they alll give you…in spirit and inspiration…..and you have…............your own style!
Thanks for your great styles friends
Stop by again & great shavings,
Joe
-- "Always continue to learn, laugh and share!" JJW
---