Haven't had opportunity to get back to the shop for a couple of weeks now. First time today was able to spend about 6 hrs. there. Cleaned up the shop first thing. Everything was everywhere and no place to cut wood or anything else for that matter. So, after some time cleaning up all the tools and such started back on the drawers. I said in the last entry that I was going to dovetail all the drawers. Well that didn't happen. Had to use finished plywood on the sides. Couldn't afford the amount of lumber I would have had to buy. I think they still turned out ok.
I couldn't really get into a assemble line, cutting all the material for all the drawers at once. Most of the drawers are different sizes. So I had to custom cut each one, one at a time. Then I had to carve the top and bottom of each drawer to match up with the shelving they went into, So Only got half of them finished.
Here is an update of where I am at the moment :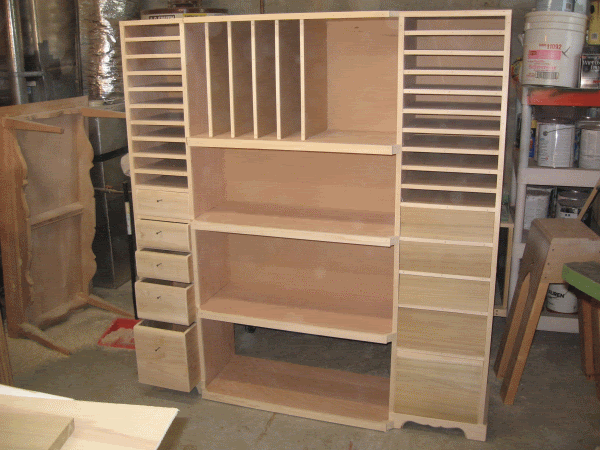 the drawers on the right haven't been made yet, only cut out the faces.
Here's alittle closer look at them: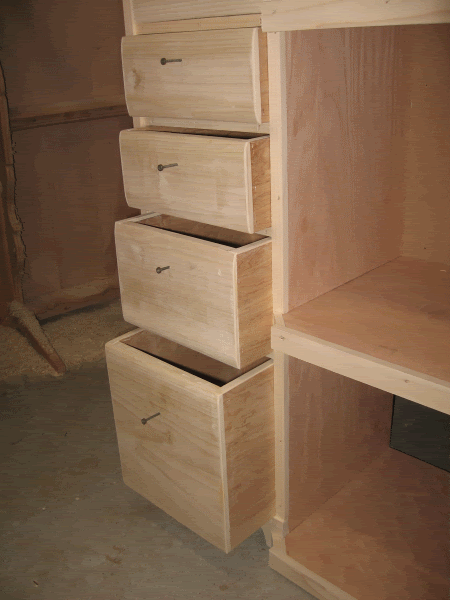 The screws are there so I can open the drawer when they are closed.
Hope to lathe the nobs toward the end of the project. I don't have alot of hrs. on a lathe…so we will see…LOL.
thanks for looking.
Enjoy your time in your shops.
-- JJohn
---