Hello all, just in case anyone is following along I'll continue here with how I added the gunstock joints to the legs as an afterthought.
I had already prepped the leg blanks and cut mortises when I decided (influenced in large part by a nice arts and crafts hall table in a magazine article) that the table would benefit from"flowing" the legs into the apron frames with gunstock joints.
This will probably be easier to visualise if I show you the end result, so this is what it ends up looking like…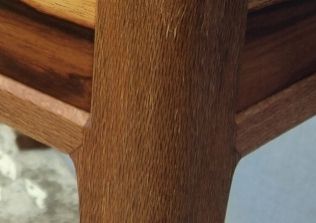 The original project post with more pics of the finished table is here.
This is normally formed by making a stopped rip cut at the bandsaw on the inside face of the leg then cleaning up the face to allow a clean joint, this leaves a protrusion that can be mitred into part of the rail piece, so the very top of the leg is actually thinner than the area below the joinery.
I didn't have this extra material, so I had to stick it on…
I hunted down a cut off of the leg stock and marked it up.. then drilled two rows of 4 holes.
I then used the bandsaw to cut down the middle. The idea was that the mitre would bisect the half hole which would give me a head start on the shaping as I wanted a the final curve to be almost a section of a circle. Bare with me things -might- start to make sense.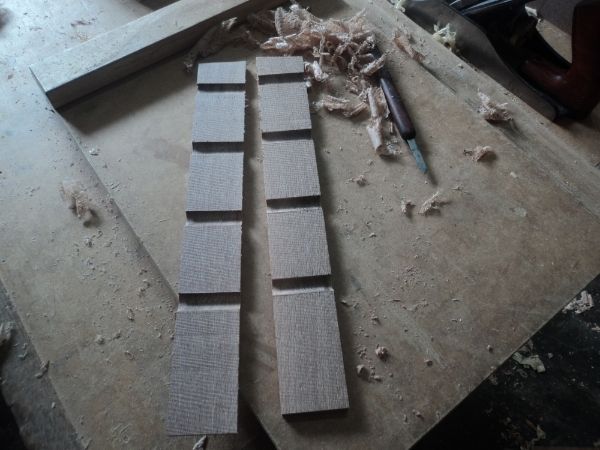 I knocked together a quick sled to pass these pieces through the planer, I was worried that they wouldn't make it through without mishaps due to the channels which might cause problems with the feed rollers losing their grip or tipping the pieces.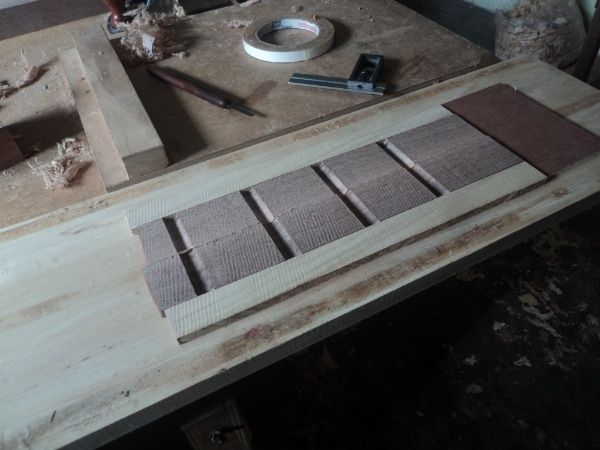 Planed and chopped into pieces..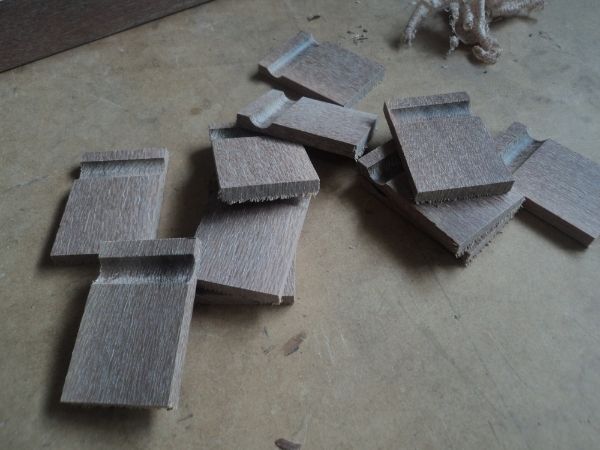 I then carefully marked the position of the blocks on the leg blanks and glued them on..
Now I aware that if I stuck this material on, then shaped a curve through it into the main leg blank I might get some nasty witness lines where the different grains meet. So I tried to find the closest possible match for each face of each leg.
You can see here that the match was pretty good and on all but one the finished joints, where I got unlucky with a darker patch in the wood, the join was barely visible.
The legs were now all ready for shaping..
Next up will be the first of many dry assemblies and working out the rest of the rail/panel joinery. Thanks for looking.
---