Hello all, things have been deathly quiet on the first installment of this blog, which I started due to interest on the project I posted here. Having started, I should go on, so in this post I'll show how the remaining veneered panels for the table aprons and the legs came together.
Here is the substrate for one of the small side apron panels being planed up, with the thick re-sawn veneer that would be stuck to it.
The substrate is a piece of Primavera and I did not back it with a "balancing" veneer. The apron panels are small and would be firmly held into the legs by tenons across almost their whole width, so I didn't expect them to have much possibility of moving on me.
Here are the two side apron panels veneered and smoothed. I glue up these thick veneers rough sawn and over thickness so I can get down to the required dimensions after glue up. Again these were just clamped with cauls.
These panels look like little landscapes with the rich brown of the heartwood forming hills, the sapwood sky adorned with cloudlike forms inked in by the spalting, and if you look closely there seems to be some kind of strange primitive dwelling, like an igloo, on the horizon.
Shooting square and too size…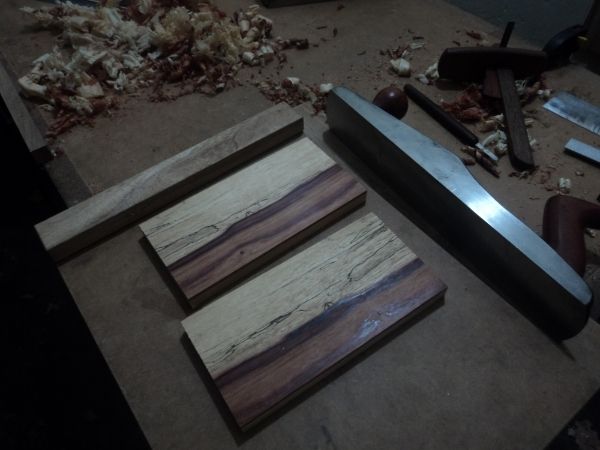 So, before I cut my tenons I need some mortises, and for that I needed some legs. I carefully chose stock for grain that fit the leg profile, re-sawed my blanks at the bandsaw and milled the inside faces square. I then gave Big Ears a shout to help me cut the mortises…. (if you haven't met Big Ears see part 1)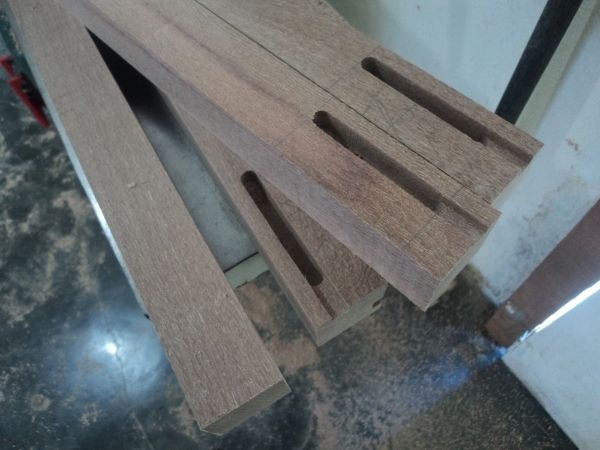 When I started out on this table I didn't have a finished plan, the panel sizes I obtained dictated the general dimensions but the details were to be developed. I did however have an idea of the legs I wanted, the general shape I had seen on something I liked so I did a sketchup drawing to obtain the pattern. From there on in the drawing remained open and I tweaked parts of it as I went along to help me resolve the details.
I drilled/chopped some small mortises for double tenons on the lower front rail.
Here side and rear aprons after cutting tenons at the router table and tidying up by hand.
The parts so far…
All for now, to be continued…
---