click the marker to see the address
THE SHOP:
This is an older shop, first started in 1985, and is a multipurpose shop, including electronics, a ham radio station in disuse, some handyman equipment, etc. My intent is to retain rudimentary electronics capability, with that function being markedly compressed, and essentially convert the shop into a woodworker's shop. The following is the shop as it exists now. These pictures were also used in the third installment of my blog describing the shop and my plans. This is a condensed and more to the point version of that blog description.
First a little description. This is the back half of a 2 stall wide garage, two cars deep. Essentially, a double car garage. This is a 20.5 feet by 20.5 feet space. My SPACE (now talking about floor dimensions) has one totally immovable object imbedded in it, a 96×41 inch stand upon which resides the water heater and two furnaces…I know, but it is just like the cowboys with two pistols instead of one….Another less immovable object is a 31×32 inch freezer. Once we have totally remodeled, and the miscellaneous prepurchased doors and such are gone, that freezer might be moved. About two years from now I think.
Shop – from the front (near the cars). You can tell by the bottle that I was busy lubricating the saw……......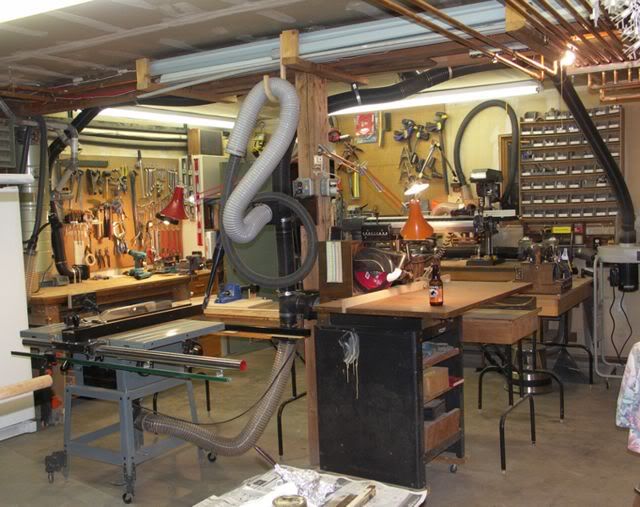 Shop – old kitchen cabinets installed as an electronics area in 1985. Also contains the sink. The Xmas lights are from a few years ago when we had the whole kitchen installed down here, even had the ice maker running on the fridge…during a remodel of course. Note the brown lamp at the right. Purchased in 1959 to go to college with. Still has the original bulbs. Either those are the world's greatest bulbs, or I didn't study very much……..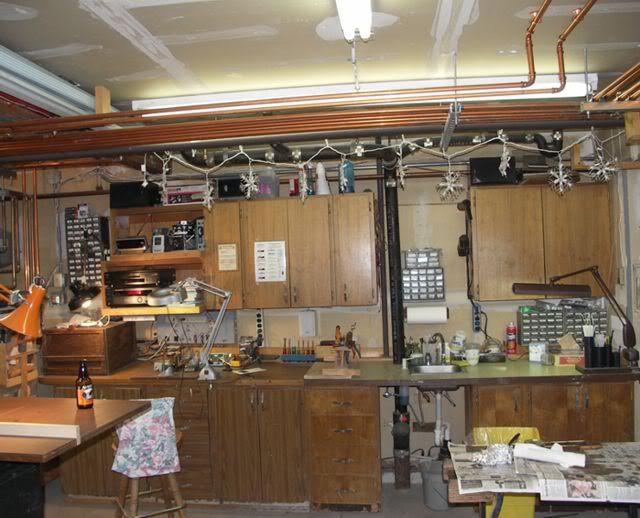 Shop – from the rear, looking towards the cars (not in the garage at this time). Notice the 3 project tables I made about 20 years ago with picnic table fold down legs. The tops are loose and replaceable. Nice to be able to fold them away when this space was used during a big remodel for storage. I also use them as outfeed tables, they have adjustable leg heights.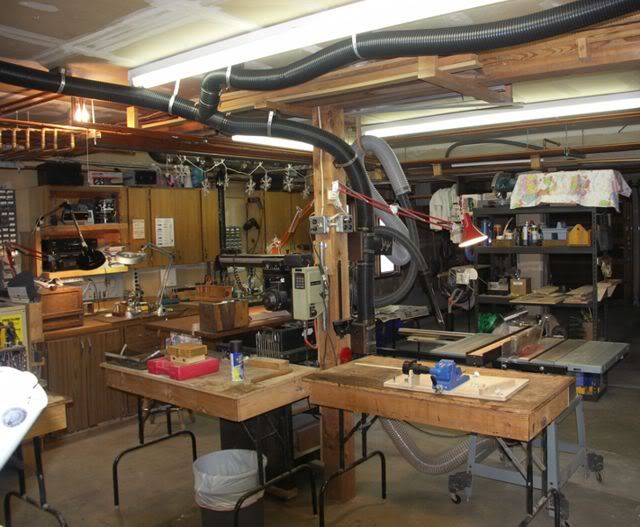 Shop – the main workbench, built in 1971 from 2×10 for top, 4×4 for legs, and 2×4 for the rest. With a 3/4" plywood Watco treated top. Put together with nuts and bolts, and some lag screws. Needs new drawers, but is otherwise, as you would expect, indestructible and works like new. Notice the freezer, central vac, miscellaneous cabinets…….....
Shop – back bench. Bunch of small power tools. Note dust collector on the edge at right. I plan to demolish this bench put the tools on movable stands, or other.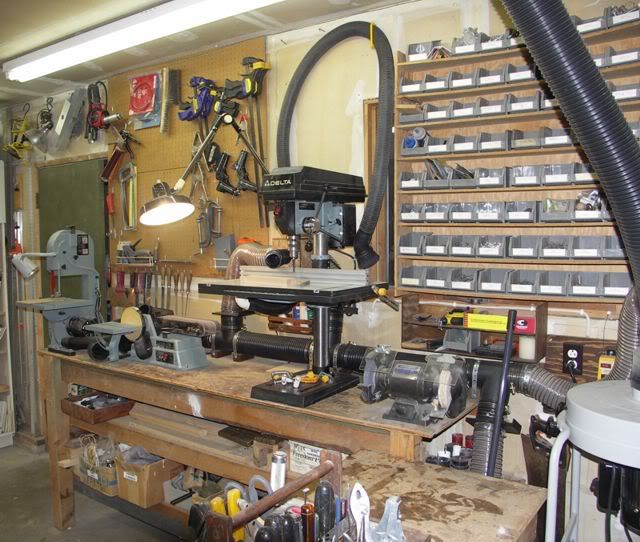 -- Jim, Anchorage Alaska
---