My cutoffs breed and multiply at night……..do yours?
Mine begged for a new home, so I started this cart about 8 months ago, then had about 6 months out of the shop due to some work related computer projects, and then today, I finished it. This is the detailed blog, later I'll post a brief report as a project.
My cutoffs are now finally content……perhaps reborn, set for inclusion into new and exciting projects. Exciting is still an IN word, isn't it? Feeling old and marginalized……..
Each shop has a unique assortment of cutoffs. They differ by size, type of product, and a personal view as to what should be tossed, and what should be retained. And I am sure, we all have used cardboard boxes either in the past or currently for their storage.
Having used cardboard box cutoff storage for awhile…….hmmmmmm…..like about 43 years, I have a real world understanding of the cost, utility, and frustrations of the boxes.
I know, you can see it coming, it is the Alaska Jim of old…..out comes the hidden engineer, and a warped sense of humor…….we are off and running………..(-:
OK, that is the last smiley, my LJ missives are always about smiles……..
So, you must sit back now, and reflect upon what really happens in the shop.
Cut a board, precise and smooth, hold it up to the light, no warp, no splintering…..Yes, just right.
Next board.
Damn, cutoff in the way!
Glance to the left, glance to the right, down at the feet……..wang!.... there goes the cutoff in its fateful last journey…..destined for the garbage, for the fire……..poor cutoff……..or got lucky and into the cutoff bin.
The cutoff bin has got to be purgatory for cutoffs. Would you like to be a cutoff?
Will I be a part of a wonderful new project? Will I work my way to the bottom, kind of quiet, dusty, but still in contention? Will I be culled, off to land fill, or the crematorium……..?
OK, OK, OK….
To the practical side of things.
One, gotta save some to the cutoffs box. We all reach for cutoffs in nearly every project. If nothing else for a glue block, temporary jig, story stick, hidden structural member, etc.
But they take up space, and you can't use, and don't know what is at the bottom of, the box. Most of those bottom dwellers should be culled and discarded, but they are covered up by more recent stuff.
And then when you get old and lazy, you can't bend down long enough to sort through the stuff in any case. So the bin gets progressively bigger, and at least percentage wise, progressively less useful.
So, not having unlimited space, I got serious about this cutoff stuff a while back, and analyzed the situation.
That's me, pretending to be logical, and I is gonna ENGINEER a great new solution. I know, the ENGINEER moniker is over utilized, but it still makes me puff up a bit, and try to do my best.
Here are the issues:
Boxes of cutoffs are not easily searchable or moveable.
Boxes of cutoffs are on the floor, not good for old backs and feeble vision.
Boxes of cutoffs are not easily culled.
So……..now to solutions:
Moveable means wheels.
Searchable means organization and that means categorization, and in real terms that means compartments.….and with old backs, compartments means moveable sections.
MODULES. The SOLUTION.
A cutoff cart with modules to organize and transport the cutoffs to the worksite for adding new cutoffs, selection, and culling.
Now, this is just a cutoff cart, not some fine piece of furniture, so we used salvaged and second rate lumber.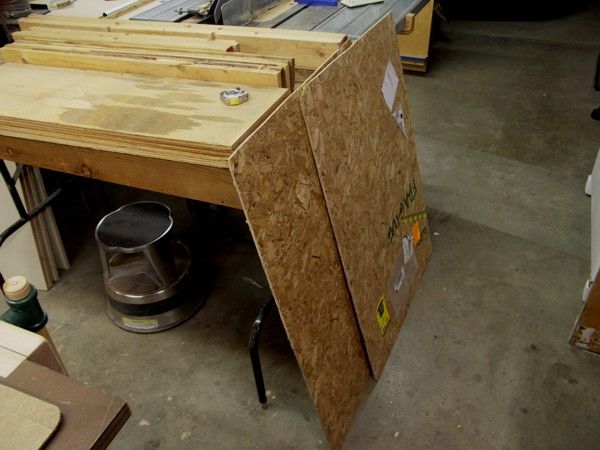 This cart could have quite a load, so it needs to be strong…….torsion box base.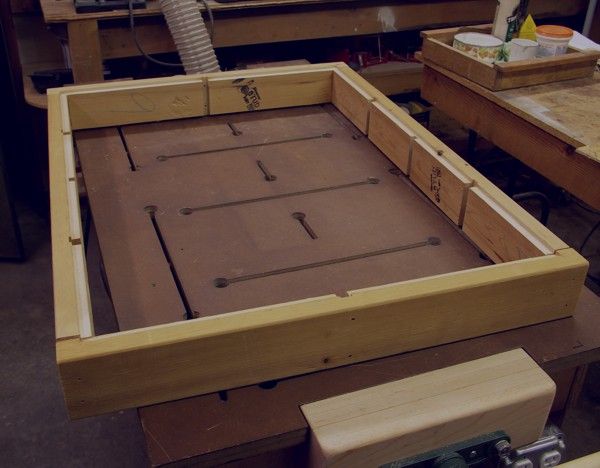 .
.


.
.
Make a center section for taller items, and attach it to the box. Here we are upside down, drying from a Watco finish.
.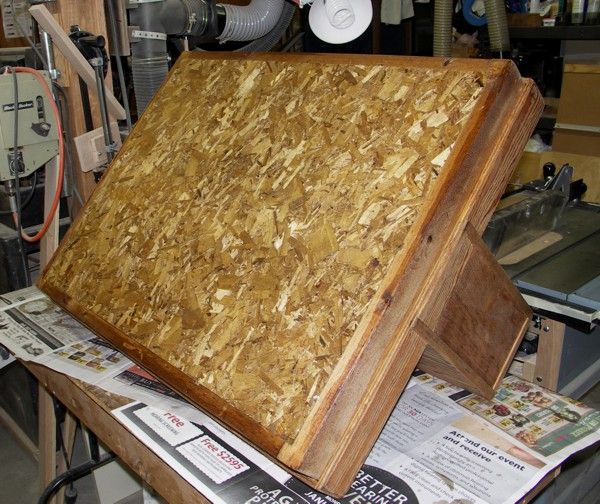 .
And with the wheels and rubberbabybuggybumpers attached………
.


.
Modules, size them to the projects I make, kinda small…. and make the modules moveable, with a handle that tilts them as you pick them up so the cutoffs don't fall out……..
.


.
All the shelves, removable except for the bottom one (a structural member) canted to 10 degrees to keep the cutoffs in the module.
.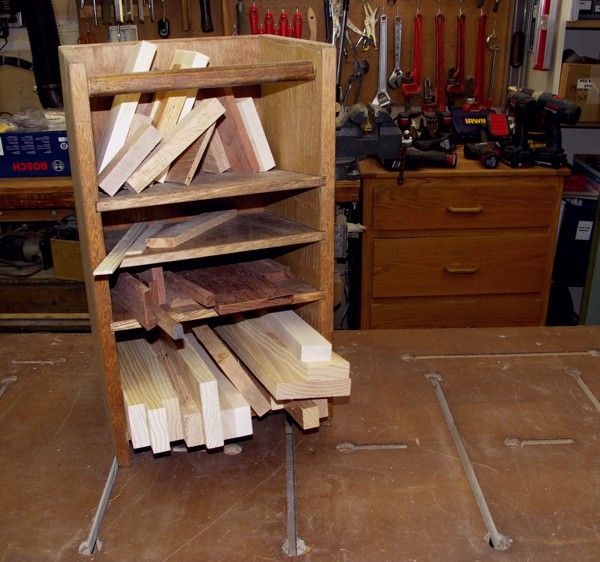 .
That's pretty much the whole story. You can see how easy it is to move a module to the workbench or any convenient spot to accept new cutoffs, allow you to search for the right one, or to cull them out to make room for new ones.
My cart has a home underneath the extension for the table saw. Out of the way, but handy to the table saw and the radial arm saw.
.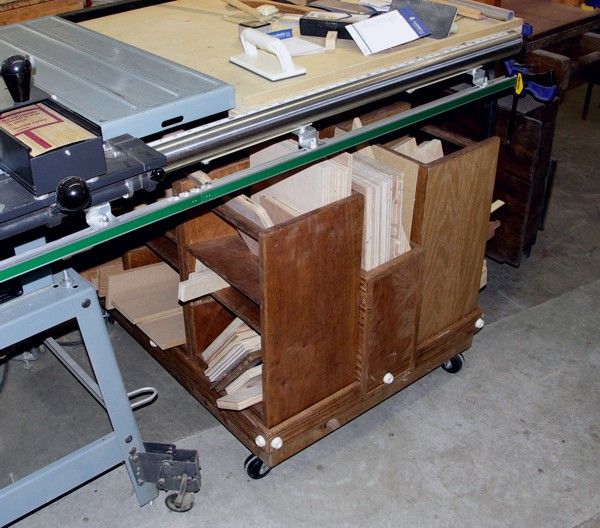 .
I am going to set up a camera to record what happens at night in the shop. See if they really do breed and multiply……..I will report the results…….but we LJ's already know…….
Fertile little suckers, aren't they…………….
Alaska Jim
-- Jim, Anchorage Alaska
---