.
. Function, only Function…..another episode of….Sherie and Bubba Jim. Pounding sense into your man, one nail at a time.
.
.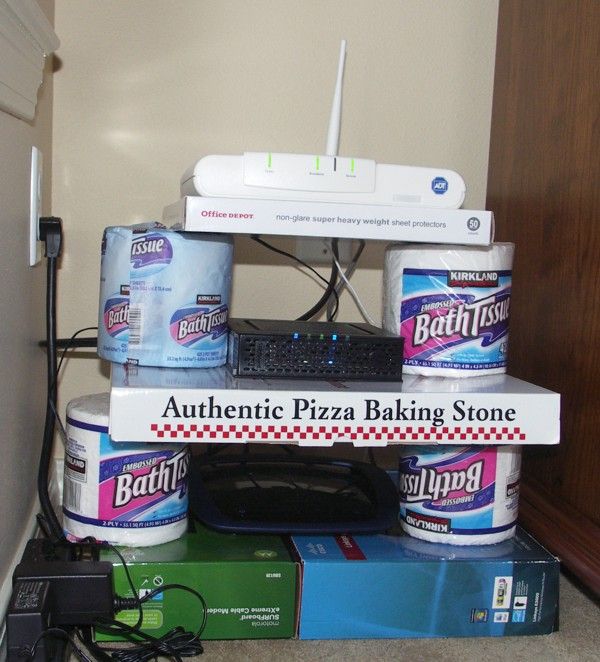 Now you are thinking that picture is a gag. Sheer fantasy…."How silly could anyone be?", you say.
Well, believe it or not, that comical looking construct (using the term loosely) has been working for over a year. OVER A YEAR, MIND YOU.
This is actually the working internet connectivity cabinet, up until today. Yup, something to be proud of.
No, that is not a pizza box, what do you take me for? That is the box for a pizza STONE…... pizza not included. No, not a stoned pizza.
So the next thing that rolls from your tongue, oiled with the arrogance of a true woodworker…...
.....on a woodworking forum no less…or perhaps greased by a french fry or two as you watch all too serious adults brutalize each other over a misshapen ball of pigskin (talk about being silly), whilst multitasking with your iPad during the commercials….....
"What's this bawdy piece of junk got to do with woodworking? Don't you have respect for the forum rules?", as you glance to see if the commercial is done.
But, I retort, "Everything there is a wood product, probably much of it made from recycled stuff!" (I know what you are thinking, let's not go there, recycled toilet paper….really?")
A little explanation, perhaps…..........
This is our vacation house, thousands of miles from home…...
...a place we bought about 2 years ago, and there was no shop, no tools, no junk box, no cutoffs here. You ever moved into a place, bringing nothing with you except a couple of suitcases of clothes? Just starting from scratch?
That's what happened here. There was nothing but my voice echoing from the walls of empty rooms, and the fearsome posturing of the current inhabitants, a large colony of spiders, who valiantly fought, and they succeeded, to maintain their claim of possession.
I have since named this home the Spider House in honor of their heroism and tenacity…..they live here, we just visit from time to time.
So with the materials at hand, my trusty portable computer and Sketchup, I go to work, and carefully design this intricate…...and might I say, very functional…...electronics cabinet.
Truly original and, well, talk about using reclaimed materials! And this was no 10 minute project. This was a two minute project!
First of all, note the construction materials, partially prefabricated…...
The cylindrical columns are…hmmm…circular torsion boxes with concentric internal bracing in a continuous sheet, perforated for expansion and contraction at regular intervals, which also allows some customization as to diameter of the column.
I was a little distressed in having one of the columns last year's model, but that's what was available. The shelves, particularly light weight structures, were intended to be more normal torsion boxes, but I never got around to installing the internal bracing. Got distracted by more immediate problems, and oh well, if it ain't broke don't fix it. Right?
OK, OK, OK….."What's this all about?", you say, "are you really bragging about this abomination snatched from the jaws of the nearest dumpster?"
At this point, I get rescued….. ... once again, by my lovely bride Sherie, who starts eyeing this truly ingenious edifice…and smartly observes….."the toilet paper in that thing is going to fall apart from dry rot soon….....and if you made a real cabinet (and since we are running low on toilet paper) it would avoid a shopping trip!"
Now we are talking real money.
So, I get's the point, finally…...and besides, now you will learn why we vacation here.
I get to once again, make a 30 mile trip to the Corporate Headquarters of Grizzly in Bellingham, WA, to buy some inexpensive and useless piece of gear for the project, while stroking the gleaming big green machines….dreaming I might own another one someday. They have a zillion wood and metal working machines on display. And lurking in their warehouse, are most of the items in their vast catalog of stuff, including thousands of things not bearing the Grizzly brand name.
The average LJ could spend his whole family inheritance here in just about 15 minutes. I hope to demonstrate that someday, in a suicidal act of indulgence. Suicidal, because remember, the big hammer in this family, is Sherie.
OK, so I gather what plywood I have in the garage shop, (unfortunately, too late, I find the 1/2" piece is distinctly inferior and has invisible strange markings, only coming to light after a coat of Watco) and buy some edge banding. I then proceed to make the first presentable project using the slowly growing vacation home shop. Not much room in the garage, so it will always be small.
Ta da….....the new internet cabinet…...it is just about a 12 inch cube in size.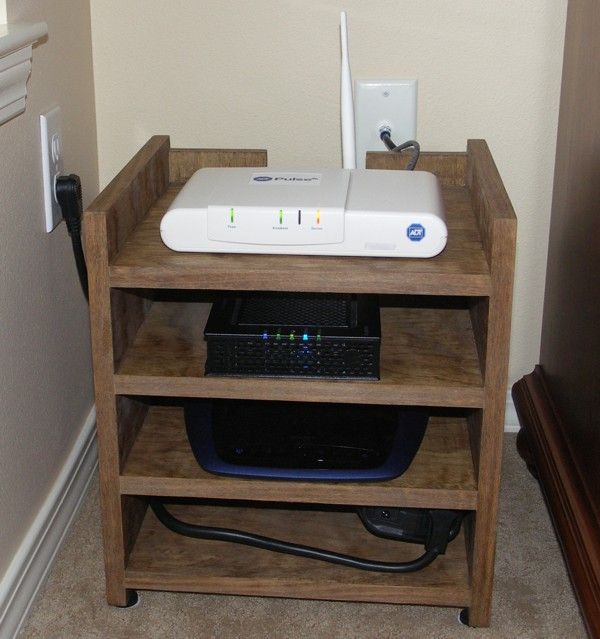 Finished with medium walnut Watco to match some nearby furniture.
It is built of mostly 3/4" birch ply, butt joints, nails, and glue. It is designed to be heavy, because some of the cables and wires are rigid and would tend to pull the cabinet askew. No dadoes or rabbets, partly because I don't have a table saw here, and no router table yet as well. But it is more than strong enough, and has the weight to do its job.
Thanks for viewing, and hopefully I will have another post in the next week or two, when I get home….. OK, off to find Sherie, for another piece of her sharp witted wisdom, and another honey-do of course.
-- Jim, Anchorage Alaska
---