These are a few shop projects from scrap.
First a Tall-Thin Storage gizmo that is mobile.
For my dowel collection, aluminum extrusions, continuous hinge, etc…
Had a problem with these things falling all over the place, and had to get that space clear for more stuff.
Here is the gizmo sitting in its assigned space:
Took four swiveling ball casters, scavenged from throw aways….....two of one type, two of another, but they were exactly the same height. Bet they were gathering dust for 20 years. A few pieces, cut offs, of 3/4 inch ply…got a lot of that stuff left over from other projects…birch veneer…Chinese…poor quality. And some pine cut offs. And for weight, I took the old mailbox cover made of heavy iron…..really…..the outside cover for the mailbox that is actually in the garage, and attached it to the bottom diagonally, to make it stable.
OK…......the screws and the screw guards were new. I confess.
But then….....the ultimate scavenge….
cardboard tubes from a Rockler shipment of T-track
...to protect some plastic tubes…that actually have the T-track in them. I have used the plastic tubes before…and later you will see it in use again. But this is the outer cardboard tube. Yup, cut up those suckers and enclosed them in a plywood frame, screwed to the base, not glued, so I could change things in the future.
So you see it, pulled out, so I can swivel it around and find what I need…...
....and a little detail…..Slim wanted some close up coverage…....
Now ain't that sweet. Except for the screws and the finish…WATCO of course…all scrap…
But there's more…..
Ten minute projects…really!
I don't know about you, but…
.... the top of my glue bottle, that I refill from a jug, gets stuck no matter how well I clean it.
I kept a needle nose pliers in my glueup tray, because it worked well to lever the top up. But that was silly. Displaced a multipurpose tool into a specialized setup for an oddball use. So, I built this gizmo from a scrap of 3/16 inch ply…......
...next to the glue bottle that causes the problem…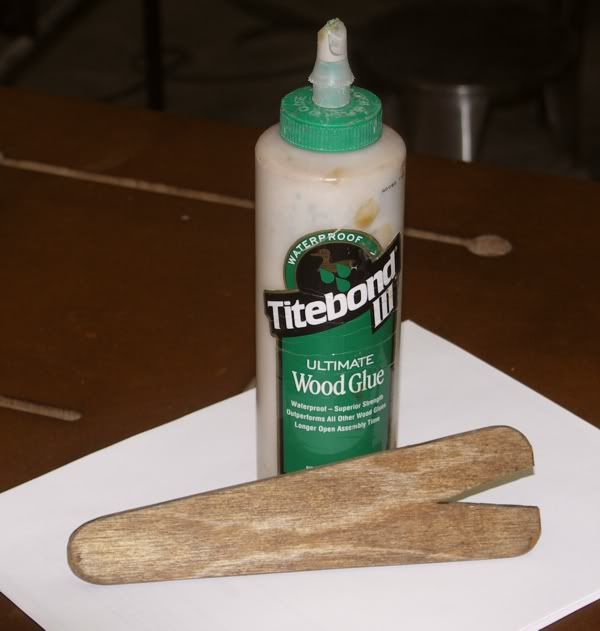 ....and in its place on the glueup tray…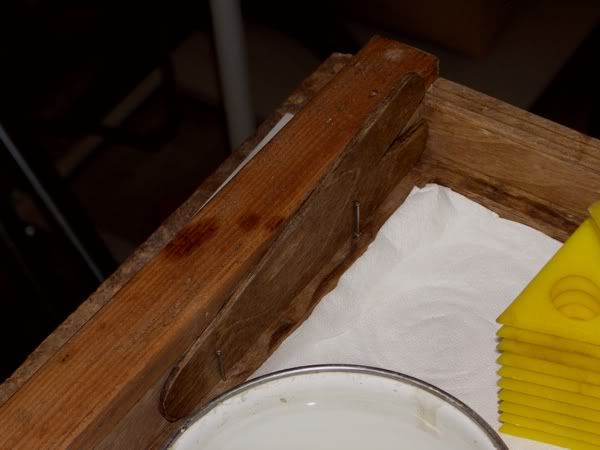 Cut that out with my toy bandsaw in a flash….......
And then the next one in a row, a storage for my frequently used props for finishing things. You know those plastic yellow pyramids to support projects you are finishing with whatever…with the pointy tops. Yup, got a bunch of those. But this is about storing some things I made myself.
Most of the time I revert to this collection of…
... really strange objects I built a couple of years ago. They are quicker, things balance better, and they are perfect for WATCO, which I use a lot in the shop.
They are strips of MDF, with a shallow groove cut in the top with the radial arm saw. And in those grooves are some nails, with the heads and points cut off, glued into the grooves with CA glue. So the object you are finishing rides on the nails, which are lying flat. Not as good as a point, but for oil finish more than adequate and markedly more stable and quick.
Here they are in a piece of one of the plastic tubes that Rockler ships its T-track in…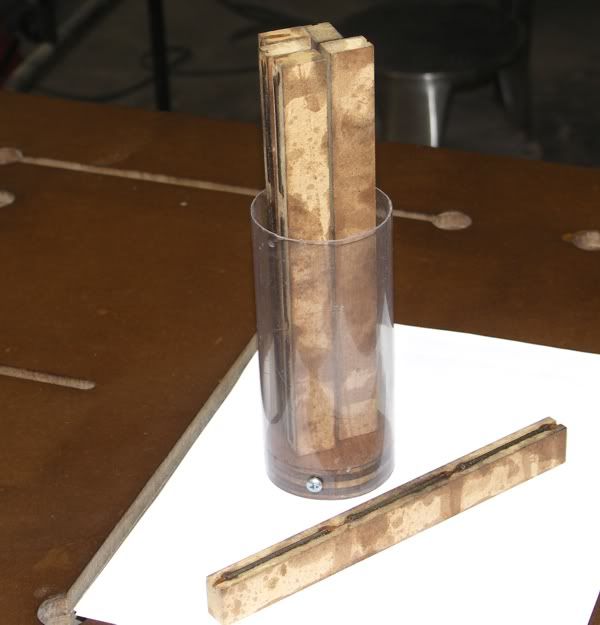 Cut it to size with the bandsaw. For the bottom, a disc of 3/4 inch ply, and two screw to hold it in place. The disc finished with….what else…WATCO. This was quick…bandsaw work, a little sanding on my disc sander, finished quickly, and then a couple of screws.
...and a detail of the gizmos…heavily used, nearly every week for a couple of years…
Well, I got a few more items in the wings, probably will blog them next weekend…......
Thanks for viewing…..
-- Jim, Anchorage Alaska
---