I finally got the super sled miter arms done.
I still have to make the guard and a T-track mounted flipping stop block. I really don't see those as being very hard to do.
But I can't work in the shop any more this weekend. I over did it yesterday and worked there again today, and my wrists are complaining. And I have surgery in the morning. So done for the weekend. That is why I know I will never be a heavy hand tool user. Power, any time it makes sense.
So here is the sled, at this point in time, with a example piece of wood on it…....
It has been used quite a bit actually, even without the miter arms. I have a little adjustment work on one side of the fence, which doesn't affect wood less than an inch thick. A warping and aging thing I suspect. Otherwise it is good to go. The fence is totally adjustable and replaceable, it is bolted on only.
Super Sled
Thanks to John Nixon, Patron, a1Jim, Scott Bryan, etc, etc, etc…........a work in progress with the help of my friends….....(-:
And the….........
.
. Super Sizer Panel Sled, complete with oak trim
.
.
For newbies……..that's what LJ's do…......oak trim on jigs and fixtures,
.
.
.....................so I had to do it too……………(-: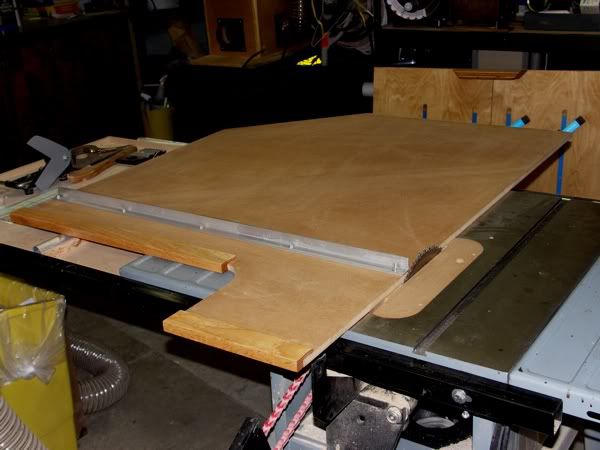 -- Jim, Anchorage Alaska
---