Innocently Sherie asked me, while I was in a good mood, yesterday out eating lunch, and this is a for real quote…...'Could you cut up a couple of boards for me?'
I looked at her suspiciously, and I am sure she batted her eyelids as she spoke, so I started trembling with the opportunity.
Cut up a couple of boards? Can I….........the neighborhood Lumberjock….........cut up a couple of boards?!?
Now those of you that are married realize that wives are much smarter than husbands. I am sure all you lady LJ's will verify that here, right Now QUICK......(-:
Wives know how to get things done. No demands or ultimatums, just give old gullible Archie the chance to put on a show, as they wheedle and woo the unsuspecting victim into the web. Let him think he has a better idea, and what's more he can make it, from scrap, for free!
She knows the hook is set as you hunch closer to her over the table, stretching a little out of your chair, down tilted head, looking out from under your bushy old sawdust covered eyebrows, your voice rumbling, the table vibrating as the words emanate from the grotto of your manhood, and you say…...
'Just what did you need those little ol' sticks for, hon?'
Now this interchange is much more than it seems. There is a lot at stake here. With her nonchalance, she hopes to minimize the importance, and maximize the output. You, on the other hand, would kill for any chance to show off the masculine power of those gleaming machines now quietly lurking in the dim man-cave….....while justifying the purchase of the next essential wood working monster megamachine.
It's a dance…....but folks, it's really hard to tell who is leading…............
'Well', says Sherie, 'I bought a couple of planters for tomatoes…..the greenhouse lady says buy black ones and put steer manure in the bottom, and the heat from the fermenting will make the tomatoes grow much better up here in Alaska, I just wanted the planters a little off the ground, you know, the thickness of a board would be just right.'
....and she held her fingers about 1 1/2 inches apart in front of her face, smiling, tongue wetting her lips, as I gazed at the space…....between her fingers.
Who's winning???
So the planters were in the back of her truck…..yes, 4 wheel drive Lexus Bubba truck, so I got them and placed them in my…......2 wheel drive, Honda Odessy van, soccer-mom car…......and off she went with her wallet in the pursuit of other indispensable purchases for the home…......
She's winning…...
So of course, I telling this in retrospect, after some analysis and embarrassing realization, unsuspecting, thought I was on the road to a new essential purchase for the shop, I was in control….......gotta have a dream…......
So I immediately head for home. Sherie had thought, wouldn't it be economical to use the boards lying there in back of the house, the boards that failed to maintain position to hold the gravel near the foundation, why…...wouldn't it be smart to use those under the planters.
But I, thinking I had one up one her, pulled out one of the big guns…......SKETCHUP….....
(later she noted, upon seeing my drawing with exact dimensions, in color, full plans….........'Oh, you even made a picture!' Believe it or not, that is a word for word quote!)
So I made the plans…....I would really wow her…..:
SKETCHUP PLAN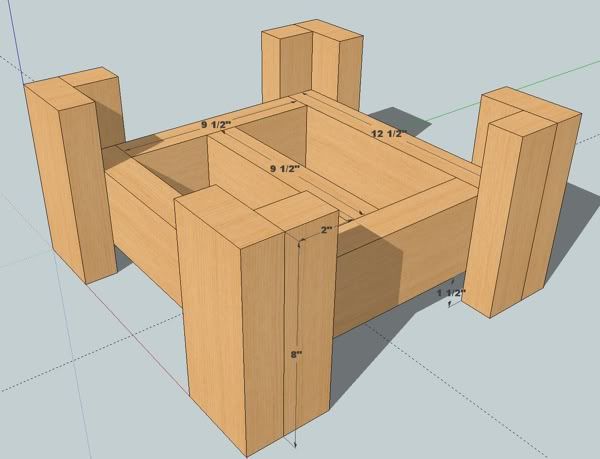 So I took the wood, some pressure treated fir, I suspect, good wood for the project, gathered it all up and brought it in the shop. I brushed off all the dirt with a wire brush, noted it was a warp-gods delight, but decided with small pieces I could make it go.
Let's be honest, there are no one hour projects of any complexity.
I even ripped that warped lumber to get some 2 inch pieces. I figure for two planter stands, it took me 3 1/2 hours. I spent another 1/2 hour painting them this morning with some old Olympic Oil Stain, water-proofing stuff at that. 4 hours total.
They are constructed from standard treated wood 3×1.5 inch stuff, Titebond III glue (waterproof), and BLO covered drywall screws. In our climate they will remain unchanged for 10 to 15 years at a minimum. Done this before, and that is a fact.
THE PICTURES:
The Unpainted Stand:
The Planter on the Stand: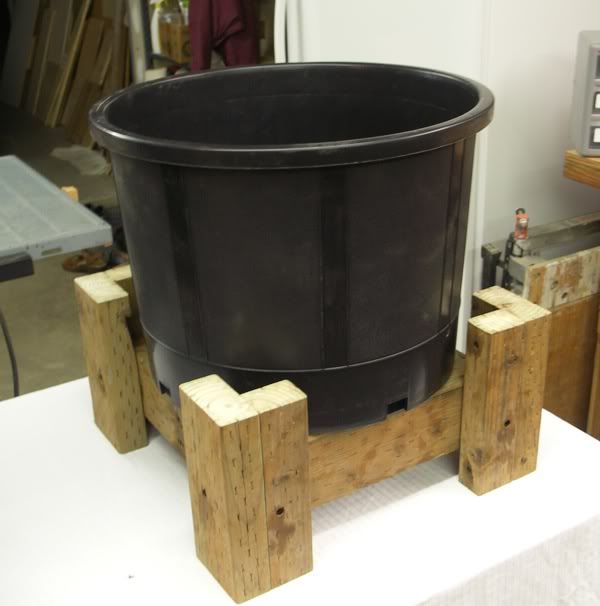 The Two Stands Painted and Drying:
Now you should know, she said over and over again, 'Oh no, I don't need them to be painted.'
Right…......
OK, doesn't that all seem wonderful, win-win situation, right…......?
Well, let't think about it.
1. She has been trying to get me to clean up that old wood for a couple of years…...score one for Sherie, nah, that was a real sleeper, she gets 2 points for that.
2. She got me to make what she really wanted, we have been married for 26 years, and she knows exactly how I am going to rise to a challenge. Another point for Sherie.
3. I didn't even complain, because, now I get another point for the value of my shop. One point for me.
But then, and this is the gospel truth….......
The planter stands are out there drying in the sun on the stone steps leading to her planting shed. And I come out to gloat, get a little praise, and the following transpires…....
We are standing there looking….......and she gives a little kick to another metal planter sitting there, and there are a bunch more around, puts her hand on her hip, with a little hip swivel turns to me, with a little giggle and says…..
'Got any more wood?'
It's a dance, just gotta enjoy the rhythm, and the music…....................(-:
Alaska Jim
-- Jim, Anchorage Alaska
---