PETRIFIED POETS SOCIETY
Well, I couldn't call a bunch of LJ's dead, could I?
This endeavour is a real LJ family affair. Many LJ's contributed to the impetus to make this, well, extravagent and over engineered sanding block. Just so you all know I am really not THAT 'kooky' (PATRON has labeled my sense of humor thus and I will spend the rest of my days on LJ's living it down)
I WILL TRY TO SPREAD AROUND THE BLAME
NORTON is a real block head, and that's OK, 'cause that's his job. Conjuring up a name for my SANDING BLOCK, (which I know I will have to do in any case or NEIL (NBEENER) immediately questions the anonimity and refuses comment…...) was perplexing for a couple of minutes, and then out of the air came the name, NORTON. No, not the sandpaper company, I was thinking of Ed Norton, truly a blockhead, from the Gleason Show. All around good name, no harm in having the same name as the sandpaper…..........(-:
......and now comes an enumeration of the litany of Petrified Poets. PETRIFIED, THAT'S STONED WOOD, so I really think this is a fitting name for these LJ's…...., AND YOU ALL WERE CERTAINLY POETIC ADVOCATES OF THE LUNACY THAT FOLLOWS…....(-:
Already alluded to, but not to escape notice and inclusion are, PATRON and NEIL. One has me protesting, scrambling to retrieve the aristocratic and noble self view that he has shattered on the carbide tipped LJ blade of judgement, and the other has me drifting into childhood fantasies, searching for soft and fuzzy friends for the lonely and rejected (it's OK Neil, it'll all turn out all right). To some other villains…....
DBHOST….....first comment on the Sandpaper Blog entry….....making me think I am now Jackie Gleason or Jay Leno…....egging me on to untold improprieties and outrageous commentary…....
LOL… Now THAT was a fun read…
....at that point you would think you could make a living doing this…...............
......but this really all started with….....
DAVID CRAIG making comments about the personality of tools, when responding to my Sandpaper Blog entry.
The PSUEDO NIKE TENNIS SHOE STYLE, referring to the ubiquitous new portable tool look (notice how I always capitalize that phrase, hoping that it will fixate in everyones memory, giving me credit for a least one unique observation in my lifetime), was used to compare old and new tools as…...
"wearing old man Dickie pants and a crew cut instead of donning those Nike's and wearing a nose ring…."
Now this is an incomparable insight into the plight of the modern woodworker…....new, shiny, enviable…..(you can throw it away when it breaks next week so nobody will know, and they certainly won't remember) or trusty, reliable, beat up, and comfortable, (but you'll never want your friends to know you use it). So see, already I have another culprit.
The next post, well….I mean…....what do you say to this stuff…....just as maudlin…...or worse than NEIL
........out of the mouth of that incomparable gruff red neck LEW….........quoted in it's entirety…........
Sometimes we just have to go into the workshop and talk to ourselves about these desires for the new "Nikes".
If "old girl" still works, you keep her around. She's like an old friend. Familiar and comfortable and you understand her every "word".
........didn't think those words would come back to haunt you, did you LEW?.........(-:
Do I have a daft bunch of friends or what?....................
....see it's not just me! Hey LEW, I don't think you want to show that one to the wife…............(-:
So in my next blog, The LackaNewTool Lament, DAVID CRAIG'S comment resulted in the embellishment of my latest purchase, a sanding block. You know, $3.69, now looking much better with a nose ring and a cord (all important tools have a cord). Pure serendipity, a sanding block was my last purchase. So in all honesty. This is all about DAVID CRAIG, and the other PETRIFIED POETS who drive me on to seek acceptance and validate my endeavours, in this most noble of hobbies.
Revisiting the embellished sanding block…......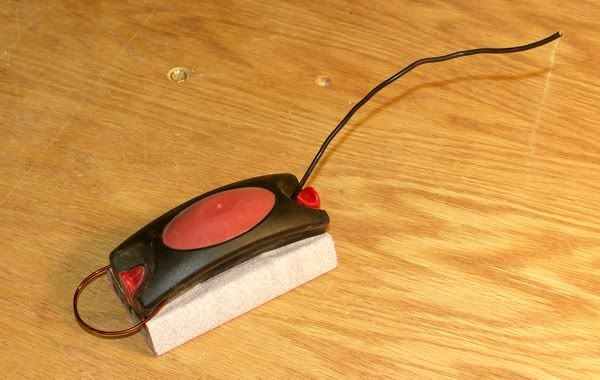 .......now there were more than a few memorable comments after that post….......
From DENNIS GROSEN, setting a new high for cannon fodder in the perennial battle for dominence in the household budget….
.........is it becourse they don´t understand the nessery of
new jewelrys / high heels and gordius dresses in the
toolbox the same way as they put them in the closet
So now we have high heels, gorgeous dresses, and jewelry in our tool boxes.
.......so take kindly to this rather…...er….......overdone presentation…...
..and then even my buddy, DICK CAIN comes into the fray…....
WOW!!!
That was some story, now I'll have to go out in my shop,
& soup up my black rubber sanding block
Dick and I were going to have a contest with the sanding blocks, but his washer and dryer pedestals got the best of him, and then we thought about the Nothing New But Glue Contest to face off, but I have call duty next weekend, and then go on vacation, so I wouldn't be able to make the deadline. But he egged me on, so he is also one of the culprits…...
So all you members of the PETRIFIED POETS SOCIETY, weigh in on what follows…....and if you were not mentioned above, just chime in and I will make you a charter member as well…........(-:
.........I present you…......
NORTON
Norton was a compromise, due to time constraints. I really wanted to mimic the current style in vogue, best exemplified by portable drills….....but not having the time to do the complex paint job, I just used different woods that could be simply finished with clear WATCO Danish Oil.
All the wood was present in the shop. The walnut and spalted birch are pieces over 10 years old. The knob is walnut, the mechanics in the middle section are red oak. The wire hold downs were purloined from a cheap sanding block, now sacrificed. And the base is spalted birch.
Norton is a 1/3 sheet sander. The wires hold the sandpaper perfectly. The knob I dimensioned to fit my hand. The knob was formed on the router table.
The mechanics in oak are mostly a band saw thing, with some judicious sanding.
The base as you might imagine was simple and just sanded.
No metal fasteners, just glue.
I have used it already, and it works perfectly. The knob allow me to effortlessly put it in any position, since I dimensioned it to fit my hand size, and my fingers curl around it.
Norton with sandpaper installed: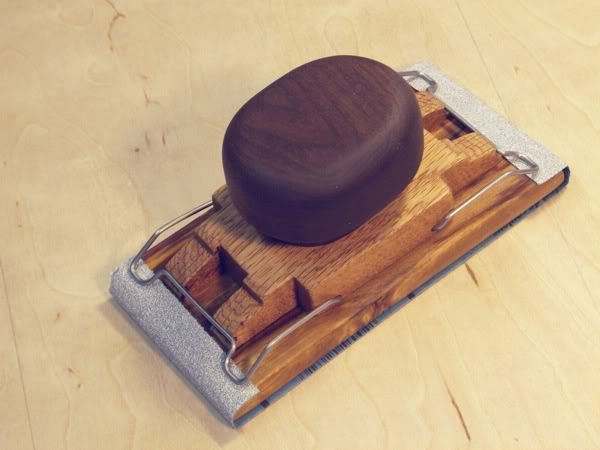 Side one…...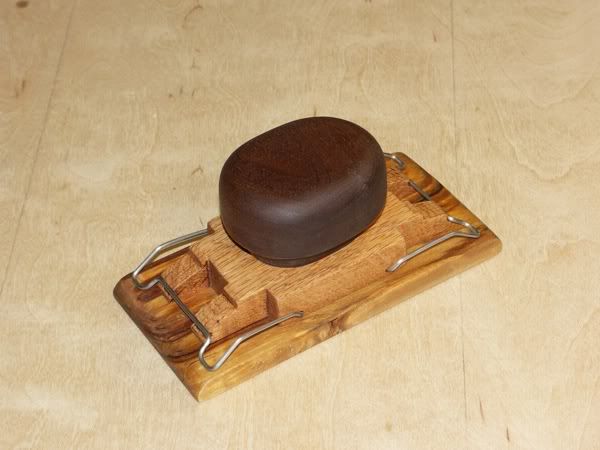 Side two…..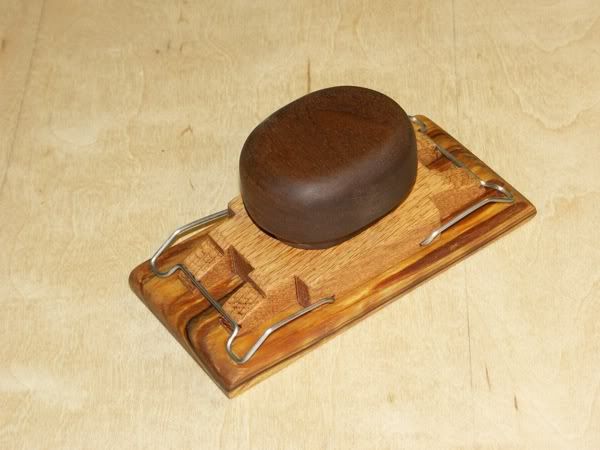 Detail of the knob profile….......
Bottom detail….........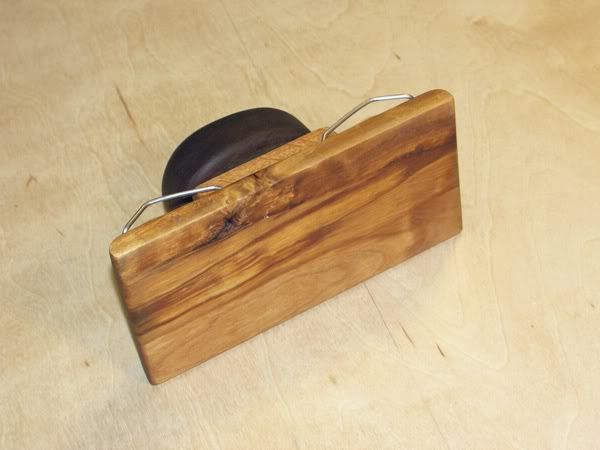 Well I am sure that my lunacy is now confirmed…............
..........such is my fate…........
Alaska Jim
-- Jim, Anchorage Alaska
---