My digital oven thermometer, with remote, needed a case. I decided to make it from wood. Since the now infamous thermometer had been the subject of some humerous bantering between NBeener and I, Neil wanted to see the case. I had used it to cook the prime rib for Christmas dinner.
It is a small project, not of much note, made from 1/4" birch ply mostly, with a 1/2" birch ply bottom, and a 1/8" acrylic cover. Construction is nails and glue. Medium Walnut WATCO danish oil is the finish. The cover has a glued on piece of 1/4" acrylic for a handle. When the cover is closed, it drops down when passing over the front lip, making it unlikely to be dislodged unless turned over, but there would be no reason to do that. So to open it, you pull up on the handle, then slide it out. It is a simple and adequate latch mechanism for this type of item.
The dado that the cover slides in was cut with a couple of passes over my table saw thin kerf blade to give it the required width. It needs to be wider than the cover, 7/32" I believe, because the cover falls down about 1/16" when it passes over the front, effectively making a latch.
The plastic is cut with the RAS, no special blade, the edges cleaned with a box knife and the length carefully adjusted by a few trips across my belt sander.
Here is the box empty with the cover closed: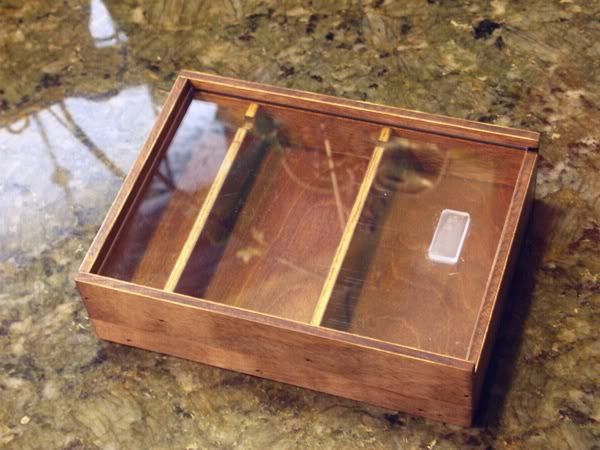 Here is the box with the probe, transmitter and remote, and the cover partially open:
-- Jim, Anchorage Alaska
---