INTRODUCTION
This is a description of Tammy Tote, a much different tote than Tommy, who was described per request, and is very utilitarian, meant to leave the shop when necessary, and had a distinctly electrical bent. Tommy is described here Tommy Tote, and the tote philosophy.
So here is the new tote, Tammy the shop tote, loaded with the intended tools, which I am sure will change over time:
HISTORY
Tammy, who has a very different appearance, is designed to stay in the shop, but is more flexible as to content. Tammy was built last Sunday in a couple of hours, and although inherently flexible, has a distinct purpose in my shop. She is designed to carry mostly measurement tools and instruments, and a few other frequently used items. She is a little similar to another tote, that sits on the back of my radial arm saw table. He is named Toby, and was built 10 years ago or so. He wasn't designed to move anywhere, and Tammy is so much better, the result of discovering Toby's deficiencies, that Toby will be replaced soon by a tote similar to Tammy, and Toby will become a shelf on the wall or on some other bench.
Here is venerable old Toby, useful, but not as useful as he needs to be…....
Toby brings one characteristic to Tammy intact, his method of fixation to the table top. He has 2 iron studs, made from 16d nails, that fit in drilled holes on the table. They are so effective, that, not remembering after 10 years of stitting there, I thought he was screwed to the table. So when I had to remove him and put him on the new RAS table I looked for the nonexistent screws, and then found that he was easily removeable, and lifted him off. Tammy, the new shop tote has the same system.
PHILOSOPHY
As noted in my previous tote blog, I think there are a few essential requirements for totes:
1. Totes should fit you, and your tools
2. They should be extremly tough and durable
3. They should be mutable
4. They should be portable
......and an observation….....
5. You never have enough totes
I noted there were two purposes for totes, the portable fix-em-up type and the shop tote. Tommy is a fix-em-up type but is always at my side during projects, because he carries a lot of stuff that is useful. And Tammy is a shop tote, designed to be in the shop, and not go elsewhere.
DESIGN
Tammy was designed with a smaller opening in between the bottom two shelves because I knew my big digital instruments would go there, and actually one more will be there, my Wixey digital angle gauge. I don't really need to see that shelf well. Tammy is symmetrical front to back, and she is open at the front and back, (Toby the RAS tote is open only at the front, a problem). The curved cut outs on the sides are to facilitate reaching in at an angle. You should be able to reach tools from nearly all angles. Seeing is not quite as important, because you remember what is where after awhile.
Perhaps two new Tote principles here:
6. All tools should be readily visible
7. Tool accessibility should be maximized
Tammy has the same studs as Toby. I made holes in all my project tables at all corners (they are very mobile and can get turned around), and on my workbench as well. I can pick up Tammy and in a few seconds have her securely situated at another work site.
Tools fall to the floor, with more or less disastrous results in my experience, because you push them off with something else. You cannot easily push Tammy off the work areas, in fact it is nearly impossible with a random movement. The tools on Tammy are held by low edges front and back, so random movements will not dislodge them. The front and back lips of the shelves can easily be made as high as you need for security for a given tool set. Mine are about 3/8". A secure system of mounting is important, because you want the tote away from the center of the workspace, near the edge.
CONSTRUCTION
Unlike Tommy, there are no customized tool racks, so nothing has to be removable and replaceable. Hence, Tammy fits the mutability requirement. Finished with Black Walnut WATCO danish oil. You can't compromise it with scratches or dents. Danish oil is a good shop jig finish.
Tammy's construction is plywood with dados, nails, and glue. I have said this before, and I will say it again, this type of construction is highly underrated, and I have never had it fail in up to 25 years of hard use. The sides are 1/2 birch ply, the shelves and edging are 1/4 inch birch ply. The studs are 16d nails, protruding 3/4" and cut and rounded on the end. The shelves are dadoed into the sides. Tammy is very light weight.
I made a jig for the right dimensions for Tammy's studs, and drilled 9/64 holes, then inserted the nails. Cut them off 3/4" above the surface, removed them, rounded the surface with a file, and replaced them. I used super glue to keep the studs in Tammy. Then used the same jig (just a piece of wood with two screws driven in and protruding) to place all the holes in my work surfaces. Works perfectly. You may want to enlarge the holes in the work surfaces with a little in and out of the drill.
Outside dimensions: approximately 8 1/4" high, 7" deep, 11 3/4" wide. These dimensions are about what I wanted, influenced by scrap material on hand.
MORE PICTURES
Here's the stuff I put in Tammy, minus the angle gauge….....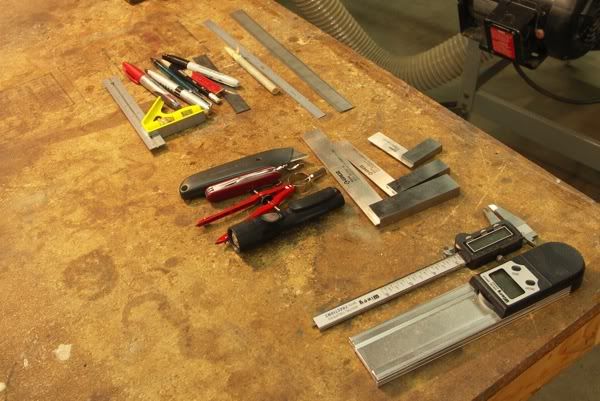 Here's a picture that lets you see Tammy's stud's, I cut the curves in her side with my bandsaw. I used a template I quickly made with Corel Draw's superb bezier function capability, printed up patterns to scale, and cut them out, and drew them on the board.
And here is Tammy, with her feminine curves, and Tommy with his robust muscle compared….....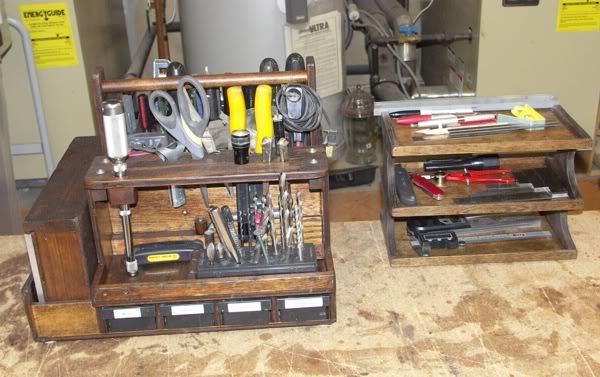 ..........aren't they a cute couple? (-:
-- Jim, Anchorage Alaska
---