I retired about 1 1/2 years ago and planned to spend much more time in my shop. Until then, I'd spend 10 minutes here and 30 minutes there on a project as I could. Redoing my kitchen was exactly a two year project to the day. Finding time to fix up the shop itself was not in the cards so I never even thought about it. In the winter I "preheated" the shop by leaving the door to the house open until it was at least a balmy 50 degrees or so then used a little tiny space heater. The floor was ugly but so what, it was a shop. Cabinets? No time to build shop cabinets so shelves were used and hidden behind some plastic to minimize the dust on them so I could at least see what I had. Time was always at a premium so I spent whatever precious time I had actually building stuff.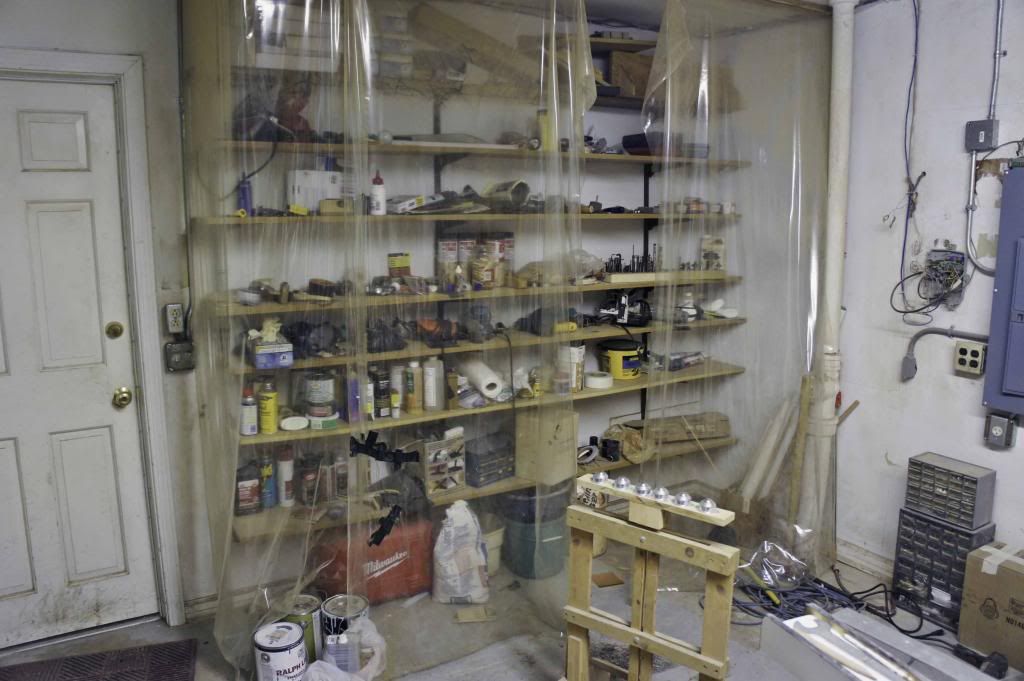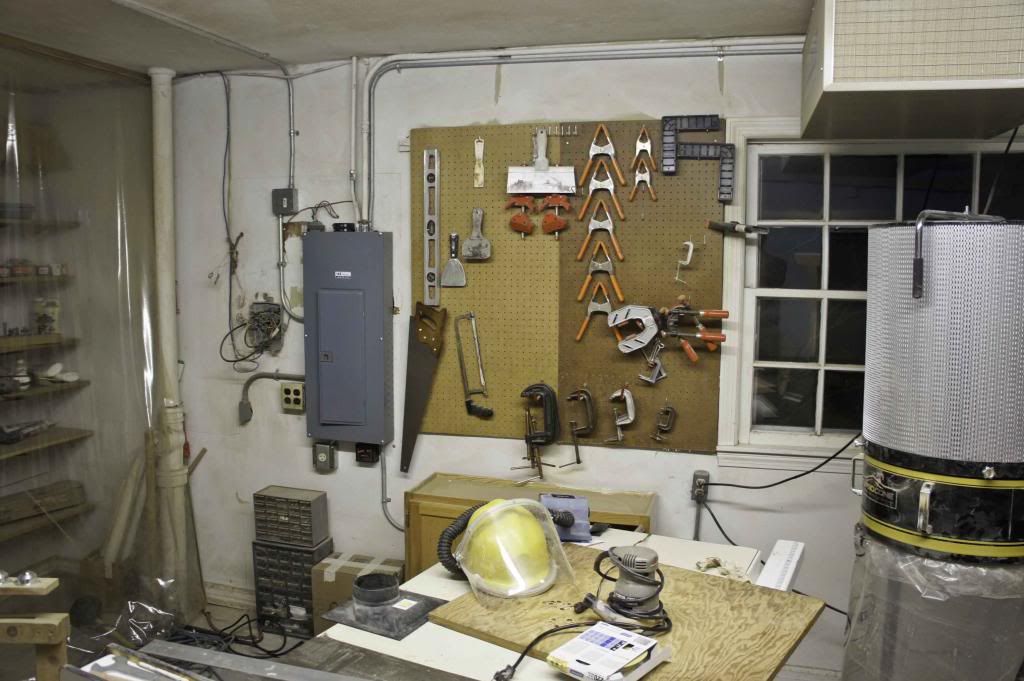 But then suddenly I had time. A bed that had been in the planning stages for a long, long time needed to get started because I had to get that out of my system. But, as the project progressed and things got messy as they do during a project, it became difficult as usual to find anything. It became apparent that shop cabinets were needed and the bed project was interrupted to build them. Since there is always limited space, storage cabinets with lots of storage were needed. I went with cabinets that had shelves on the inside of the doors and pegboard to hang things on the outside. That gave me 3 linear feet of space for every foot of actual cabinet real estate. I also needed some heating and went with a radiant heating system that would not be a problem with dust as long as it was kept at a minimum distance from my cabinets. The place needed a painting too and that was done before the cabinets went up.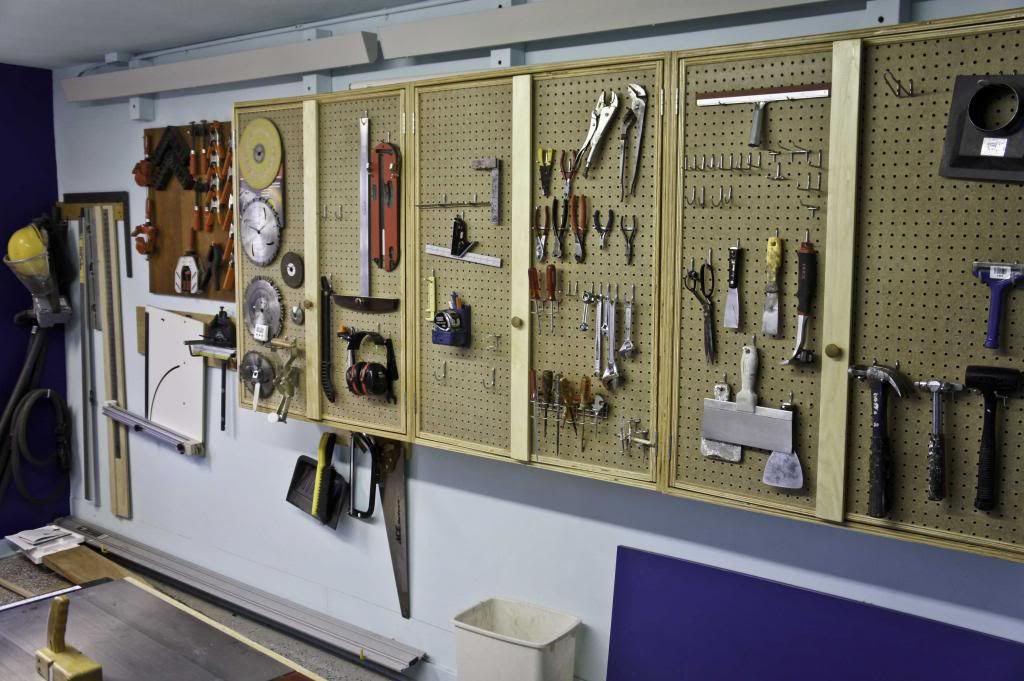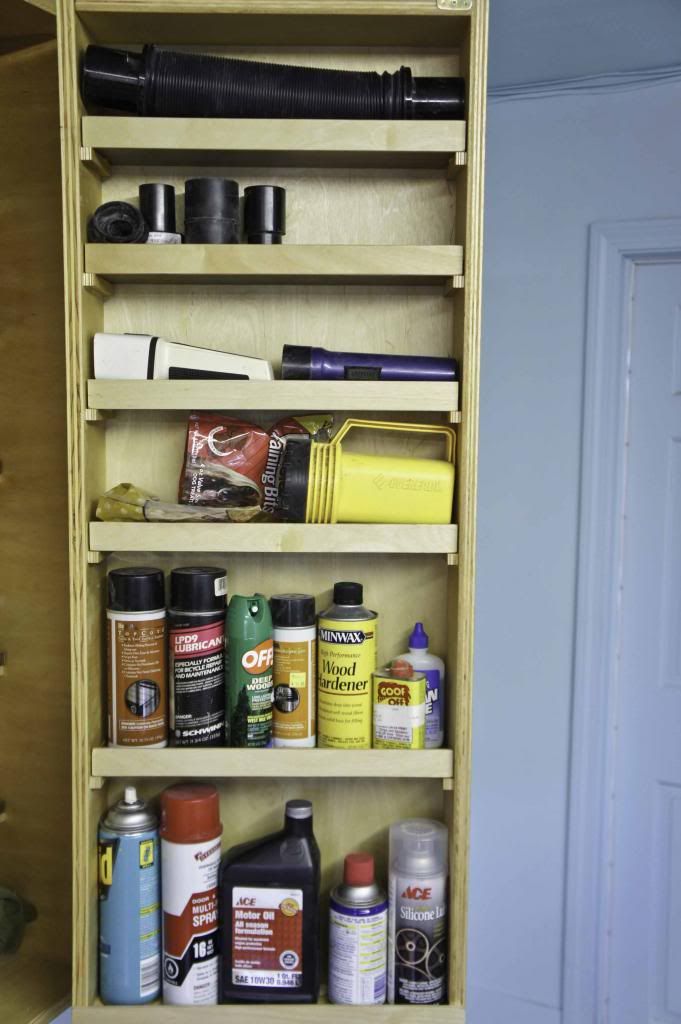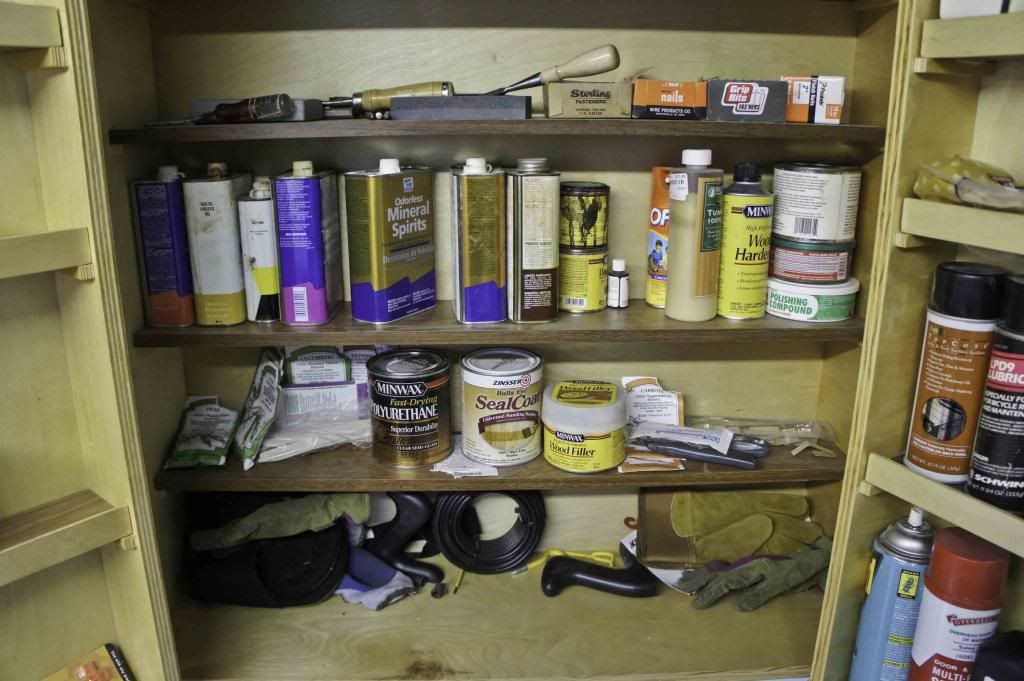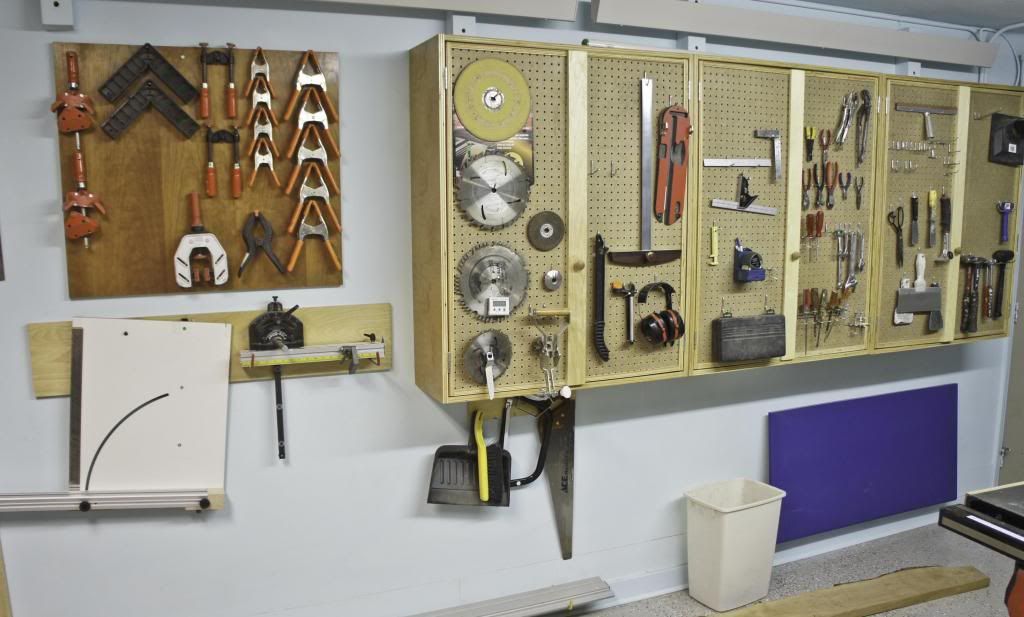 I also needed a table I could fold out of the way in addition to my workbench. I put it under my cabinets. A folding table was chosen in the hope that if it wasn't "permanent" it would be less likely to become a storage spot for things. So far it has worked out that way.
As the rest of the space started to look good, the floor started looking really awful in comparison so I did what I would never do again and that is sanded sanded the concrete smooth and coated it. I said the same thing after sanding my wood floors. Guess I never learn. This was much worse. As an aside, if you are ever dumb enough to sand concrete indoors, absolutely rent the vacuum attachment. I did and can't imagine working without it.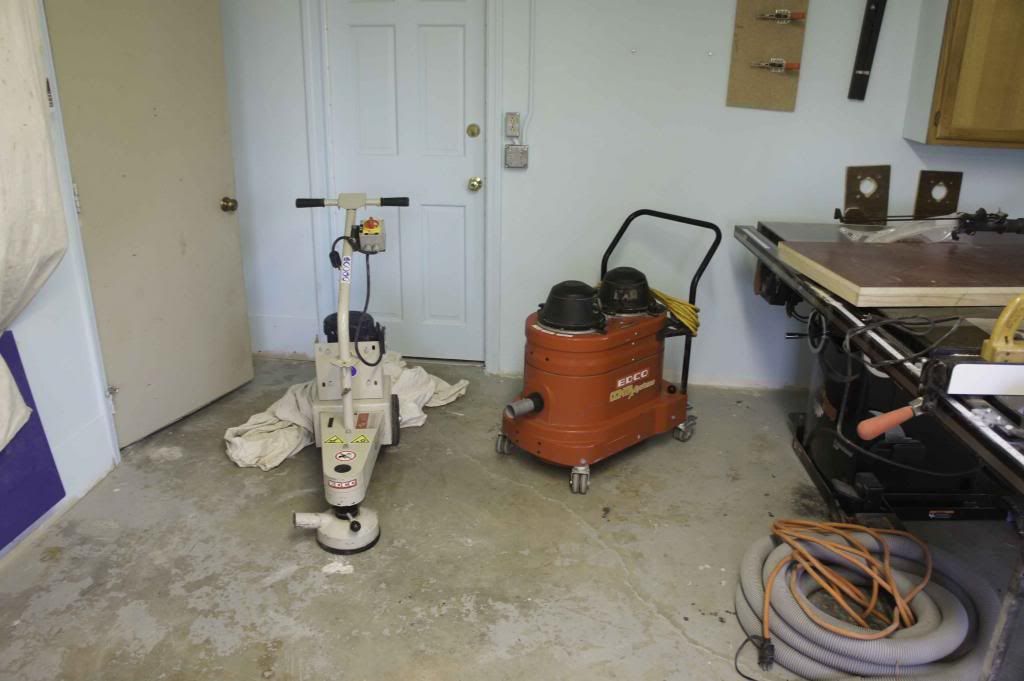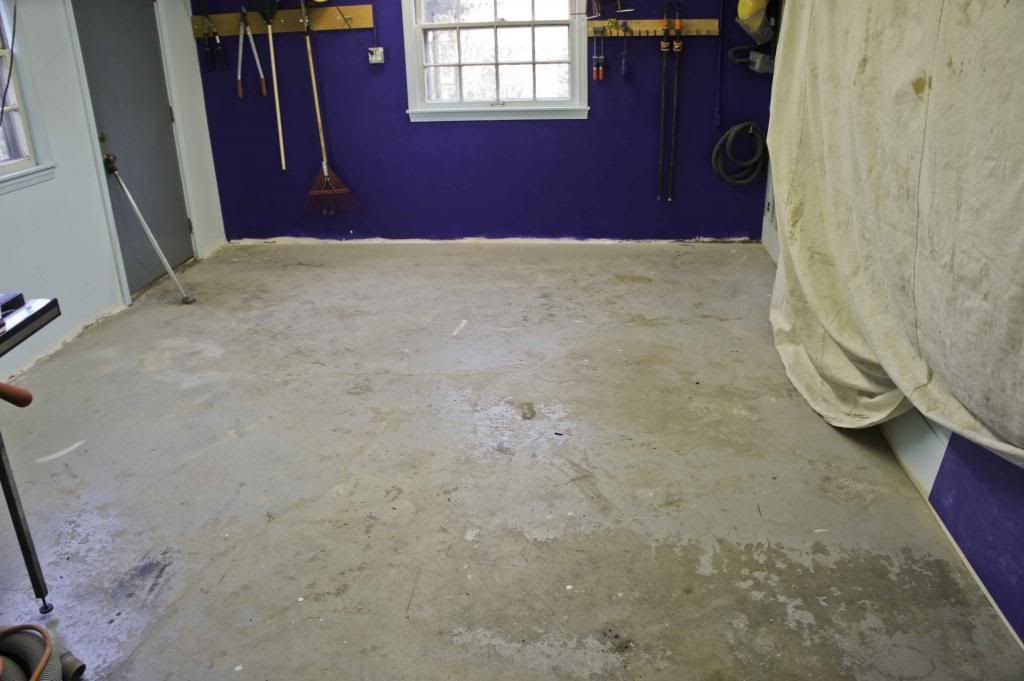 Because of the working time of the flooring material I could only do half the floor at a time. In the end it worked out pretty well. Material to make the floor less slippery was also added (that's the red, white and blue speckles).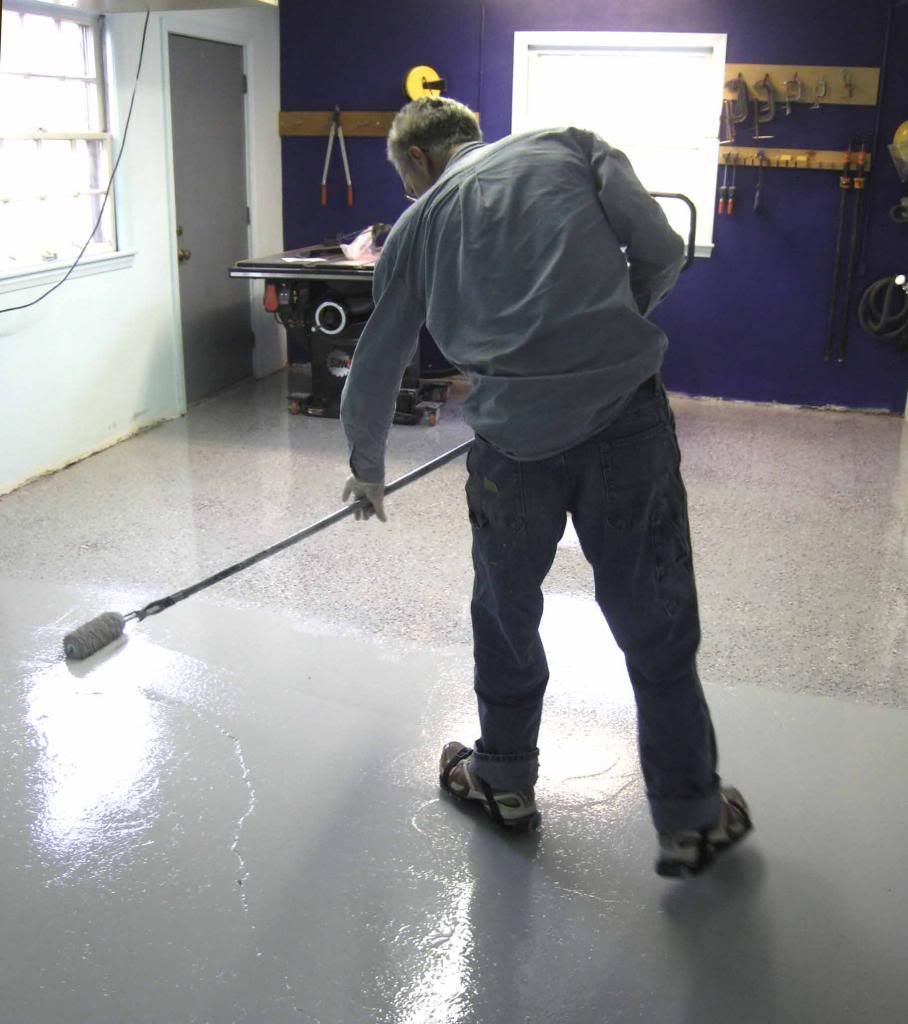 Along the way, my saw which was getting old in the tooth needed replacing so I added a SawtStop (which I love). It still needs some work but I've had some ankle surgery in the middle that has interrupted the process. I had to throw my chisels up on a shelf for now until I can get back and make some proper holders, along with proper storage for some planes. This is where I'm at now and chomping at the bit to get back in there.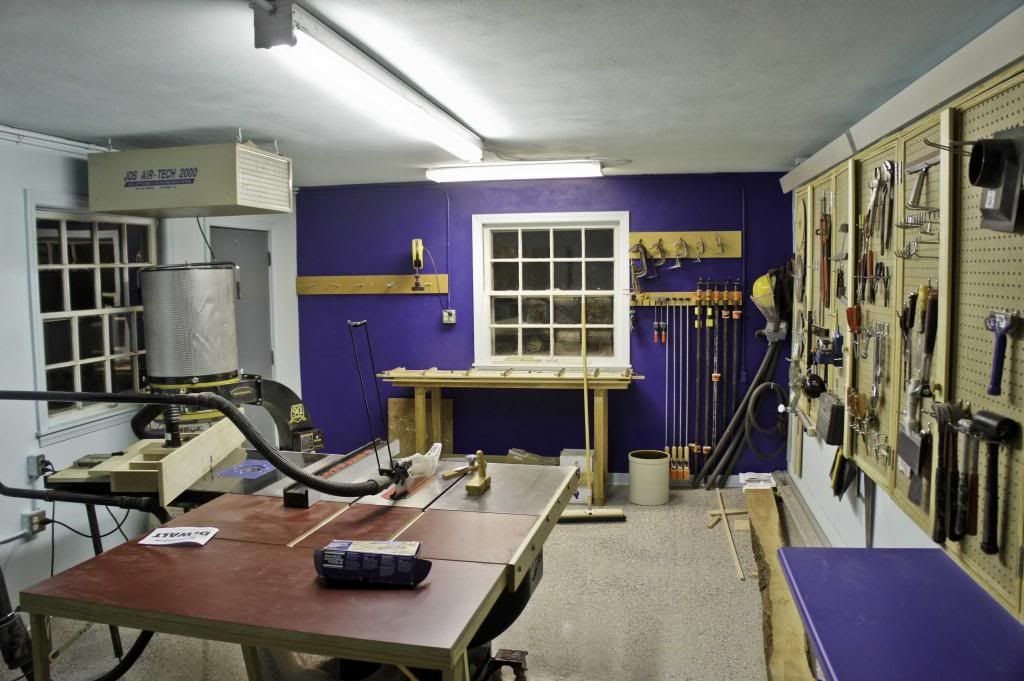 -- http://www.alansfinewoodworking.com/
---