Lots of pictures, so I'll keep the text to a minimum:
I started by putting the center cabinet together. The holes are too small for a drill driver, so I had to get creative with installing the pocket screws.
I went ahead and added the drawer slides before the top went on. A piece of 1/2" MDF makes a perfect spacer.
Here's the center cabinet with drawers sans top.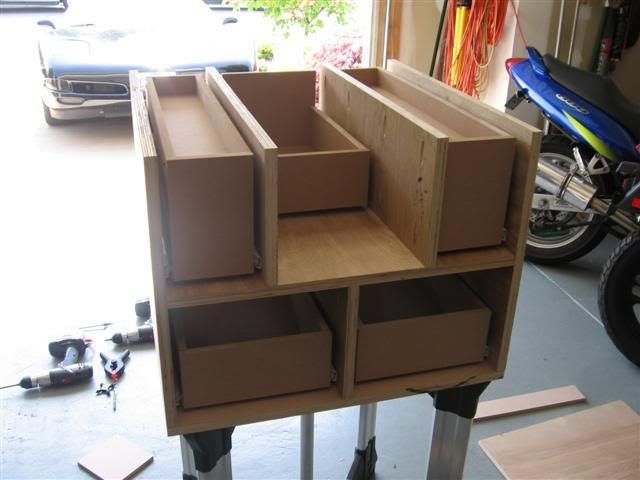 I then moved on to the right side cabinet and started attaching the pieces.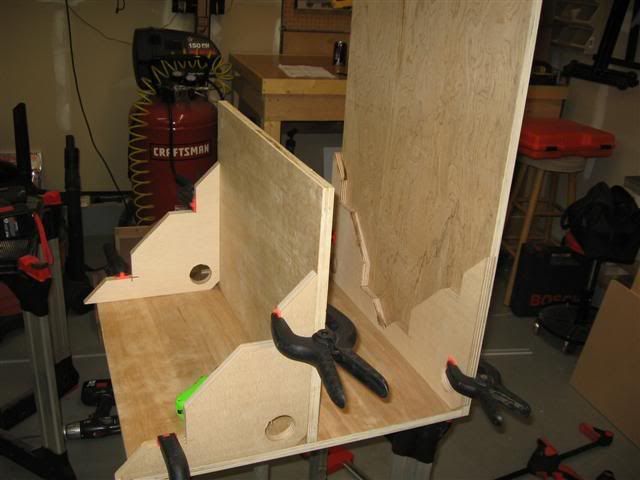 A quick shot of the left and center cabinet sitting next to each other.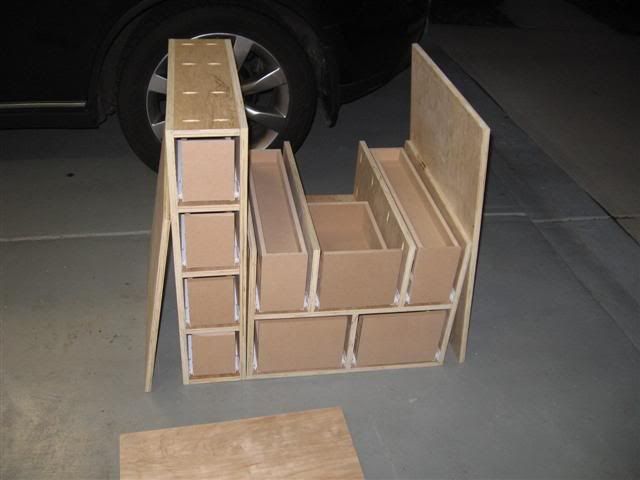 Right cabinet with dust collection box and cutouts for router and router fence bolts.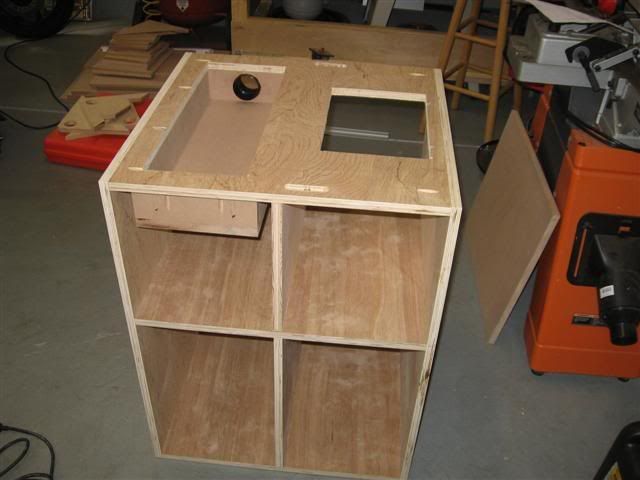 Attaching top to center cabinet after adding dust collection elbow for saw.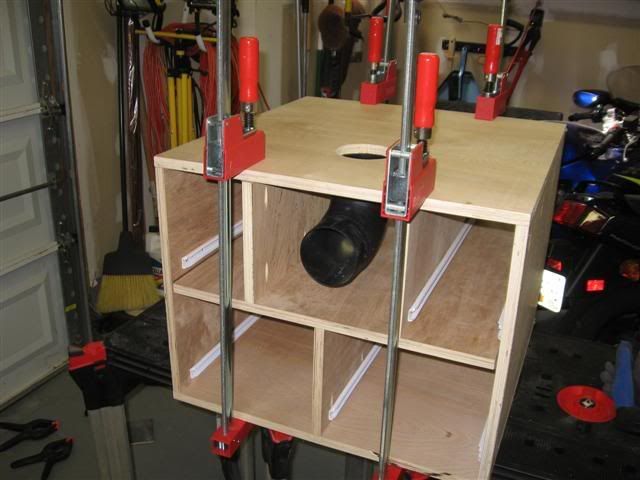 Adding wood edge banding to the cabinets.
All cabinets sitting next to each other waiting for attachment. If you notice the right side cabinet is backwards. I edge banded the wrong side and ended-up removing and flipping the top the correct direction.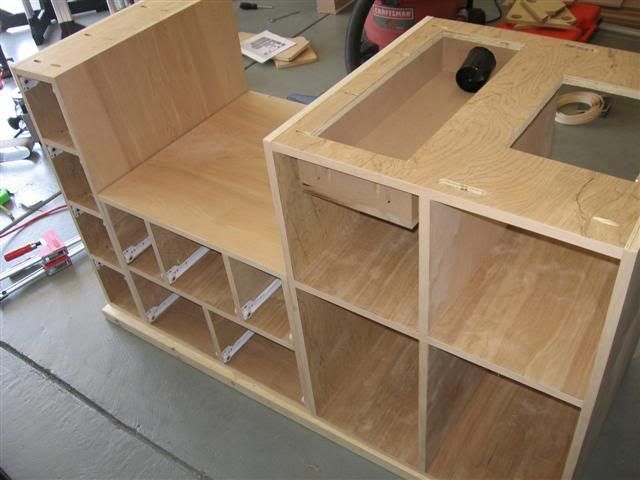 Attaching the cabinets with 1/4" bolts. I didn't have enough room to drill the holes in the top left cabinet so I had to remove the side. I should have clamped the sides together earlier and drilled the holes.
Attaching the bottom brace.
Workstations bolted together and wheels attached.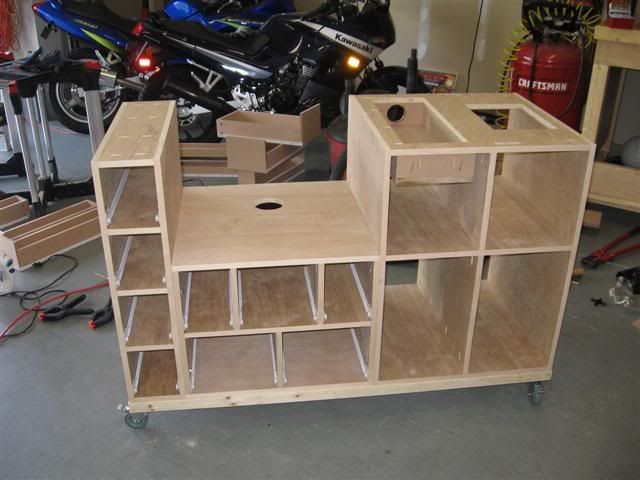 Workstation with table saw and drawers. The table saw will have to be raised about 1/2" to be even with the tops, which are just sitting there in this picture.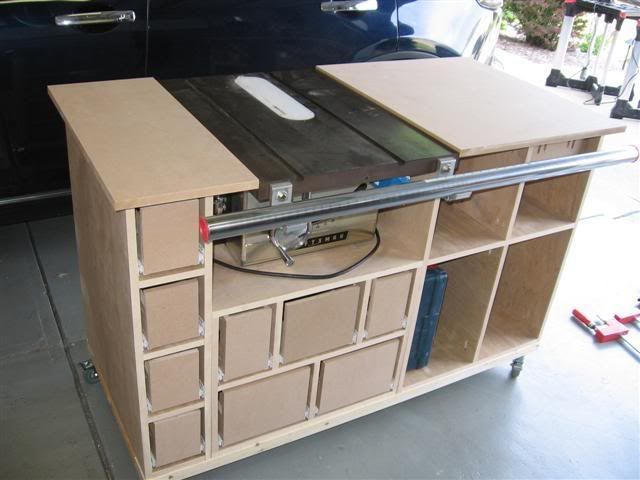 I attached the back and rolled it away for the evening. I'll have to remove the one back piece to cut the dust collection holes for the router and downdraft table. I still need to trim, laminate, and attach the tops, as well as the door and drawer fronts.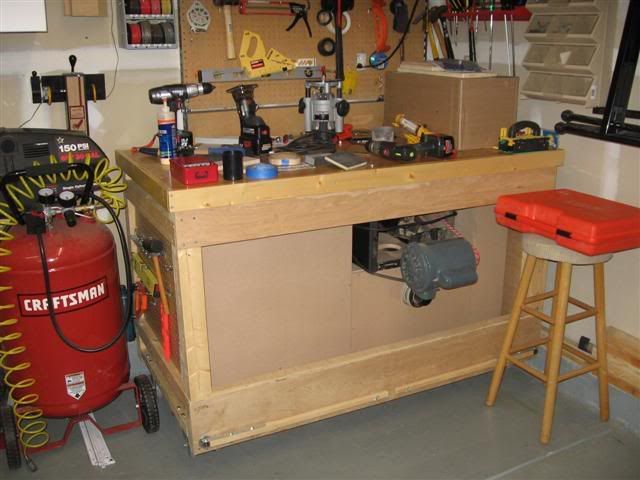 A lot of work, but it's starting to come together. It is solid as a rock and I was able to sit in the middle section without any flexing. So far, I am pleased.
-- You're a unique and special person, just like everyone else.
---