Okay, I didn't update this while I was building it as I planned. So, I'll just describe what I went through on this build.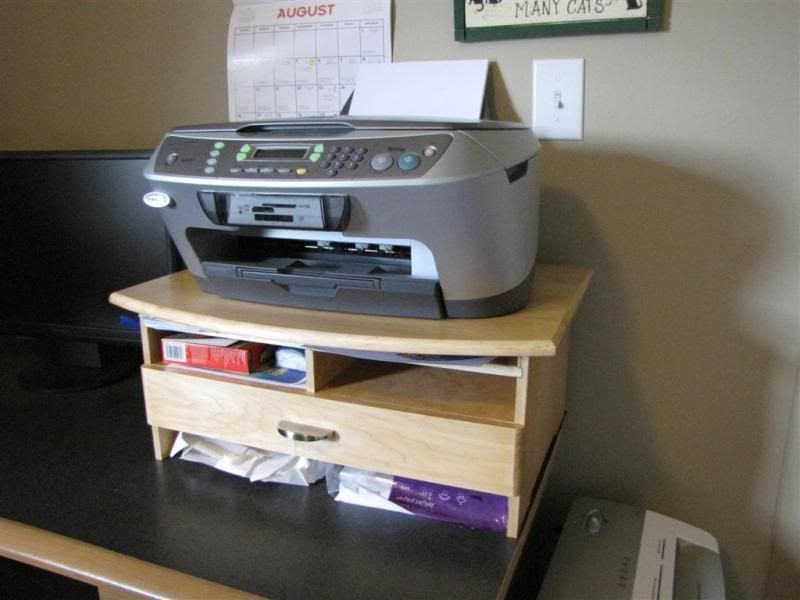 I tried several new things on this build; such as resawing stock to size and edge-gluing panels. I got to use my new tools and discovered how often you can trip a breaker with a drum sander that draws 15 amps on a 15 amp circuit. I also reminded myself not to back-out of a stopped dado cut on the table saw. I still have the remnants of a large bruise on my gut from a flying printer top panel.
As always, I had to screw a few things up. The solid maple I used for the top, drawer, and sides was heavily pockmarked with holes from powder-post beetles. Naturally, once I cut, planed, and sanded the sides to thickness they had some large holes and paths, especially in the interior sides. I had to fill the larger holes with maple wood filler. You can't really tell since the largest defects are on the interior and it blends nicely. I left most of the small defects to add character.
Then I just-about ruined the top cutting those stopped dadoes. Fortunately, I had kept it extra-thick at 7/8" to see what it would look like. I was able to sand it down to 1/2" and salvage the top. I takes a long time to go from 7'8" to 1/2" using a drum sander (panel was too wide for the planer). Since I was only sanding one side and it was humid the panel would warp during sanding. I'd have to take it to the basement and place weights on it until it flattened-out. I had to do this twice.
Finally, I cut the legs on the wrong end of the side panel. So, instead of 4 larger openings and a drawer I got 2 small and 2 large openings, a drawer, and a large space beneath the drawer. It still looks ok, but not what I had planned.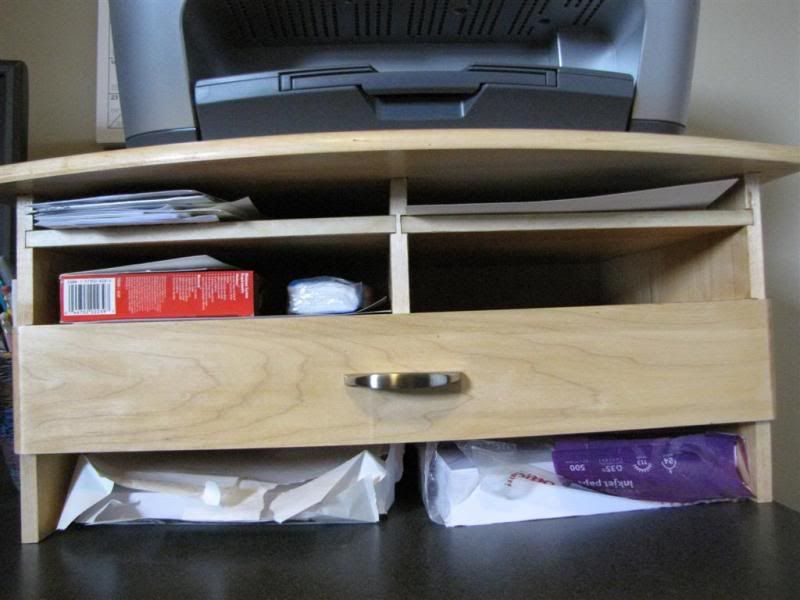 The interior shelves are 1/2" maple ply with veneer edging. To equalize the look of the play and real wood and reduce blotching I used a seal coat of shellac sealer before staining the parts with a colonial maple stain. It worked, but the stain would never get as dark as I really wanted due to the minimal absorption. Some bare maple test pieces I stained matched the current furniture better, but the blotching was unacceptable.
I prefinished most of the pieces due to the inability to get to them once put together. I actually used 3 different finishes on this piece. All pieces were sealed then stained. I then put another coat of shellac sealer over the stain. For the drawer interior I then used a wipe-on varnish for some additional wear protection.
For the outside of the drawer and everything but the top of the top I used a blond shellac and then rubbed-out the finish with 0000 steel wool and paste wax. For the top of the top that would see the most wear I sprayed it with a couple coats of gloss polyurethane. After it dried I also rubbed-out the finish with steel wool and paste wax. This dulled the sheen of the poly and made it look like the rest of the stand.
For the drawer I used a tip I believe I saw here on Lumberjocks. I went to Meijer and bought a strip of stick-on plastic corner protector. It makes for a smooth drawer action with no needed rails.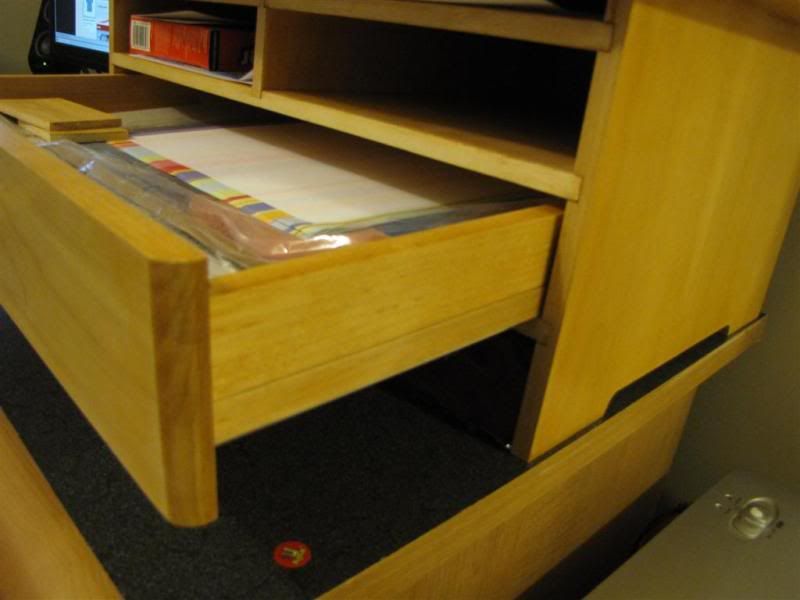 All-in-all, a satisfying project but it took much more effort than I imagined. Of course, most of that was my fault. Lessons learned and new skills to apply on my next project.
-- You're a unique and special person, just like everyone else.
---