Well, I saw a post a long time ago by WarMammoth (Panel Cutter) about a portable panel cutter and I had to build one. I wanted mine to be able to work in my workshop and be mounted somewhere so I could raise and lower it when needed. I wouldn't be using it all that much, but I still deemed it necessary to make one. I have a large lumber storage rack underneath a storage loft that I built last year. So I decided I would mount it under there so I could lift it to the 8 foot ceiling in there when not in use. I started working on it the other night and built the base.
I do not have any photos of the panel cutter as it is being made. I will add more details about dimensions later.


Panel Cutter Completed
I glued and screwed it because I wanted it to be very rigid for the mounting. Next, I created an L Shaped support to mount to the joists in the loft. I glues and screwed a 1.5 in piece of maple ply to a 2 in piece. I then attached them to 2 inch hinges and then to the joists. It still needs leveled and is a bit flexible, so I am going to have to fix all of that next.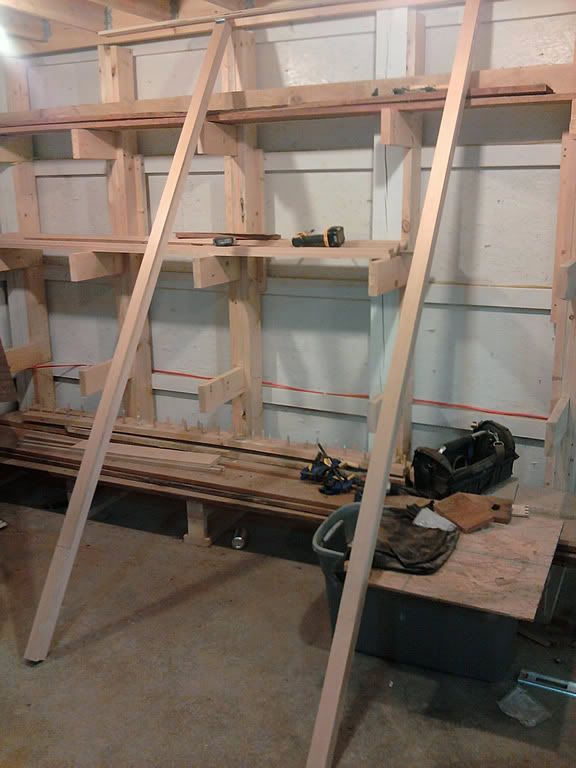 This is the cutting jig just clamped onto the legs…I just wanted to see what it would look like with it up…I am very pleased so far.
In the next part, I am going to build the fence for the circular saw to ride on. I will attach it and square it up. Hopefully, I will be making an inaugural cut within a week.
Thanks for looking,
Grub
-- Educator by Day, Wood Butcher by Night!!
---