A couple weeks ago I passed some tree trimmers cutting up a handful of paperbark trees (Melaleuca quinquenervia).
I passed a few times on lunchtime errands, and finally decided to stop and ask for some free wood. I've been so curious for 5 years now about what's underneath the spongy, peeling bark of these trees. You can punch the trunks and leave a deep imprint of your hand, which swells back up eventually, hiding the dent. It doesn't hurt, because they feel like a stack of chamois, or like something made by Nerf®.
They let me take whatever I wanted, but for the most part were only cutting off long, straight branches, clearing out a sight-line for a security camera that was being installed soon. I filled my hatch with them.
I had to go back to work after that, and when work ended, I found my car heavily steamed up inside :)
Here's the haul. The leaves hide a fair bit more of the limbs. I didn't want to be ungracious by tearing all the leafy branches off and throwing them back to the trimmer guys, so I just loaded them all. Later I was pleased to learn that the leaves are very fragrant. They even got me to look into distillation, and I'm teetering on the edge of buying a Pyrex still for obtaining essential oils from them and other things I've found.
Leaves:
Here's some bark on very young, and only somewhat young limbs:
It took quite a bit of work to remove the leafy twigs. The bark grows up thickly around them and acts like strain relief. The twigs are also a bit rubbery, so not only is it hard to break them, but it's hard to bend them sharply enough near their connecting point to break them. I resorted to some wire cutters.
Here's the twig/leaf pile from the paperbarks next to a pile of bark from a recently found weeping bottlebrush tree (Callistemon viminalis) limb that blew down in a storm. It's quite fragrant as well, and when burned, I've found it smells just like church incense.
Rough cut cross section shows off how thickly layered the bark is, even on young limbs:
It's hard to make out the profile of this one thick piece I got under all of its spongy, peeling bark:
The bark starts to peel when the limb growth exceeds the bark growth, tearing it open like fabric stretched too tightly:
A week later I finally found a window of time to start cutting them up and sealing them with the new Anchorseal that had arrived (2 gal). The branches are a bit deceptive in size, as the bark is so thick, but I think they'll be somewhat useful little pen-blank-sized pieces, with a few slightly larger, and one in particular that's of a more respectable "log" thickness.
I couldn't resist trying to peel a few entirely to see what was beneath the spongy bark layers.
The cambium underneath is very wet and cold to the touch, perhaps insulated from the day's heat by the bark layers, and is covered in a bit of a slimy white layer of something for which I don't yet have a name. It rubs off under finger pressure.
And here's what's underneath all of that bark, peeled away with only minor hassle by hand:
Here's a limb with half of the bark peeled away, and half with most of its inner layers still included:
Peeled limb with unpeeled limbs behind it:
This one looks like an apple: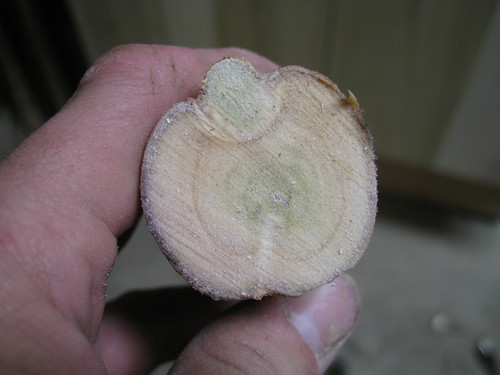 If I'm reading it right, this limb is only 3 or 4 years old, suggesting they grow pretty quickly:
Larger limb peeled:
Anchorseal seems more slimy than Rockler's Green Wood End Sealer, takes much longer to dry (a day or two vs. a couple of hours), and does seem in the last few weeks of using it to provide a better seal. It also seems to cling better to more kinds of limbs, and create a more even layering. Rockler's stuff tends to pool to one side, or thin out too much. I can dunk a limb in the Anchorseal bucket, take it out, give it 3 hard shakes, turning it as I do to get the excess off all sides, and that's a really good coverage. Rockler's would be too thin at that point, and recoating later is hard, as the wax doesn't like to stick to its dry counterpart. I'm still learning about it, and will post more about the two in a review some day when I've gathered a lot more data over many more tree species.
Here's a stack of Eucalyptus next to the first of the paperbark pieces. The euc has had a day to dry, and some are still wet. Had it been Rockler's sealer, they'd all be dry, with thinner coverage.
I decided to save the peeled bark for now, in the off chance there's some use for it. It stinks when burned, however, like burning hair, though not as strong:
Here's the one thicker piece I got, showing 2 different cuts that have gone their separate ways. I believe the darker one is simply the older one, and that this is how the species looks when it dries out naturally in the air. I had a couple of limbs that showed this on their ends – the dark, fuzzier look, caused by fibers pulling into the tree at different rates when shrinking. The newer chainsaw cut is much cleaner, and far less porous:
The flip-side of that one larger limb I got shows some interesting heartwood and sapwood delineation, and makes me extra sad that I did not get the one monster-sized piece I saw there. I meant to go back for it, but forgot, and then they were gone on my next swing by. It must have been 14"-16" thick, and 4'+ long, and probably had some really neat heartwood in it. I peeled the bark from this one (there was a lot):
This piece might be fun to turn on my mini lathe, which can only really handle stuff about this size anyway:
Here's the second set of cutups on a different day:
Speaking of paperbark bark, here's a little video with a visitor I found in my bag of the stuff:
This small rental house sure is starting to fill up with logs! I did a tiny test turning of both the bottlebrush and this paperbark, which I've read several places online are related by genus, somehow, and they looked nice inside. These were just 1" thick pieces, about 3" long, turned down to about 1/2" diameter (so much bark!), then polished up with PPP sticks from Rockler, while still pretty green, but they gave me some hope that these could be useful, perhaps for things like white chess pieces.
-- Gary, Los Angeles, video game animator
---