In part 1 I found a Eucalyptus tree in a nearby neighborhood. In part 2 I cut it up and had a better look under the bark, finding great boring bug patterns.
In part 3, I finally took a 3" diameter piece of the green wood and had a go at it on my Sherline 4400 CNC mini lathe, set up as a manual wood lathe. I'm quite 'green' myself at this turning business, and don't yet have many techniques, experience, and tools necessary, but it came out alright, was a lot of fun, and revealed that this euc is gorgeous inside. I didn't expect that.
Here I'm cutting up the 3" diameter chunk and straightening up the side with a large pull saw:
Mounting it on the mini lathe's face plate:
Skipping well ahead, I have the simple outer form done, and the wood is quite pretty inside:
Time to try clearing out the inside – really unskilled in this area currently:
Skipping ahead again, I've hollowed it out (poorly :), and sanded it to 12000 grit (yes, 12k!):
The grain is a bit open, and really should be filled somehow. The lathe plate looks kind of nice as a base:
Removing the faceplate:
A [thick-walled] cup! Check out that grain, and those colors;
As a first finishing test, I figured I'd rub in some tung oil finish that looked awful when I tried it on maple. It's meant for hardwoods, and this is pretty hard stuff. It really deepened the colors and brought out their contrast. I loved it! Still, the open grain seemed to me to detract a little from it.
It holds Sharpie® markers nicely:
The next day, tung oil finish dried up a bit, and in natural sunlighting, the contrast had died back significantly:
I definitely need a proper internal turning tool, and experience:
It being a green turning, the bottom decided to start splitting in several places, including the center. Here are a few around the bottom edge: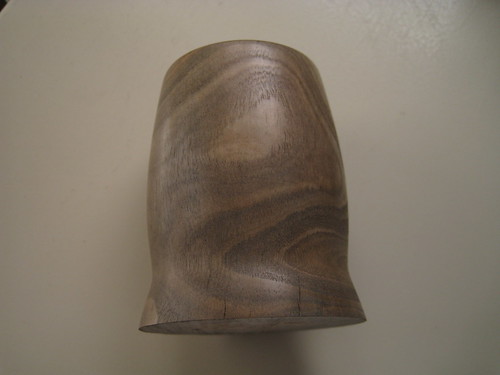 Here are a couple of shots of the then-current state of the open grain, coloration imparted by the tung oil finish, natural swirling patterns of the log, and how it all looks in natural daylight:
On my next trip to Rockler (to get green wood end sealer to save all the logs I'm now finding around LA), I grabbed some Hut PPP (perfect pen polish), which are 2 different bars of polishing-compound impregnated wax ingots. You turn the lathe up to high speed, run the brown bar (satin) over the whole thing to smear hard wax all over it, then press hard on it with a paper towel as you run across the surface, removing the extra wax and polishing up the wood with it a bit. Then you go over it again slowly, pressing hard, melting the sheen of wax into the open grains. You repeat this with the white bar (gloss).
Here's a pre-Hut shot:
And here's the after shot, having followed the plan detailed above:
You can see the wax burned into the paper towels in that shot. Here are a few more of the final, glossy look. The first pic shows a crack that formed in the base – the trouble with green wood – and the second shows a patch in the middle of formerly quite open grain, now filled in and made glossy by the Hut PPP wax:
With a bit darker exposure, this is closer to how the cup currently looks:
The cup is still [as I type this] attached to the lathe face plate. It's probably a week later now, and I'm shown something important and interesting – how much it shrinks. Note that the cup was sanded and polished down to match the lathe face plate in these shots. Sitting next to me on the desk here, I can see that it's about 1/16" smaller in diameter, so about 1/32" shrinking around all sides. That's a significant figure. The once-flush [temporary] metal base is no longer even close to flush.
I have since sealed the ends of all the Euc blanks I've readied, and the logs I'm storing. I'm anxious to see what other treasures it has in store for me. Still no idea which species this is, but I've since found a forum of Euc folk who might know. It's an apparently tricky proposition to identify a gum tree all the way to a species. There are over 750, and lots of anomalies, like differences in the same tree, or similarities between different species that can combine to make two trees of different species seem more similar than two others of the same.
Anyway, this was all just an excited test of the wood. I had no plan when I screwed the piece of log into the face plate, so I was glad it came out to be anything at all. Now we wait, and wait, for the other logs and log bits, all painted up with Rockler green wood end sealer to finally dry out to more useful levels.
There are several more shots scattered throughout the flickr set.
-- Gary, Los Angeles, video game animator
---