Before making the doors, I bought a rail-and-stile router bit set. I didn't it when I build the first bed unit because the doors for that first project were simple painted panels. After cutting a some test pieces to get a handle on how to adjust the router, cutting out the pieces for the doors was a piece of cake. However, let me say that these are the scariest router bits I've ever used. There's just something about a rapidly spinning hunk of steel that says, "you best be careful, lest ye suffer greatly."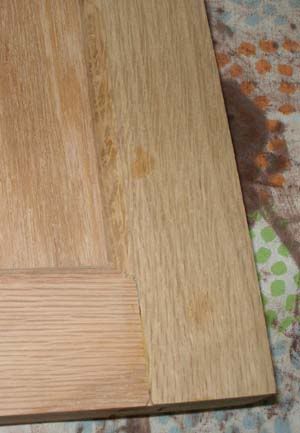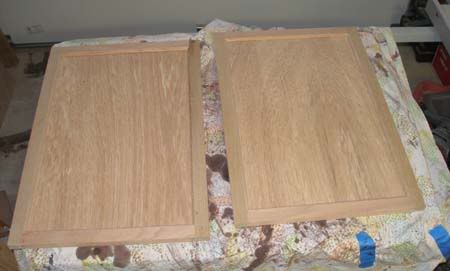 The most interesting aspect of thius whole mini-closet, for me, was the access ladder. I wanted the ladder be attractive as well as functional. The ladder is almost more like a small set of stairs I think than a ladder with rungs. My design called for treads that had an arcing front edge, and an incline of approximately 75 degrees (not precise at all… I just eyeballed what looked good to me here.)
I took a leftover piece of solid oak that was approximately 12×14x3/4 inches, marked a line that would yield two identical -shaped side pieces for the ladder, and cut it on the band saw. Then I used a small can that had to draw two radiused curves at the top and bottom corners and trimmed them with the band saw. The picture below shows the curves marked on the board.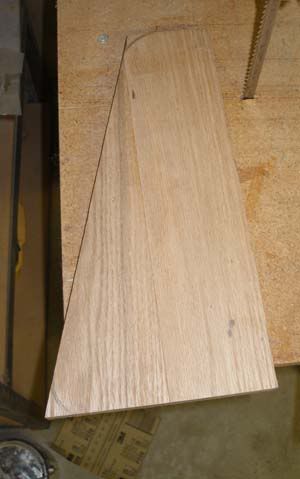 Then I went to make the treads. I started with a 1×4x12 piece of solid oak. I wanted to cut the tread so that the front edge was curved such that the width of the board was 3 1/2 inches in the center, and 2 1/4 inches on each end. I had used a nice simple gadget on the first bed build to get a consistent curve in a situation like this. Simply take a very this board, like veneer strip (mine was about 3/16" thick and 3/4 inch wide, and 14 inches long) and fasten a string taut at each end: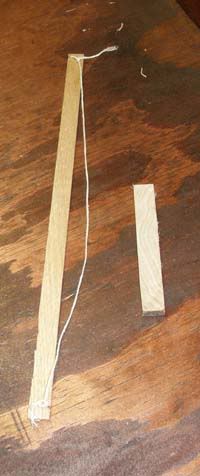 You can place a stick of varying length between the string and the wood strip, causing a "bow and arrow"-like effect:
This can be used as a guide to draw a consistent curve: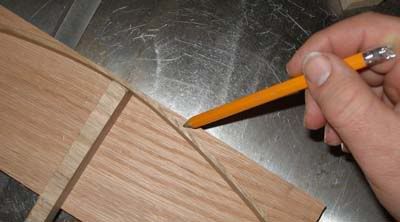 Cut this line carefully on the bad saw,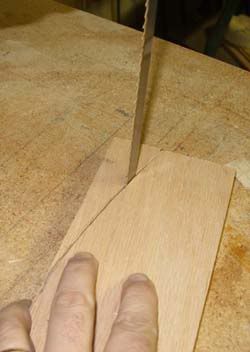 and then I used a sanding drum on my drill press to smooth the curve.
And voila! a finished tread. I made two of these.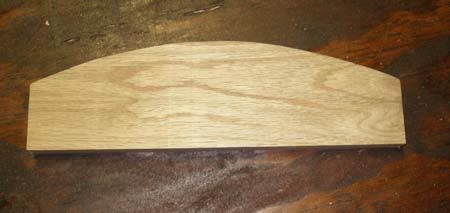 I told myself at the beginning of this project that at some point I wanted to do something I hadn't done before, even if it wasn't strictly necessary, as long as a mistake wouldn't be too costly.
I decided to satisfy this that I was going to chisel out mortises in the ladder side pieces to receive the ends of the treads. It's definitely something I didn't nedd to do at all, but I had fun doing it, and they didn't turn out too bad: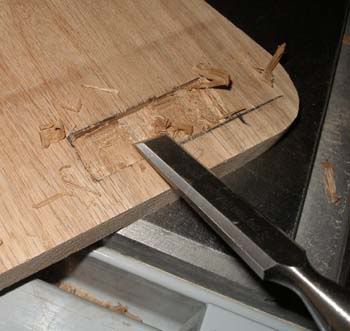 For mounting the ladder, I made two rails out of solid oak and cut a 3/4 inch dado to receive the sides of the ladder. Wood screws countersunk from the "back" going into the ladder sides hold everything in place. Then #12 wood screws at the top and bottom ends hold the entire ladder assembly to the closet.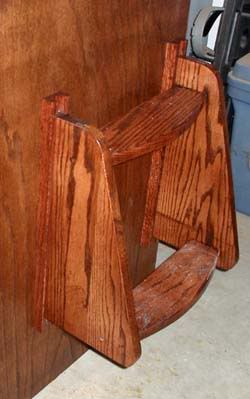 I'm leaving out the picture of the closet unit fully assembled, until the last blog entry. Coming soon.
Next time… The Bed Box.
-- "A day without sunshine is like...night."
---