In our last episode…the desk unit came together nicely. Now for the dresser unit…
The dresser unit, like the desk unit has to be built in "mirror image" from it's design from the first bed. The dresser features three drawers that are 28"Wx7"Hx22"D. I'm putting full-extension drawer slides on the drawers, to give easy access all the way to the back of the drawers.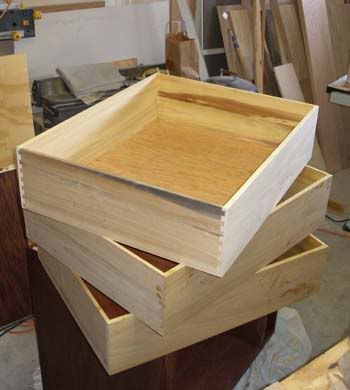 A feature of the dresser that I really like in this design is that there is a pair of storage areas at the end of the dresser, situated so that its in easy reach when working at the desk. Sure, there's storage in the underdesk part of the desk unit, but this storage space is good for larger items.
The construction of the dresser is pretty straightforward; There are three vertical panels (the left and right "skins" and the panel that separates the drawer area from the storage area.) These are 3/4" oak ply. 1×3 solid oak hold the panels in alignment along the bottom in front and in back. A cutout was made in the panels to accomodate this piece. Another piece of oak ply is at the top, attached to the side panels. The picture below shows this framework (upside down at the time.)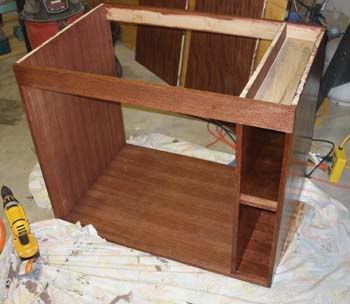 1/4" oak ply covers the back. This is covered by the drawers most of the time.
The drawer sliders I'm using require the opening for the drawer be exactly 1 inch wider then the drawer box, so the inside of the drawer area is 30" wide.
Overall, the dimensions of the dresser are 36"W x 24"D x 29.5"H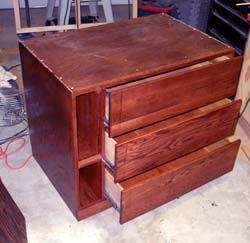 Because the bed is hoing to cover the top of the dresser, I didn't worry about making the top of the dresser pretty.
I can see the light at the end of the project! Only two more major pieces to go.
Next time…the closet unit!
-- "A day without sunshine is like...night."
---