Alrights wood fans, i tested the water with my Star Wars Poker Room, and it seems that folks are pretty receptive for my unusual hobby. So I thought I would share another with you.
My Poker table really needed a series of cocktail tables to hold drinks and snacks. But if your playing poker in a space ship you cant have just any cocktail table. So I figured, "why not R2 units with removable trays?"
So here you have them, still very much in progress, but getting closer all the time. hope you enjoy!
In there current condition:
And here is a look at the build process. We are currently casting the original pieces to speed up the build, but everything, and I mean everything, was built by hand first. We carved, lathed, cut, sanded, re-sanded, and sanded again. It has been an absolute blast so far, and I can't wait to have four of these little guys fully completed in the poker room!
PVC sewer pipe for the body, on our custom R2 Router Turn Table!
And then we get to the "wood" part; the legs, feet, and just about everything else on this little guy!
The eye is pretty fun too!
There were certainly a ton of little things as well that had to be turned out on the lathe: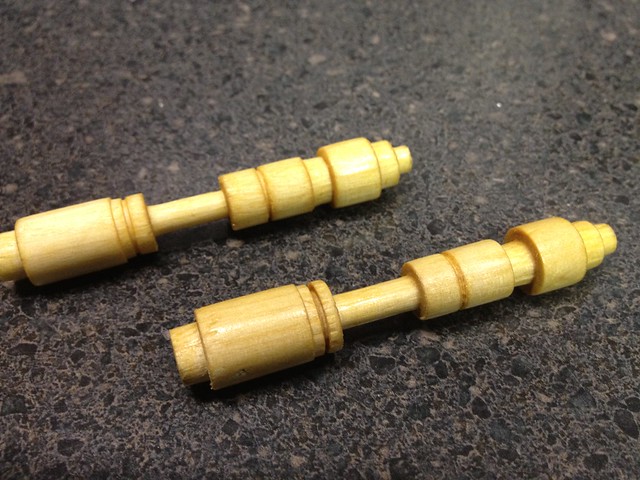 or just hand carved
had to cut a few legs also . . .
We used a restaurant style cake lid for the dome!
it looks pretty good painted.
And here's what two years work looks like cast and laid out on the table!
Some cool close up shots . . .
R2's work day!
Hope you enjoyed! Thanks for looking!
~Brian
-- I am pretty sure i can make that out of MDF.
---