I need a new router table. I had made my first one but realized it was not the strongest design and needed a lot of improvements and additions.
It was a basic four legged table with aprons and a small crosspiece between the legs near the bottom. I don't have a photo because I've already taken it apart.
The old table had aprons that fit with tenons into the four legs' mortises. Because of the amount of stress the table received from being dragged around the shop (no casters on the legs), it really started to pull on the joints, so the tenons started to pull away from the legs.
I have an Oak-Park purchased top that I like, which a large router baseplate sits in. I want a larger top with a place to put things down, like small pieces of wood waiting to be routered, or clamps that are being moved around to hold the fence, etc. I want some overhang so that I can clamp fences and featherboards to it.
Also, I want my new router table to match the cupboards in my shop, I blogged about them HERE
Here's a couple of photos from that blog post: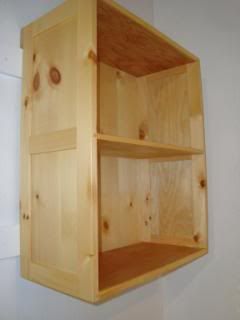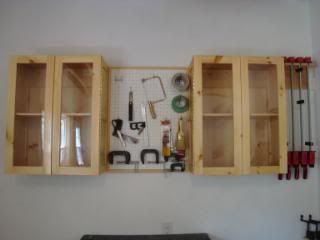 They were designed using a magazine article which also has a router table plan that looks like this: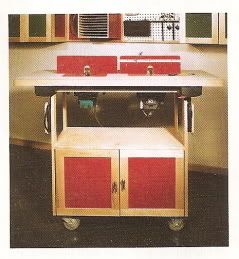 The main thing I like about that table plan is that it uses a large plywood box to keep it strong plus I like the framed sides and doors. BUT… I won't have two routers in my table, and I will have it filled in all around to capture dust and shavings.
I will have good quality locking and swiveling casters so that I can move it around easily. Plus I will have a good on/off switch on the outside. I will make my own fences for my needs.
I'll have a place underneath to store my smaller trim router plus a few drawers for router bits.
So, I will design the new table to meet these needs and hope you will follow along.
... to be continued…
-- ~Julie~ followyourheartwoodworking.ca
---