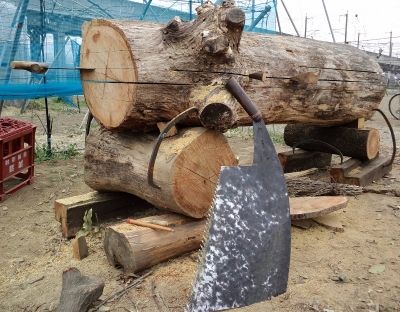 Restoring a maebiki oga led me to delve into the history of this iconic saw. The maebiki oga (前挽き大鋸, literally 'large' saw, dubbed whaleback saw in english) holds an important place in Japan's history. The oga saw was invented in Japan around 1590, and was in use for 400 years until Japan's industrial revolution in the Meiji period, when it was superseded by mechanized sawmills. Predecessor saws were first imported from China around 1400 as steel became available. The saw replaced the wedge and chisel for splitting softwoods, and it allowed hardwoods to be ripped to size for the first time (according to Toshio Odate).
"The wide-bladed ripsaw maebiki-oga (前挽き大鋸) was yielded by the so called kobiki. This saw was used to cut boards out of logs and for squaring logs." The mighty kobiki-shokunin was a full-time sawyer, wielding the saw with pride and skill. The kobiki worked so intensely that they gained a reputation and a saying, "Kobiki no issho-meshi / The kobiki eats almost two liters of rice at one meal." A glimpse of one of these 'extinct' kobiki-shokunin in action was available on youtube, but unfortunately it was removed. There are a few modern demonstrators, though today's users show decidedly less determination faced with the herculean task.
A roundup of technological innovations on the maebiki oga includes: progressive tooth pitch, variable rake angle, "chone-gake" chipbreaker shelves on the saw teeth, and tapered body thickness for kerf clearance. These features allow a cut to be started easily, prevent chips from clogging, and prevent the saw from binding in the wood. The saw's main feature is of course it's massive back, which guides it to make a straight cut.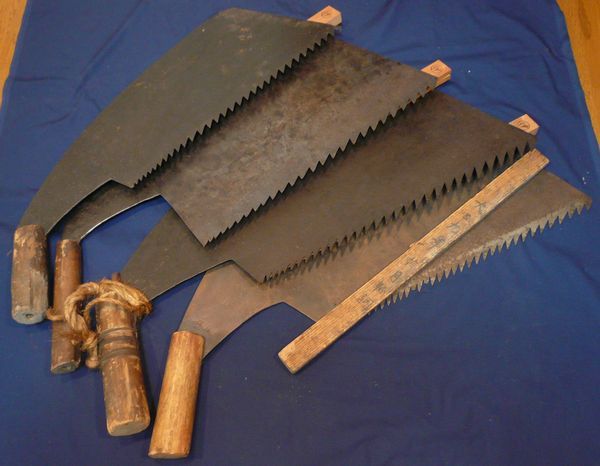 Being a one-man saw, the oga is rather versatile. Both sawyer position and saw orientation can be adjusted to suit the size of the log. While sawing techniques vary, based on my own attempts the best efficiency is obtained with large logs that can be elevated. Elevating the log allows one to orient the saw favorably to the grain, and to use gravity to assist on the pull stroke.
The backward taper from the nose to the top of the saw is another key feature that allows a pair of sawyers to slice up larger logs. As one saw retreats from the kerf the other passes by it, alternating in an X pattern.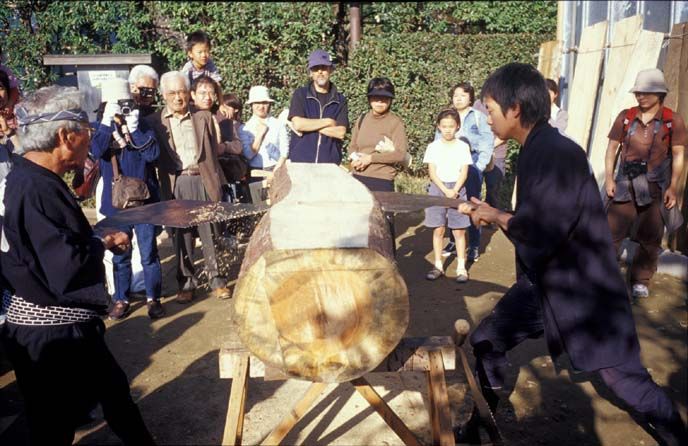 The technique is seen here and here, to rip boards from what looks to be a 36" wide (zelkova?) log.
Remaining makers of the oga saw in Japan number approximately zero. The best bet to obtain one to try is ebay, where a handful of used saws are typically available at any time. A couple intrepid folks have attempted to make their own version. When the oga was originally produced, steel would have been at a premium such that a tamahagane strip would be forge welded to an iron body to optimize use of the harder steel (reference). Here is a video of a Japanese blacksmith at work on a nokogiri cross-cut saw, which better reflects the products that the few remaining saw smiths produce.
Thanks for taking the tour with me. I'll be glad to hear your comments and any suggestions for corrections.
Appendices
Collected images from around the web
Some rare cousins of the oga saw
Google images for "前挽き大鋸" and "maebiki oga"
Katsushika Hokusai's painting "Sawyers Cutting a Log"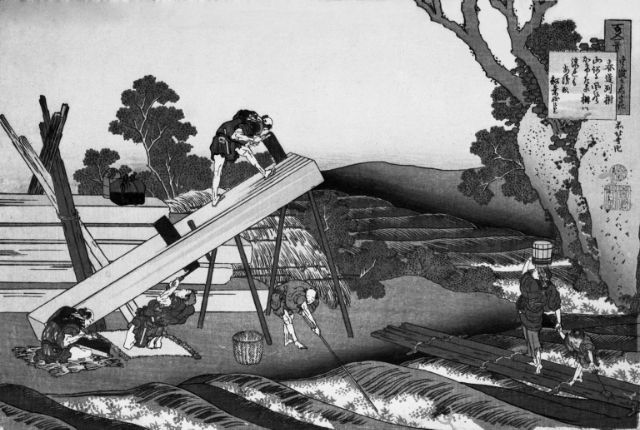 ---